So here's the deal, every so often I'll buy something and a couple weeks after using it I'll wish that I had filmed myself unboxing it. That's where this box comes in, the Cuisinart CB-30 Cast-Iron Single Burner that I paid around 50 bucks shipped for.
I bought it for filming overhead stuff better but something like this would be great as a portable burner, if you need an extra burner or more space, if you don't have a stove (aka most college students), or to keep things warm. For me, a purchase like this should be pretty straight forward…it should be well built and able to produce and retain heat, that's it.
As you pull this thing out of the box, just from the weight of it you can tell it's well made. It's got nice stainless wrapped around it, there's no rattling, nothing feels cheap, and the knob feels pretty good. At least good enough that if I'm inebriated I won't somehow break it off and lose it.
Now speaking of the knob we have 6 settings from low to high which gives us plenty of room to adjust the temperate so lets do 3 tests:
How fast does it heat up. As you can see in the video, pretty quick both with and without the pan.
Can it cook stuff and if so can it cook stuff evenly. Both the eggs and pancakes I made looked and tastes great.
The biggest test on these electric burners, can it boil water? I will say It took a little bit longer than a stove top but it got there so I can't complain.
Based off these 3 tests, the build quality, and the value I'd give this thing a strong 9 out of 10 and no, this isn't a paid promotion. By the way I've been using it everyday for a month now and its been GREAT!
If you already have one of these, comment down below what you use yours for!
Check out the Cuisinart CB-30 here: http://amzn.to/2iWTgnb
CUISINART CB-30 Single Burner Review & Unboxing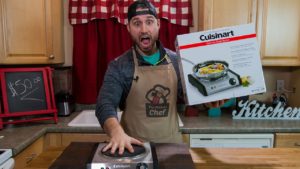 So here's the deal, every so often I'll buy something and a couple weeks after using it I'll wish that I had filmed myself unboxing it. That's where this b