Affordability and quality, two things I ALWAYS look for when purchasing something. There seems to be a fine line somewhere in the middle where you can get both and right now in the market of knives I do believe that Dalstrong is that fine line!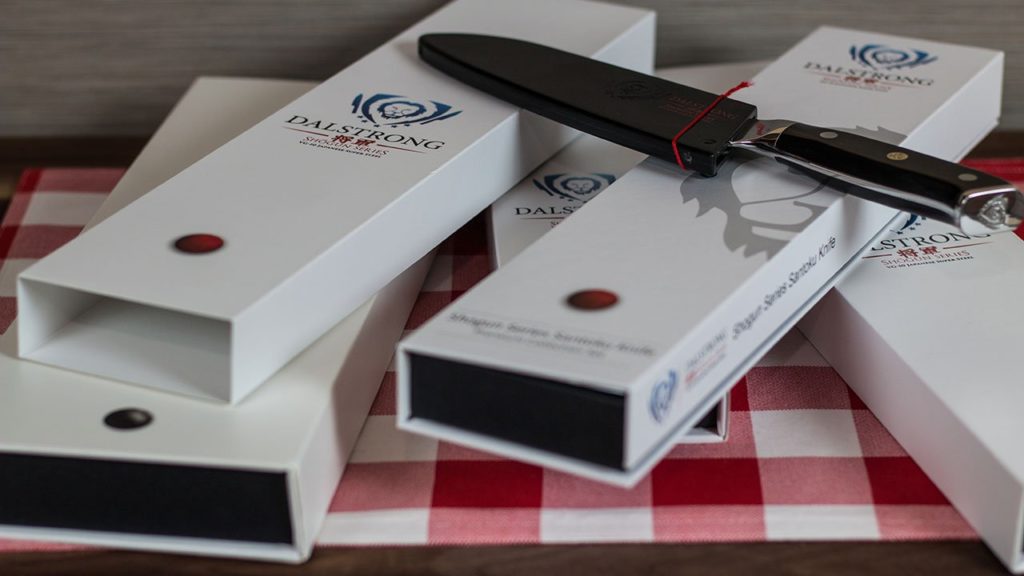 When you first receive a Dalstrong knife you'll immediately see and feel the quality. If a company is putting that much love into their packaging it's a safe bet that that'll be putting just as much love, if not more into the product (the packaging reminds me of an Apple product…super clean). So check this out: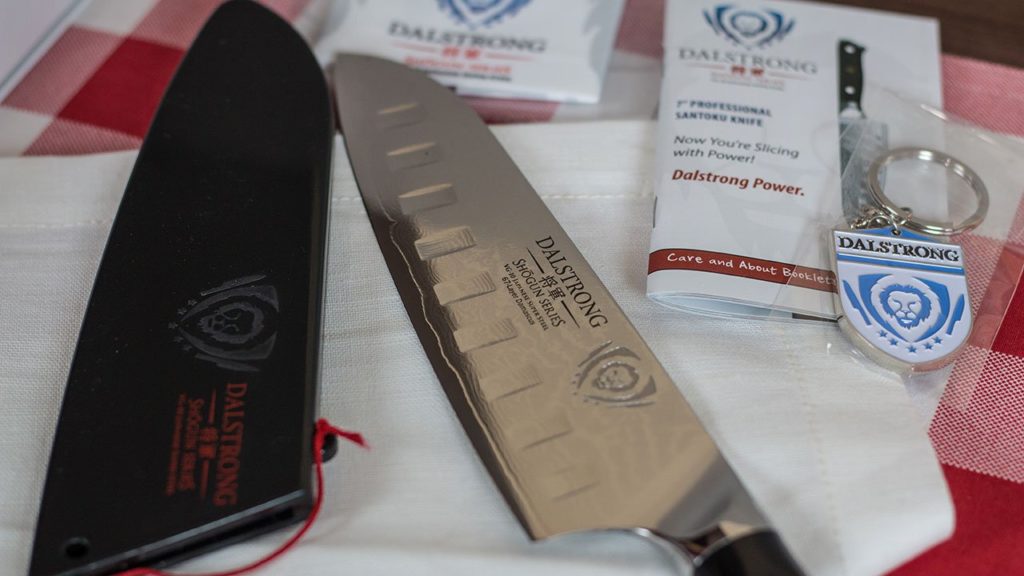 All of the knives come shrink wrapped in what you would assume is the box. Guess what? It's not the box…it's a sleeve that's ON a box. Little things amaze me and this was one of them but lets move on from my weirdness. After you remove the sleeve you'll see the box that holds the knife and a boatload of goodies like a polishing cloth, key chain, sheath for the knife, and so on. Presentation? MAX LEVEL.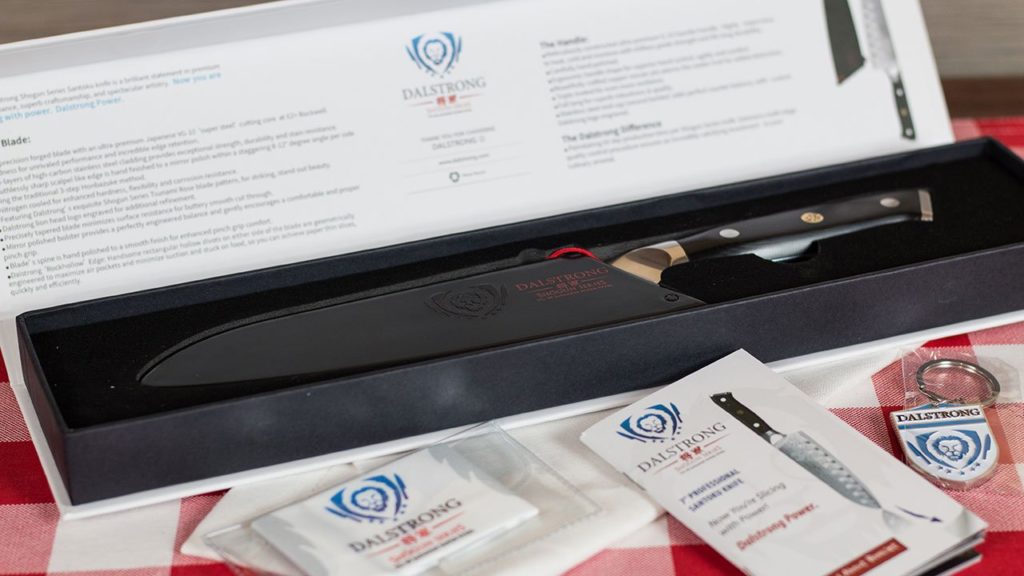 The real question is if they perform as good as they're presented? Let me first start this off by saying that before I "met" Dalstrong I was using a Yaxell Gou santoku as my primary knife which is significantly more (almost 6x more) than the cost of a Dalstrong santoku. Having used the Dalstrong santoku for a couple months now I have to say that its quickly become my FAVORITE knife. I'm not going to say it's better than my Yaxell Gou but what I am going to say is that it performs just as good at a fraction of the cost and because of that I have much more fun using the Dalstrong.
You'll notice in the pictures there's more than just a santoku there. You'll see 3 blades from the Shogun Series (3.5" pairing, 7" santoku, and 9.5" chef) and 1 blade from the Infinity Series (8" chef black). Though I've mostly used the santoku I do have to say that I've used all of them and they all perform wonderfully.
Things I like most about these Dalstrong knives?
The weight. This is a big one for me. Typically I like something that feels like it's not going to break but also something that's not going to tire me out after hours of cutting. Here we have the perfect blend of both.
They stay sharp. Need I say more? Beautiful blades that are consistent!
The look. As long as they don't break, tire me out, or quickly become dull I'm a happy guy but when something can look awesome too…that's just icing on the cake (and we all know I love cake). I mean at the end of the day the samurai still wanted style points too, right?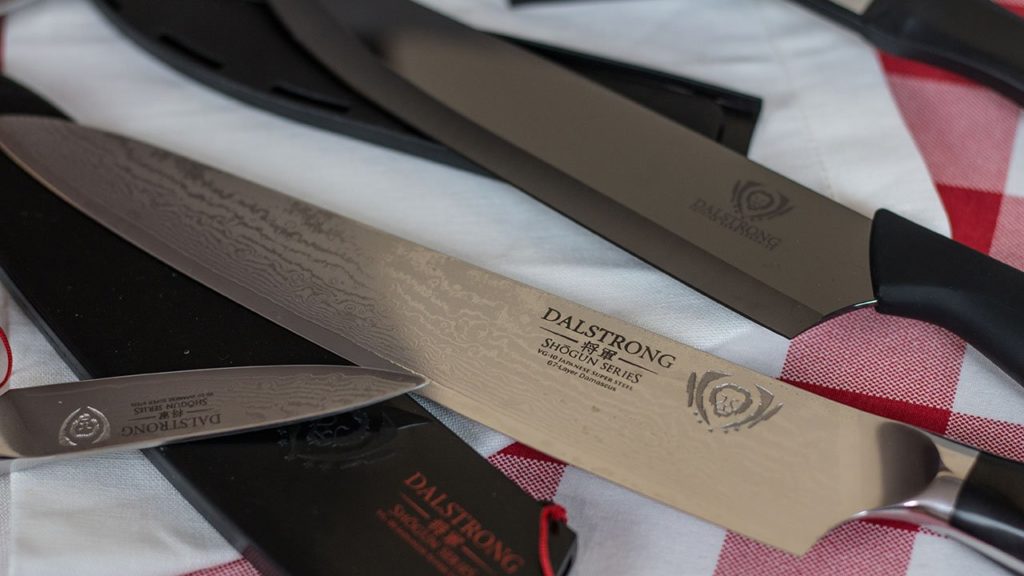 Benefits of the Shogun Series?
Scalpel like sharpness
Dalstrong 'Rockhollow' divots minimize stuck on food
VG-10 steel
67-Layered Damascus
Rust resistant cladding
Full tang
Triple riveted
Tapered blade
Nitrogen cooled
Military grade handle
Ergonomic handle
Non-slip grip
Lifetime warranty
IT'S BEAUTIFUL!
Benefits of the Infinity Series?
1-2 times sharper than steel
Holds an edge 15 times longer than steel
Includes a sharpener
Never rusts
BPA free
Germ and bacteria resistant
Mirror finish
Never stains or rusts
It's super light
Lifetime warranty
IT'S BEAUTIFUL!
Here are the knives featured above and the links to check them out/purchase them (click them):
My overall thoughts? I think you guys already know! Starting in July all of my recipes will start to feature these knives in my cutting scenes!
Seriously…these are HIGH QUALITY knives for a great price. No one paid me to write this.
Quality? 10/10
Cost? 10/10
Dalstrong Cutting Edge Ceramics Knives Review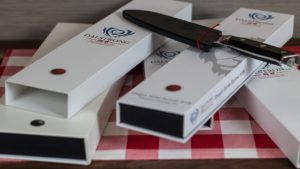 Affordability and quality, two things I ALWAYS look for when purchasing something. There seems to be a fine line somewhere in the middle where you can