PROTEIN BARS…always hit or miss, usually packed with way too many ingredients, and they can definitely put a dent in your wallet! These cheap protein bars without powder we're gonna make today are packed with great macros, you can make them a million different ways, they only really take a couple minutes to prep, and the recipe where I live costs less than $2.00!
We're gonna start this one by making a crust. It's easy, don't worry. Add into a bowl 1 1/4 cups of rolled oats, 2 teaspoons of a lower calorie brown sugar, 1/2 teaspoon of ground cinnamon, 1 ounce of a milk substitute, and 2 tablespoons of either melted butter or coconut oil. Mix those together until all of your oats are nicely coated.
Next, get out a pan. The size or shape pan you use will depend on what kind of bars you wanna make. I like using either a bread pan or 9'' square pan. Add some parchment paper into it then pour your mix in and do your best to evenly distribute it across the bottom while pressing it in. Throw that in the oven on 350F/176C for around 12 minutes.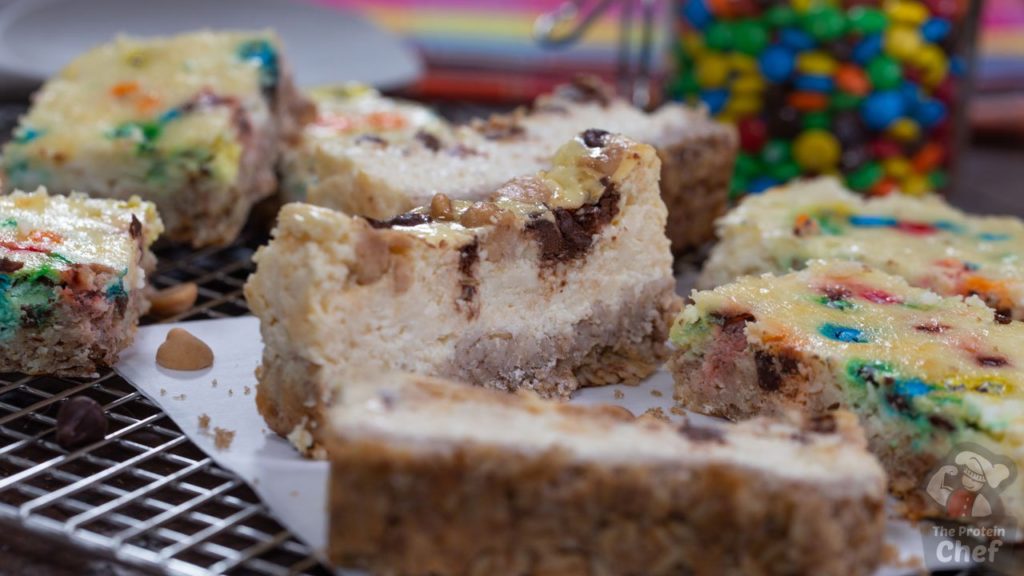 At this stage you could add in anything you want…nuts, fruit, or some chocolate chips like I'm doing. After that and once your crust is done go ahead and pour this mix in. You can top your bars with whatever you want. What do I top mine with? It depends on what I'm craving so I don't have a favorite but baking M&Ms and a combination of peanut butter and chocolate chips were my choice today. Think outside the box here and have some fun!
You're almost done
While that's cooking add into another bowl 2 cups of fat free cottage cheese, 2 ounces of Greek yogurt, 1 teaspoon of vanilla extract, a couple tablespoons of some sweetener (I prefer Erythritol), 2 large whole eggs, and then an optional 1-2 scoops of some protein powder. Mix everything together for a couple minutes.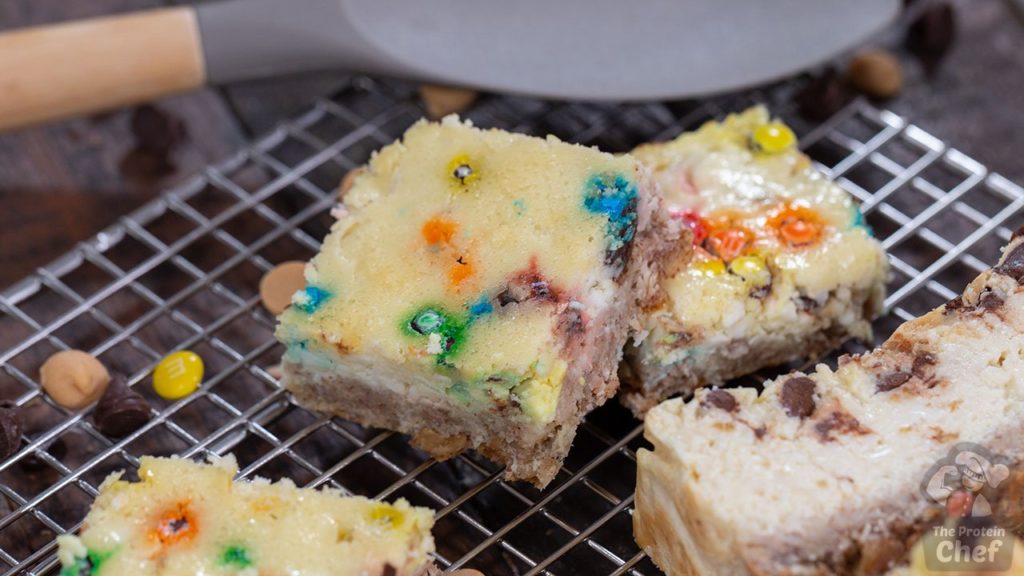 Bake your soon to be bars on 325F/162C for 50 minutes to an hour. You'll know they're done once the edges start to brown (which you can see in the video). Once the edges look done let them cool for a bit, wrap them up, and throw them in the fridge for a couple hours before cutting your protein bars without powder!
So there they are and yes, these protein bars without powder are delicious. Keep them in the fridge and they should last an easy 5-7 days if you don't eat them before then (they last 3 days max in my house). You also don't have to make this recipe exactly like I made it, use whatever ingredients fit your macros or lifestyle. Don't like sweetener? Use some regular sugar or don't use any at all. Hate milk substitute? Use whole milk. Don't like fat free cottage cheese? Use full fat! Want chocolate bars? Add in some cocoa powder and a scoop of chocolate protein powder. Want something fruity? Use strawberry Greek yogurt and add in some banana slices! See where I'm going with this? Let us know what you try below so we have even more options down the line!
Want another Protein Bar recipe? Check these Fudge Brownie Protein Bars out!
How To Make Cheap Protein Bars without Powder
Ready for some homemade, flavor packed, and cheap protein bars? This protein bar recipe is easy to make and you only need a few ingredients!
Materials
Crust
1 ¼

Cups

Rolled Oats

100g

2

Teaspoons

Brown Sugar Substitute

½

Teaspoon

Ground Cinnamon

1

Ounce

Milk Substitute

2

Tablespoons

Melted Butter

or Coconut Oil
Bars
2

Cups

Fat Free Cottage Cheese

452g

2

Ounces

Greek Yogurt

Your choice flavor

1

Teaspoon

Vanilla Extract

2-4

Tablespoons

Sweetener

I prefer Erythritol

2

Large

Whole Eggs

1-2

Scoops

Protein Powder

Your choice flavor

Chocolate Chips

Or nuts, raisins, dried fruit, etc
Instructions
Melt your Butter or Coconut Oil and mix together all of your crust ingredients

Line a pan of your choice (whatever size or shape you want) with some parchment paper and press your crust mix into the bottom of it

Bake your crust on 350F/176C for around 12 minutes

Mix together all of your bar ingredients

Lightly mix in anything else you want your bars to have in them

Pour your bar mix on top of your crust

Add a topping

Bake on 325F/162C for 50 minutes to 1 hour (your edges should start to brown)

Let them cool, wrap them up, and put them in the fridge for a couple hours
Video
Notes
Factor in the calories from whatever you add inside or on top of them after (it's easy)!
Keep them in the fridge and they should last 5-7 days!
Make them in bulk and freeze them!
Calories in the whole recipe w/ 1 scoop of Protein Powder and no topping:
Calories: 1197
Fat: 41g
Saturated Fat: 18g
Sodium: 1615mg
Carbs: 103g (Net Carbs: 93g)
Fiber: 10g
Sugar: 30g
Protein: 104g
Calories Per Bar (if you cut 10) w/ 1 scoop Protein Powder and no topping:
Calories: 120
Fat: 4.1g
Saturated Fat: 1.8g
Sodium: 161.5mg
Carbs: 10.3g (Net Carbs: 9.3g)
Fiber: 1g
Sugar: 3g
Protein: 10.4g
Calories in the whole recipe w/ no Protein Powder or topping:
Calories: 1097
Fat: 41g
Saturated Fat: 18g
Sodium: 1504mg
Carbs: 102g (Net Carbs: 92g)
Fiber: 10g
Sugar: 30g
Protein: 80g
Calories Per Bar (if you cut 10) w/ no Protein Powder or topping:
Calories: 110
Fat: 4.1g
Saturated Fat: 1.9g
Sodium: 150.4mg
Carbs: 10.2g (Net Carbs: 9.2g)
Fiber: 1g
Sugar: 3g
Protein: 8g
Nutrition
Calories:
110
kcal
|
Carbohydrates:
10.2
g
|
Protein:
8
g
|
Fat:
4.1
g
|
Saturated Fat:
1.9
g
|
Sodium:
150.4
mg
|
Fiber:
1
g
|
Sugar:
3
g