Have you ever wondered how to portion out your recipes and create serving sizes? Here are my 3 favorite, quick and easy methods to portioning out your recipes and creating serving sizes that I've used for decades!
Kitchen Scale Method
Whether digital or not this is by far the most accurate and my most preferred method when teaching someone how to portion out their recipes and create serving sizes.
All you need to do? Take out something to store your recipe in. This could be a plate, bowl, or whatever you have that can fit your entire recipe into or onto it.
I like to use something that I can store the recipe in and take servings out as I need them. Bonus? Using a single container for everything saves me some time on clean up.
If you're strapped for time and travel a lot I'd suggest portioning it out all at once using multiple meal prep containers like these.
The Protein Chef is a participant in the Amazon Services LLC Associates Program, an affiliate advertising program designed to provide a means for us to earn fees by linking to Amazon.com and affiliated sites.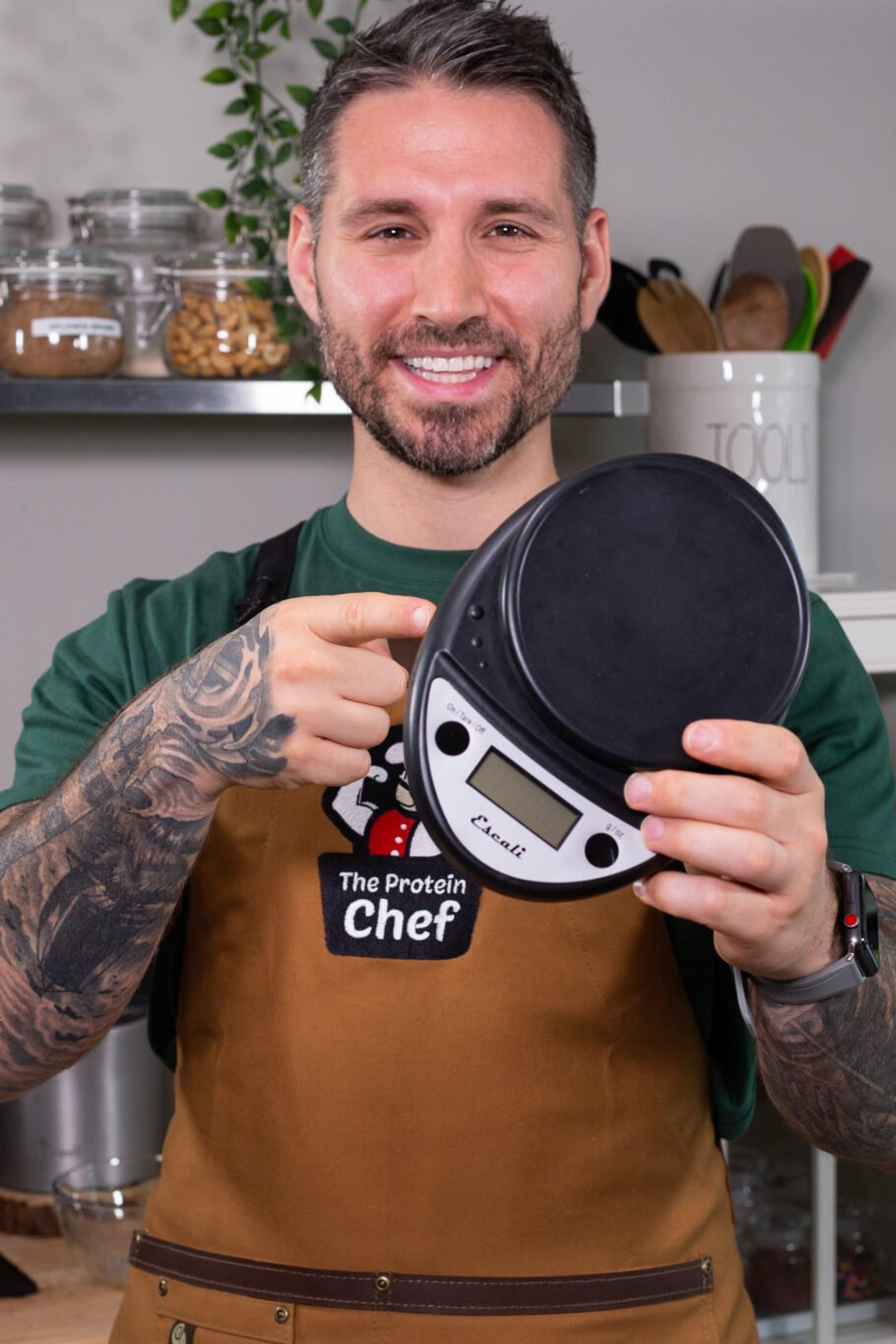 How do you use your kitchen scale? Easy! The first thing you would do is place your container that you're using for your recipe onto the kitchen scale. This will give you the total weight of your container, remember this weight.
If you have a digital kitchen scale that allows you to "tare the weight" which means to bring it back to 0, you won't need to remember this weight. Most digital kitchen scales nowadays have this option.
What you're going to do now is to put your entire recipe into the container to get the total weight.
You should have the ability to use either grams or ounces with your scale. I like using grams as it makes dividing into it a bit easier.
From here you take the total weight of the recipe and divide it by however many servings you want. Don't forget to subtract the weight of the container if you don't have the tare option on your scale!
Serving Sizes
As an example here, let's say the total weight is 500 grams and you want to make it into 2 servings:
500g / 2 Servings = 250g Per Serving
Does that make sense? To simplify it even more all you have to do is take out a serving container, tare it (if you have that option), and divide the total weight by however many servings you want.
Once you have the total weight of each serving you can either portion it out into single serving containers or weigh your servings as you eat them.
The digital kitchen scale that I use, I've been using for over a decade now. Its great quality, only around $25 shipped, and small enough to take with me anywhere. If you want to check it out or purchase it, you can do so by clicking here.
Eye Method
How to portion out your recipes and creating serving sizes using your eyes! This method to portioning out your recipe is not as accurate but without a kitchen scale it's going to be your next best option.
To use the eye method you would line up whatever you're going to store your servings in and portion out your recipe to eye level. Seems simple enough, right? Because it is!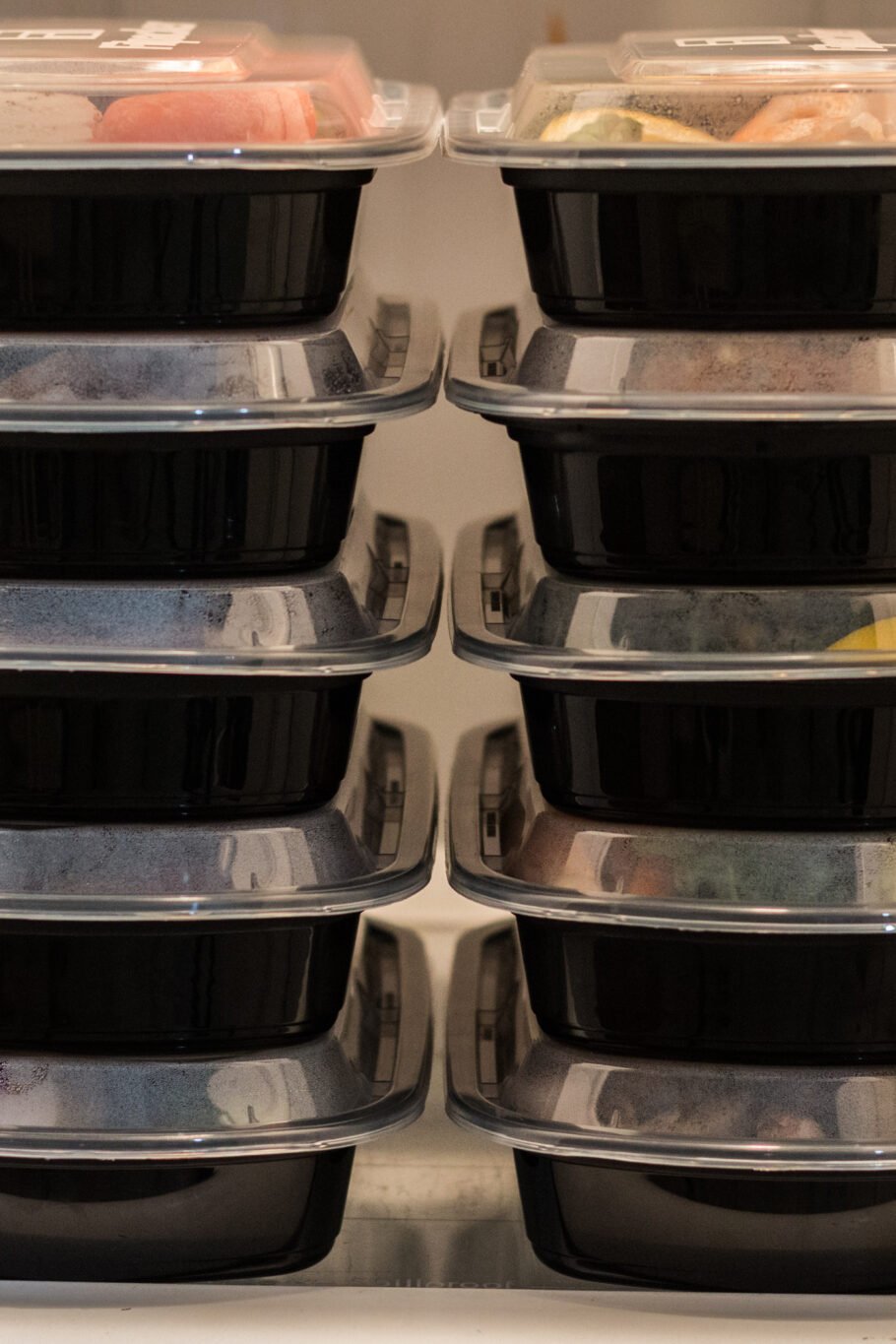 Start by pouring/adding a small amount of your recipe into each meal prep container and slowly distributing the rest until nothing is left. Don't worry, it's a lot quicker than it sounds…especially after you do it a few times.
If the recipe isn't one you can pour/easily add (like pancakes or waffles) you would take however many you have and compare the sizes. If you want 2 servings and they aren't all the same size? Cut one to compensate for that.
To portion out something like a cheesecake, pie, protein bars, brownies, and so on? Do your best to cut each piece the same size.
Weight Guessing Method
Better with feel than you are with your eyes? If so, this method may work better for teaching you how to portion out your recipes and create serving sizes.
I use this in combination with the eye method as reassurance that I accurately portioned out my recipe when I don't have a kitchen scale available.
All you have to do here is to take whatever you're storing your servings in and start with a single serving.
Slowly distribute whatever you made into each container until they all feel like the same weight by hand. You can do this with anything! Mixes, drinks, chili, pieces, pancakes, and so on.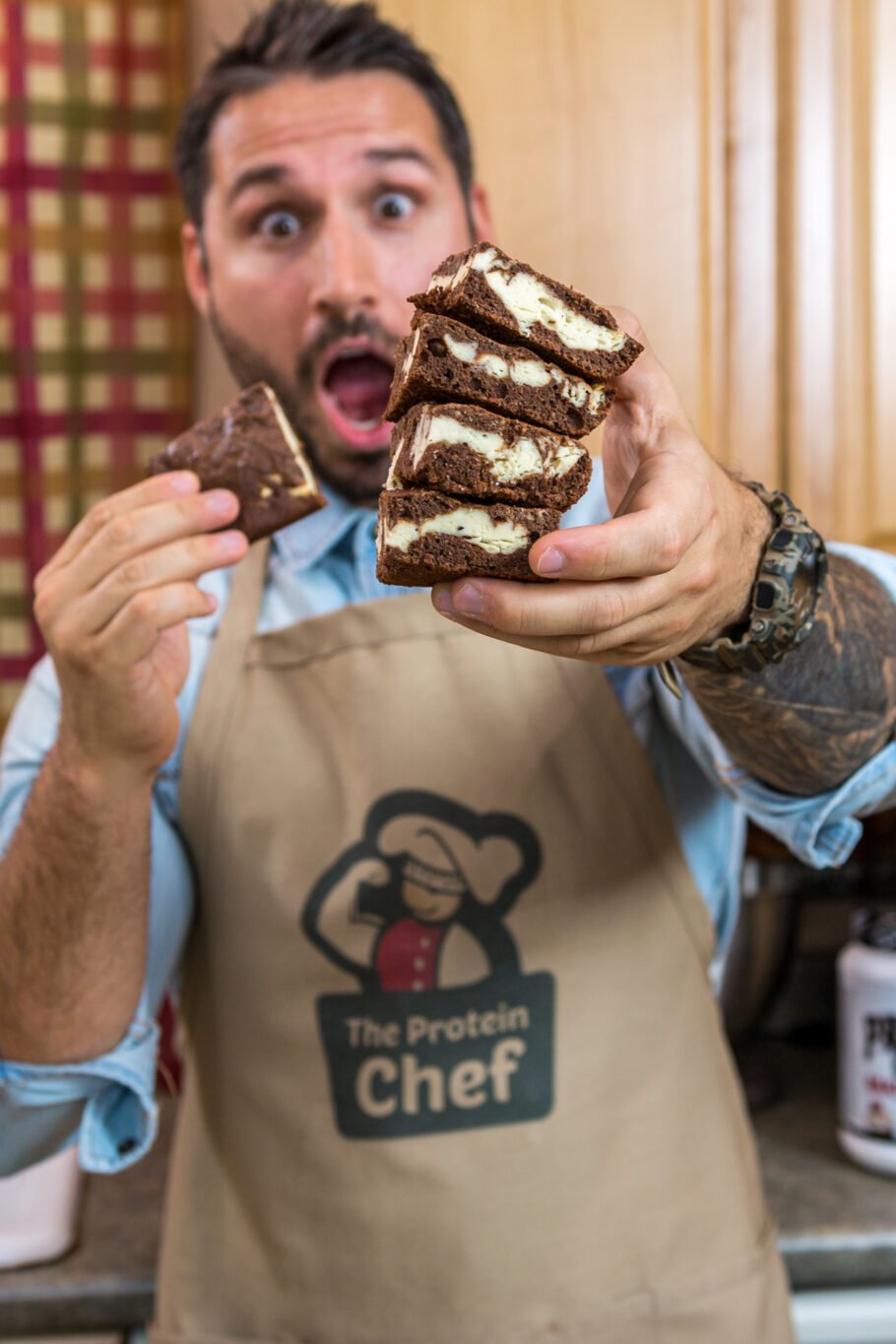 Total Calories
The most important thing to remember? If it's you eating the entire recipe over the course of the week or however long, you're still going to get all of the calories/macros for that recipe in either way. If you're off by a few calories one day it's really not going to matter since you'll make up for it the next day or by the end of the week.
Regardless of your method of portioning, don't stress out too much…it's all about creating a healthy lifestyle!
Ready to make a meal prep recipe? Try our White Chicken Chili!