Hey!!! Alright, 5 minutes…that's all you need to kill your sweet tooth. The best part? These Mason Jar Cheesecakes are only around 300 calories EACH!
Start by taking out a bowl and some graham cracker crumbs. You can make your own by crushing up some graham crackers or if you're lazy like me just buy them boxed. I shoot for around 1 serving of crumbs per cheesecake which is 31 grams. Add those in and then 1 tablespoon of melted butter or coconut oil. You'll want 1 tablespoon per 1 serving of crumbs. Mix those together until clumpy.
Next take out another bowl and add into that one 8 ounces of cream cheese, 1 teaspoon of vanilla extract, 1 container of Greek yogurt, 1 1/2 scoops of protein powder, 1-2 tablespoons of a sweetener, a dash of salt, and a little lemon juice. Mix those together until smooth.
Now you have your crust and you have your filling. Here's where you can change up the recipe however you want. If you want a peanut butter cheesecake throw some peanut butter into your filling, if you want it chocolate throw in a couple tablespoons of cocoa powder. You can pretty much add anything you want into these and they'll taste great so have some fun and share some of your favorite variations below!!!
Half Pint Mason Jars: http://amzn.to/2kjTPJL
Today we're gonna add in some fruit. With fruit I like to layer it so first I start with some half pint mason jars. Add in a little crust to the bottom followed by some filling and then your fruit. Today I'm using strawberries and bananas. On top of your fruit another layer of filling then your crust and the rest of your fruit. You can obviously change this up however you want to. Throw them in the fridge for 10-20 minutes or if you can't wait just dive right in! This recipe should easily make 3 of them. Below are the macros with full fat, reduced fat, AND fat free cream cheese.
Tip:
Throw them in the fridge for 10-20 minutes and they'll thicken up even more like cheesecake!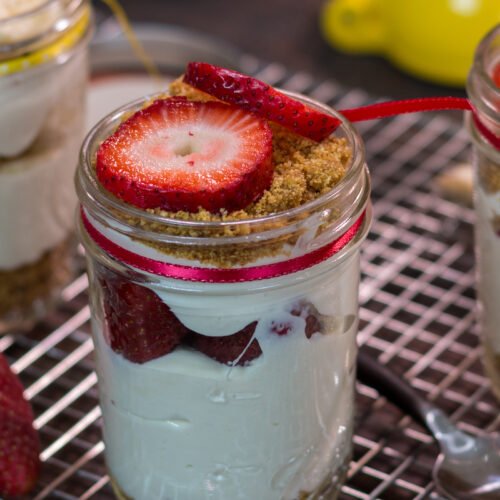 5 Minute Mason Jar Cheesecakes
Cheesecake without the guilt! These mason jar cheesecakes pack flavor, take 5 minutes to make, have a TON of protein, and come in at around 300 calories!
Print
Pin
Rate
Ingredients
1

Serving

Graham Cracker

–

Crumbs 31g Per Cheesecake

1

Tablespoon

Butter

–

or Coconut Oil Per Cheesecake

8

Ounces

Cream Cheese

–

Fat Free, Reduced Fat, or Full Fat

1

Teaspoon

Vanilla Extract

5.3

Ounces

Greek Yogurt

–

150g Fat Free

1 ½

Scoops

Protein Powder –

45g

1-2

Tablespoons

Sweetener

1

Dash

Salt

1

Squirt

Lemon Juice

Fruit

–

*Optional Peanut Butter, Cocoa Powder, etc
Instructions
In a small bowl melt your Butter or Coconut Oil and mix it together with your Graham Cracker Crumbs until clumpy

In another bowl mix together the rest of your ingredients aside from your optional toppings (like fruit) until smooth

Add some of your crust into your half pint mason jar then your filling and last your topping

Repeat the process until you make however many layers you want
Video
Notes
Calories in the whole recipe w/ Fat Free Cream Cheese (makes 3):
Calories: 970
Fat: 30g
Saturated Fat: 15g
Sodium: 1005mg
Carbs: 91g
Fiber: 2g
Sugar: 38g
Protein: 84g
Calories in the whole recipe w/ Reduced Fat Cream Cheese (makes 3):
Calories: 1125
Fat: 65g
Saturated Fat: 37g
Sodium: 925mg
Carbs: 75g
Fiber: 2g
Sugar: 29g
Protein: 60g
Calories in the whole recipe w/ Full Fat Cream Cheese (makes 3):
Calories: 1485
Fat: 105g
Saturated Fat: 68g
Sodium: 810mg
Carbs: 75g
Fiber: 2g
Sugar: 29g
Protein: 60g
Nutrition
Calories:
323
kcal
|
Carbohydrates:
30.3
g
|
Protein:
28
g
|
Fat:
10
g
|
Saturated Fat:
5
g
|
Sodium:
335
mg
|
Fiber:
0.6
g
|
Sugar:
12.6
g