We're back with our old friend…the SLOW COOKER! I think I've used the same slow cooker on this website for a decade now. Today, we're making another easy to make and protein packed meal prep in it, Slow Cooker Chicken & Gravy!
P.S. As you've probably noticed I've been doing more of these slow cooker meal preps lately so if you like them and think I should keep doing them hit that thumbs button. If you don't have a slow cooker it's in my opinion one of the best purchases you can make for your kitchen and diet. Simple to use, almost failure proof, and cheap. I'll link the newer model to mine below!
Start this one by adding into your slow cooker 3 pounds of cut up fat trimmed chicken breast, 1 cup of chicken broth, 2 packets of gravy mix, and 1 can of cream of chicken.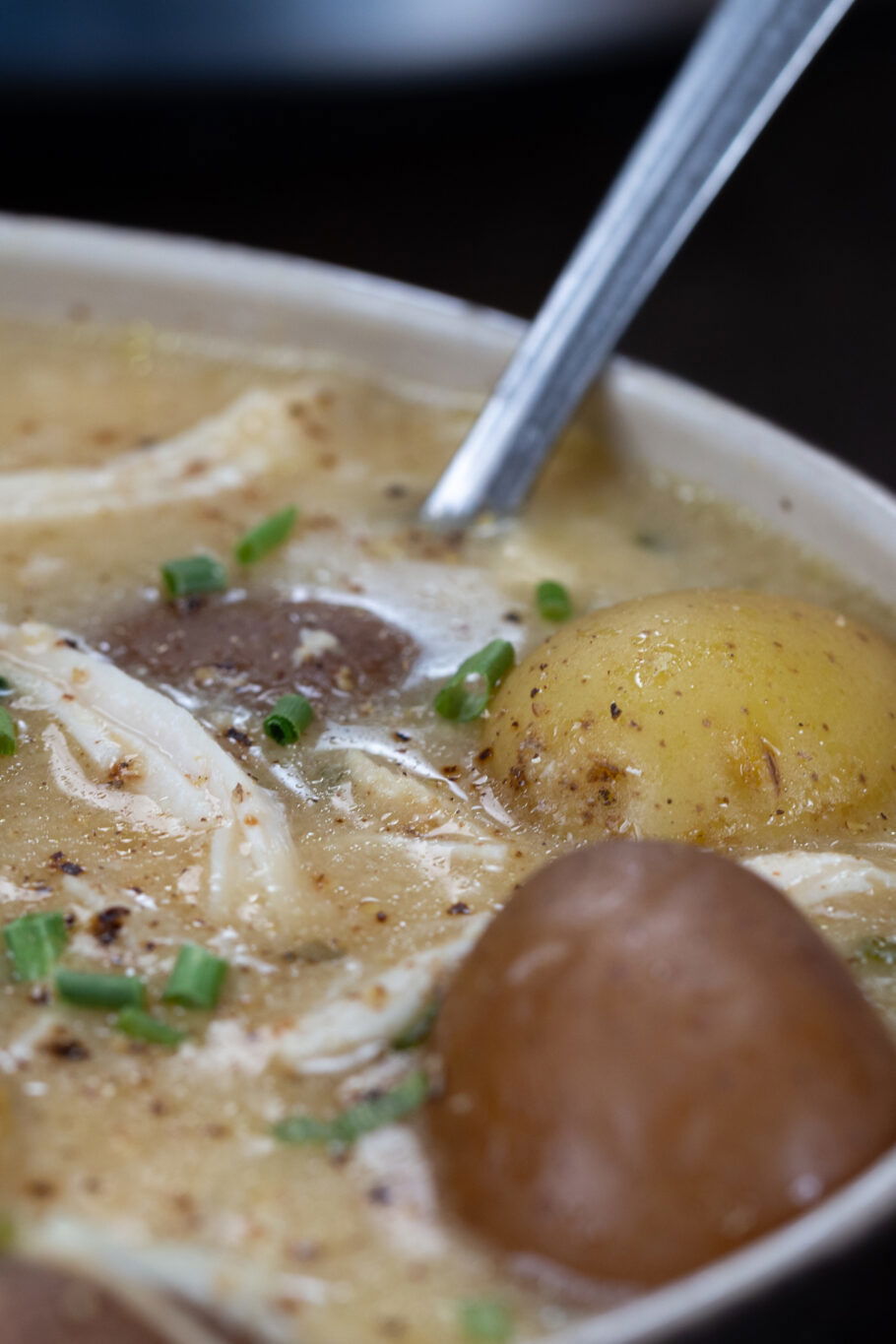 This is your slow cooker chicken & gravy base, anything you add in after this is completely up to you. Think outside the box here and you'll have ENDLESS variations.
I went with 2 teaspoons of minced garlic and 1 teaspoon of ranch seasoning mix today.
Other Variations
Onion/Garlic Powder
Italian Seasoning
Rosemary
Thyme
Paprika
Crushed Red Pepper
Black Pepper
Bacon Bits
Vegetables (Onion, Bell Peppers, Mushrooms, Carrots, Celery)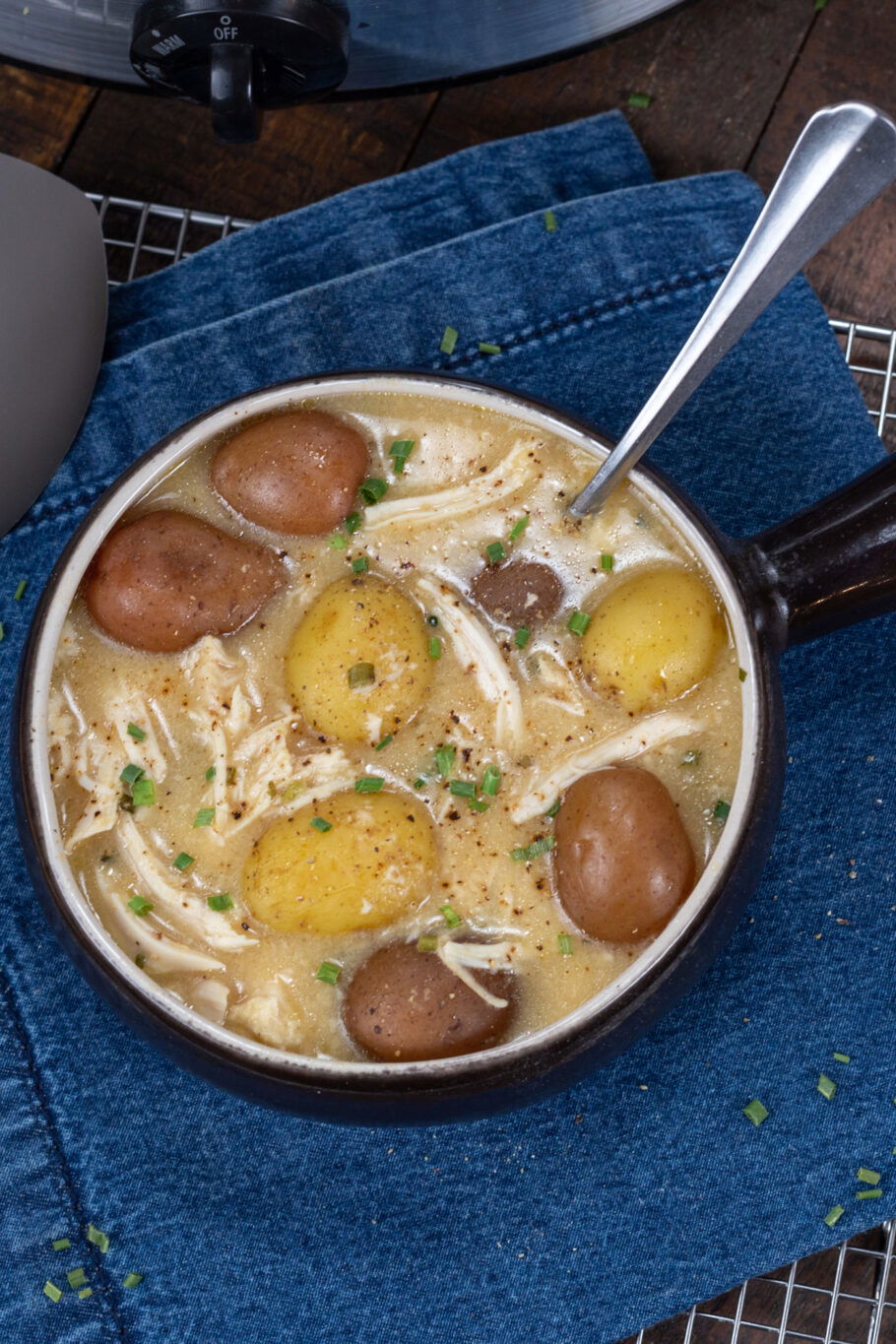 Give those ingredients a quick mix until everything is incorporated.
Lower the sodium! A quick tip here is to look for lower sodium alternatives for your chicken broth, gravy mix, and cream of chicken. Most local grocery stores should have these options and when combined, will greatly reduce the sodium level.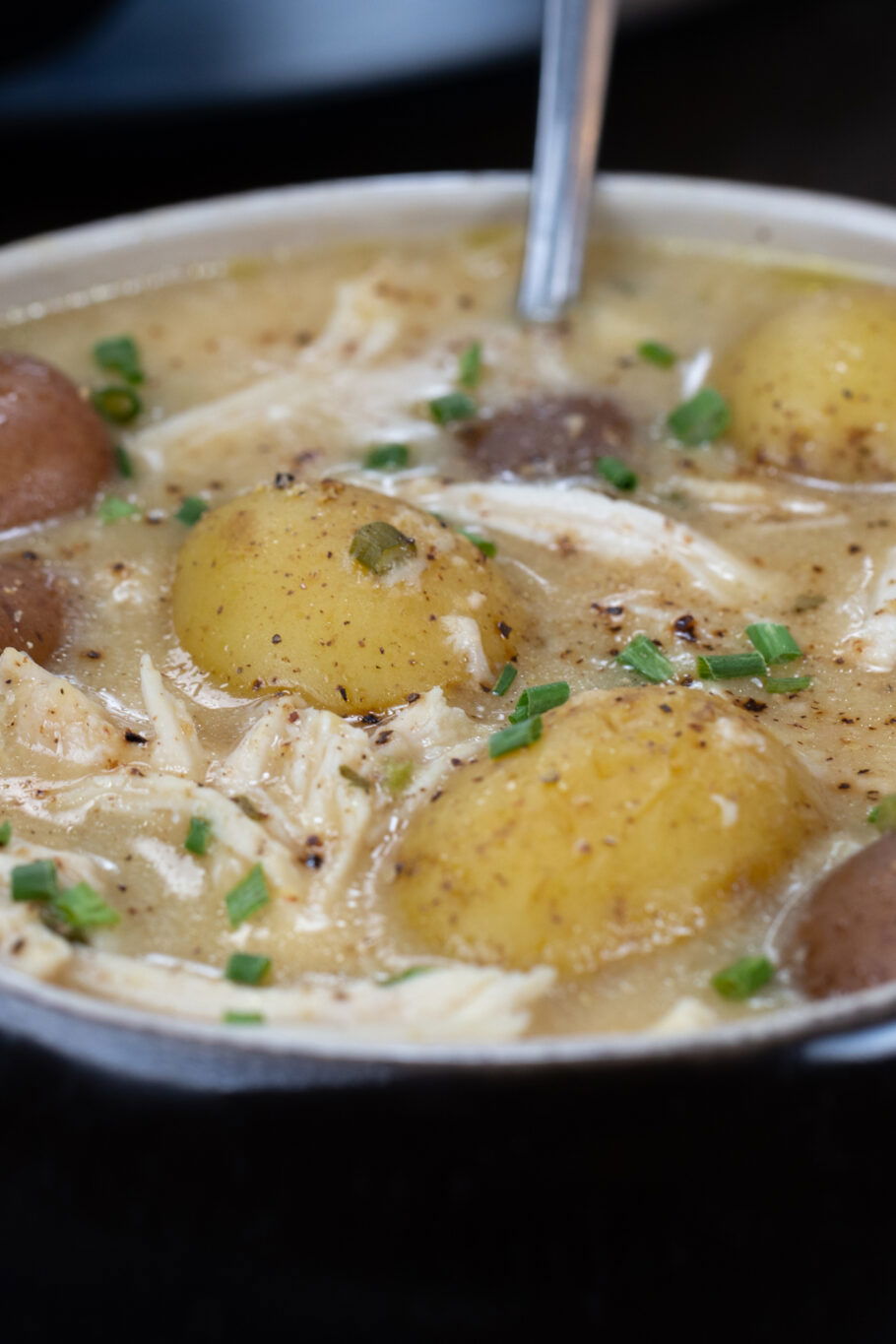 Slow Cooker Chicken & Gravy Potatoes
Make it macro balanced! If you want a carb source in this I also like to add in 1 1/2 pounds of potatoes. You can use whatever kind you like, I usually go with some little potatoes.
If you don't want a carb source? Skip this part and top it with some chives.
Last, put your cover on and let it cook on low heat for 6-8 hours or high for around 4 hours.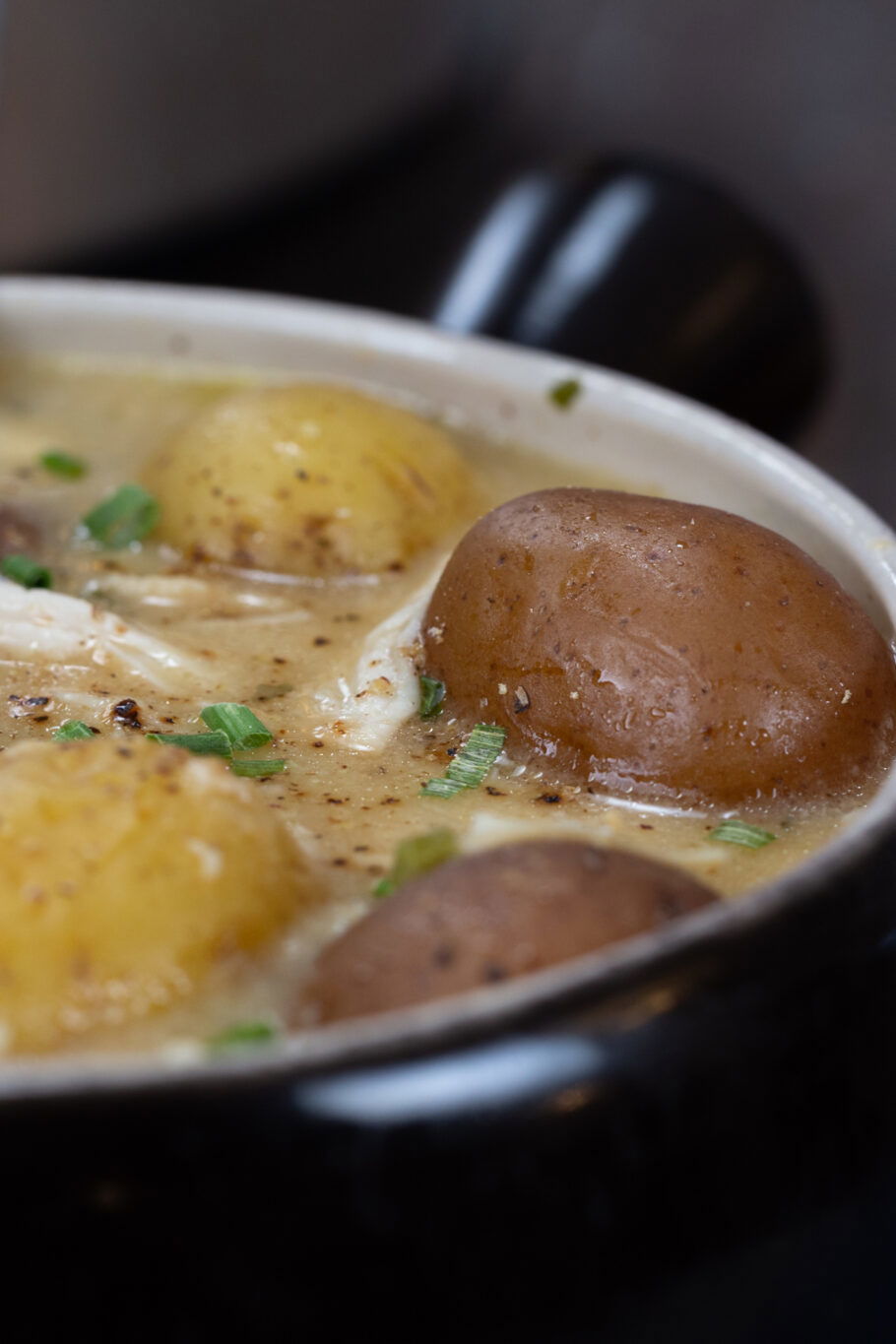 Around 10-15 minutes before it's done I like to shred my chicken (optional). It should shred super easy and at the end it should look like this…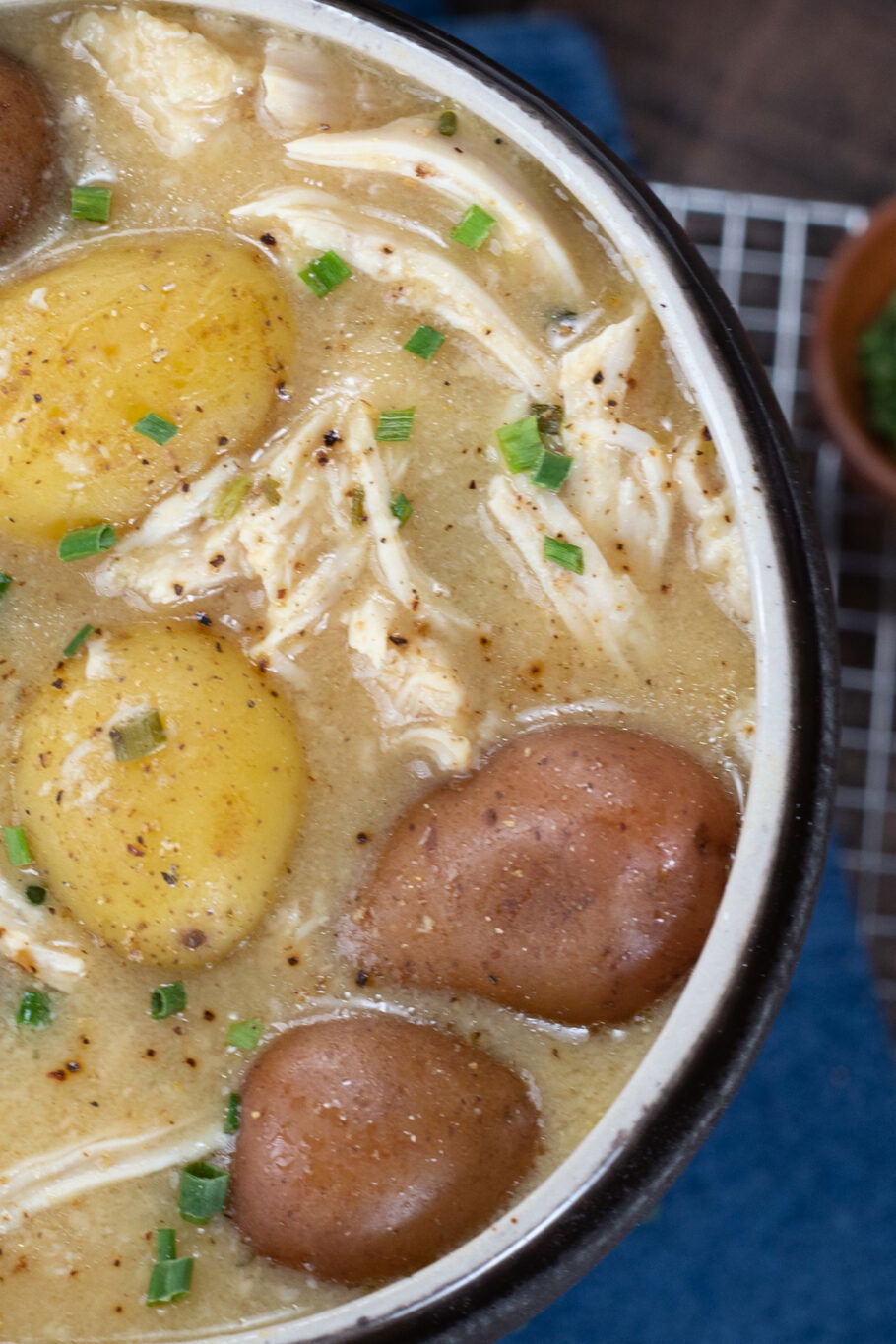 I usually make 6 servings with this one and each serving has around 48 grams of protein in it!
Ready for dessert? How about some Low Carb Pumpkin Brownies?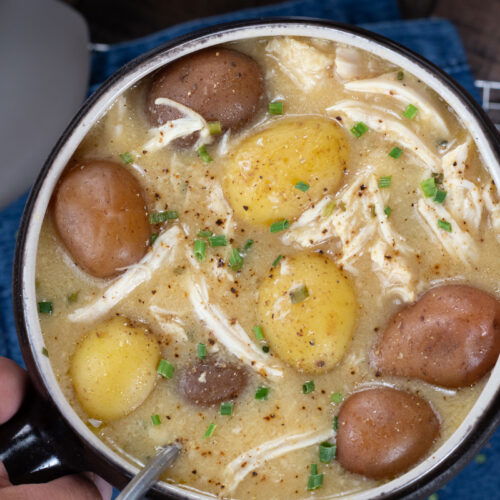 Slow Cooker Chicken & Gravy
High protein meal prep with 4 ingredients! This Slow Cooker Chicken & Gravy recipe will keep your taste buds happy and make your diet easy!
Print
Pin
Rate
Save Recipe
Saved!
The Protein Chef is a participant in the Amazon Services LLC Associates Program, an affiliate advertising program designed to provide a means for us to earn fees by linking to Amazon.com and affiliated sites.
Ingredients
3

Pounds

Chicken Breast

1

Cup

Bone Broth

-

Low Sodium Preferred

2

Packets

Gravy Mix

-

Low Sodium Preferred

1

Can

Cream of Chicken

-

Low Sodium Preferred (10.5 Ounces)

2

Teaspoons

Minced Garlic

-

*Optional

1

Teaspoon

Ranch Seasoning Mix

-

*Optional

1

Tablespoon

Chives

-

*Optional

1 ½

Pounds

Potatoes
Instructions
Trim the fat off of your Chicken Breast and cut them in half

Add all of your ingredients aside from your Potatoes into your slow cooker

Chop up your Potatoes and mix them in (if you're not using Little Potatoes)

Cook it on Low Heat for 6-8 hours or High Heat for around 4 Hours

Optionally shred your Chicken Breast 15 minutes before it's done
Notes
Calories in the Whole Recipe without Potatoes:
Calories: 1823
Fat: 51g
Saturated Fat: 9g
Sodium: 5450mg
Carbs: 54g
Fiber: 0g
Sugar: 9g
Protein: 287g
Calories Per Serving (Makes 6 Servings) without Potatoes:
Calories: 303
Fat: 8.5g
Saturated Fat: 1.5g
Sodium: 908.3mg
Carbs: 9g
Fiber: 0g
Sugar: 1.5g
Protein: 47.8g
Calories in the Whole Recipe with Potatoes:
Calories: 2325
Fat: 57g
Saturated Fat: 15g
Sodium: 5850mg
Carbs: 153g
Fiber: 13g
Sugar: 15g
Protein: 300g
Calories Per Serving (Makes 6 Servings) without Potatoes:
Calories: 387
Fat: 9.5g
Saturated Fat: 2.5g
Sodium: 908.3mg
Carbs: 25.5g
Fiber: 2.1g
Sugar: 2.5g
Protein: 50g
Nutrition
Calories:
303
kcal
|
Carbohydrates:
9
g
|
Protein:
47.8
g
|
Fat:
8.5
g
|
Saturated Fat:
1.5
g
|
Sodium:
908.3
mg
|
Fiber:
0
g
|
Sugar:
1.5
g