The perfect way to make hard boiled eggs that peel easily is finally here! This Easy Hard Boiled Eggs recipe is as close to perfection as you can get! If you're looking for a healthy breakfast that's super easy to make and only takes a couple minutes to prep, you've come to the right place.
The first thing you're going to do is to take out a sauce pan big enough to fit all of your eggs in. You want to make sure that your pan is big enough so that your eggs fit in a single layer, not on top of each other.
Put your eggs into your pan, fill your pan with enough water to cover 1" over your eggs, and add in 1/2 teaspoon of salt to your pan. However many eggs you make is completely up to you!
The next thing you need to do is to slowly bring your eggs to a boil. To do this, turn your burner on medium heat for 3 minutes then on high heat until they start to boil. They should start to boil after a couple minutes on high heat.
Once boiling, let your eggs continue to boil for 1 minute.
Turn your burner off, remove your easy hard boiled eggs from the heat, and cover them. Keep them covered for around 10 minutes.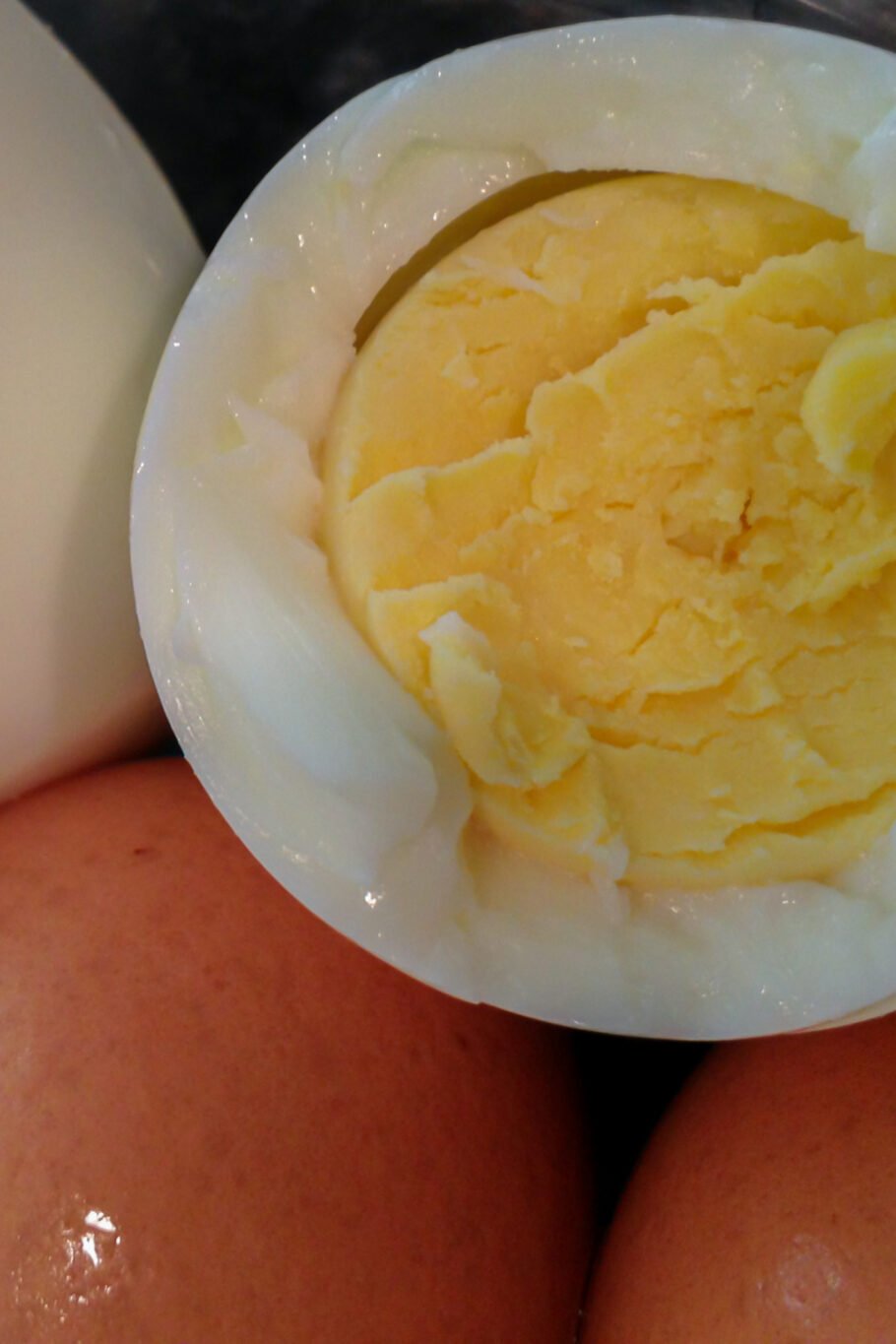 Ice Bath
Take out a bowl or container, fill it with ice water, and use a slotted spoon to put your eggs into it. Your eggs should bathe in this ice water for 15-20 minutes!
Remove your eggs from their bath and get ready to peel them! The easiest way to peel these? Tap both ends down on something (they'll crack) and your shell should peel right off in a single piece.
For the perfect breakfast you can pair this recipe with our Iced Coffee Protein Shake!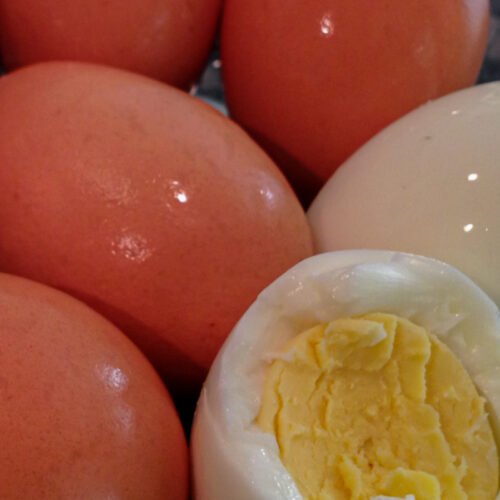 Easy Hard Boiled Eggs
My favorite quick and healthy breakfast recipe, Easy Hard Boiled Eggs! This hard boiled egg recipe is as close to perfect as you can get.
Print
Pin
Rate
Save Recipe
Saved!
The Protein Chef is a participant in the Amazon Services LLC Associates Program, an affiliate advertising program designed to provide a means for us to earn fees by linking to Amazon.com and affiliated sites.
Ingredients
Whole Eggs

-

However many you want

½

Teaspoon

Salt
Instructions
Take out a sauce pan big enough for however many eggs you're using

Add in cold water to your sauce pan bringing it 1 inch above your Eggs

Turn your burner on Medium Heat for 3 minutes

After 3 minutes turn your burner on High Heat until they start to boil

Once boiling keep them on the heat for 1 minute

Take your eggs off the heat, turn your burner off, and cover your sauce pan

Keep covered for 10 minutes

After 10 minutes take out a bowl or container and make an ice bath

Get a slotted spoon and transfer your Eggs from the sauce pan to the bath

Let them cool for 15-20 minutes
Nutrition
Calories:
73
kcal
|
Carbohydrates:
1
g
|
Protein:
6
g
|
Fat:
5
g
|
Saturated Fat:
1.5
g
|
Sodium:
70
mg
|
Fiber:
0
g
|
Sugar:
0
g