If there's one recipe on this channel that'll help you step your "chef" game up or at least get you some breakfast brownie points, it's this one! Today we make some Fluffy Protein Japanese Pancakes!
Outside of how fluffy and delicious these are, the best part is that I've made them super easy to make with just a few ingredients. Seriously, you could make this one with your kids and they'd probably have a blast!
Japanese Pancakes
I said these protein Japanese pancakes are gonna be super easy and I'm not lying! Start with a bowl and add into it 3 large egg yolks (make sure to keep your egg whites, we'll use them in a minute), 2 ounces of milk or milk substitute, 1 scoop of your favorite flavor protein powder, 2 tablespoons of a sweetener, and 1/2 cup of a pancake mix. Mix those up!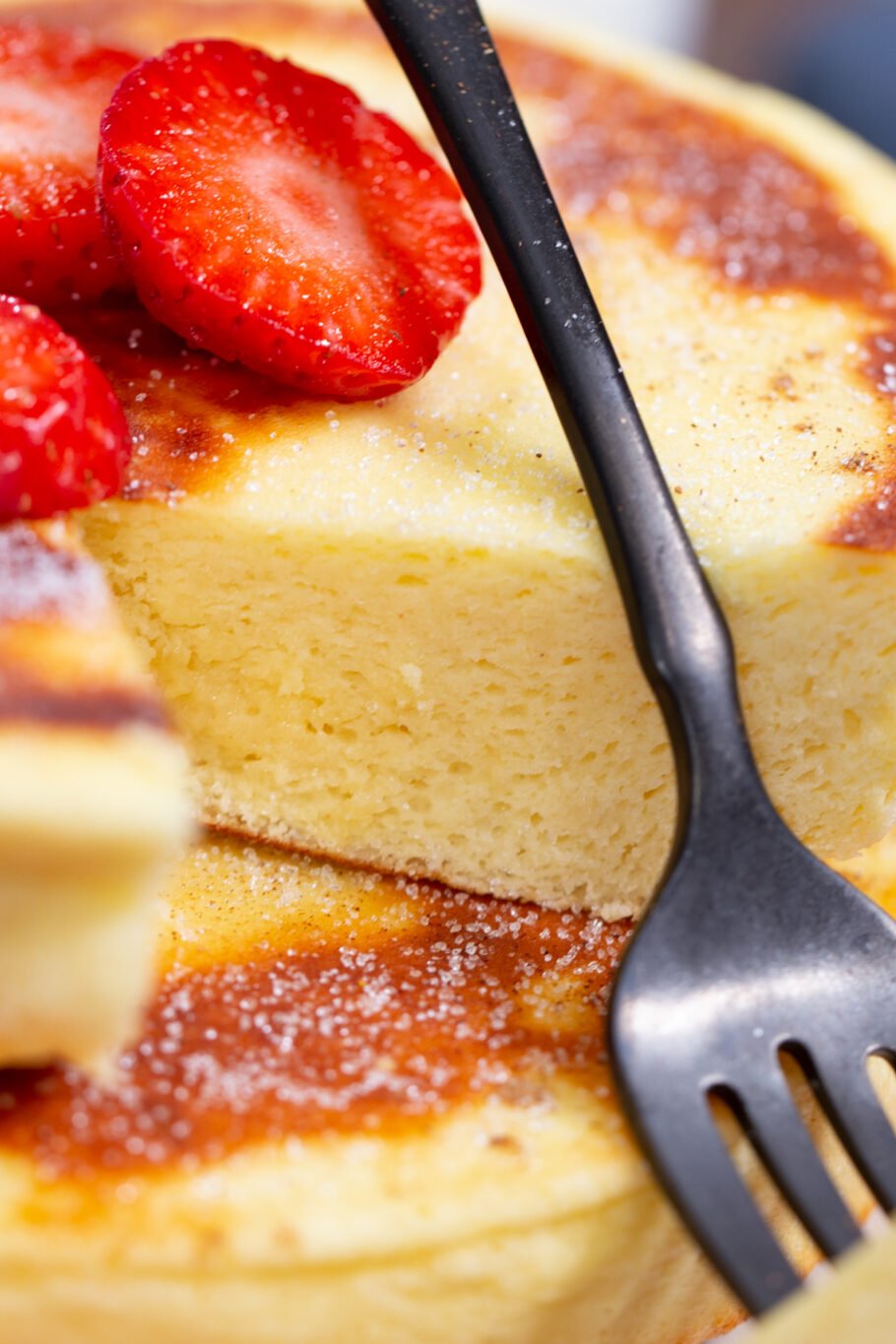 I also said you're only gonna need a few ingredients which is why we're using a pancake mix. You can easily make your own if you have all the ingredients, this is a good one here. I put one in the video too if you want something smaller.
Why use a pancake mix? I think most people either have or have access to buying a pancake mix which makes things easier and a lot cheaper than having to buy individual ingredients.
Fluff Time
Take out another bowl and add your 3 large egg whites into it or just use the bowl you have them in.
Here's the part people can overcomplicate. All you wanna do is just mix your egg whites until they form stiff peaks when you pull your mixer out. I think that's a boring saying so we'll say once you can shape waves that don't crush…or something like that!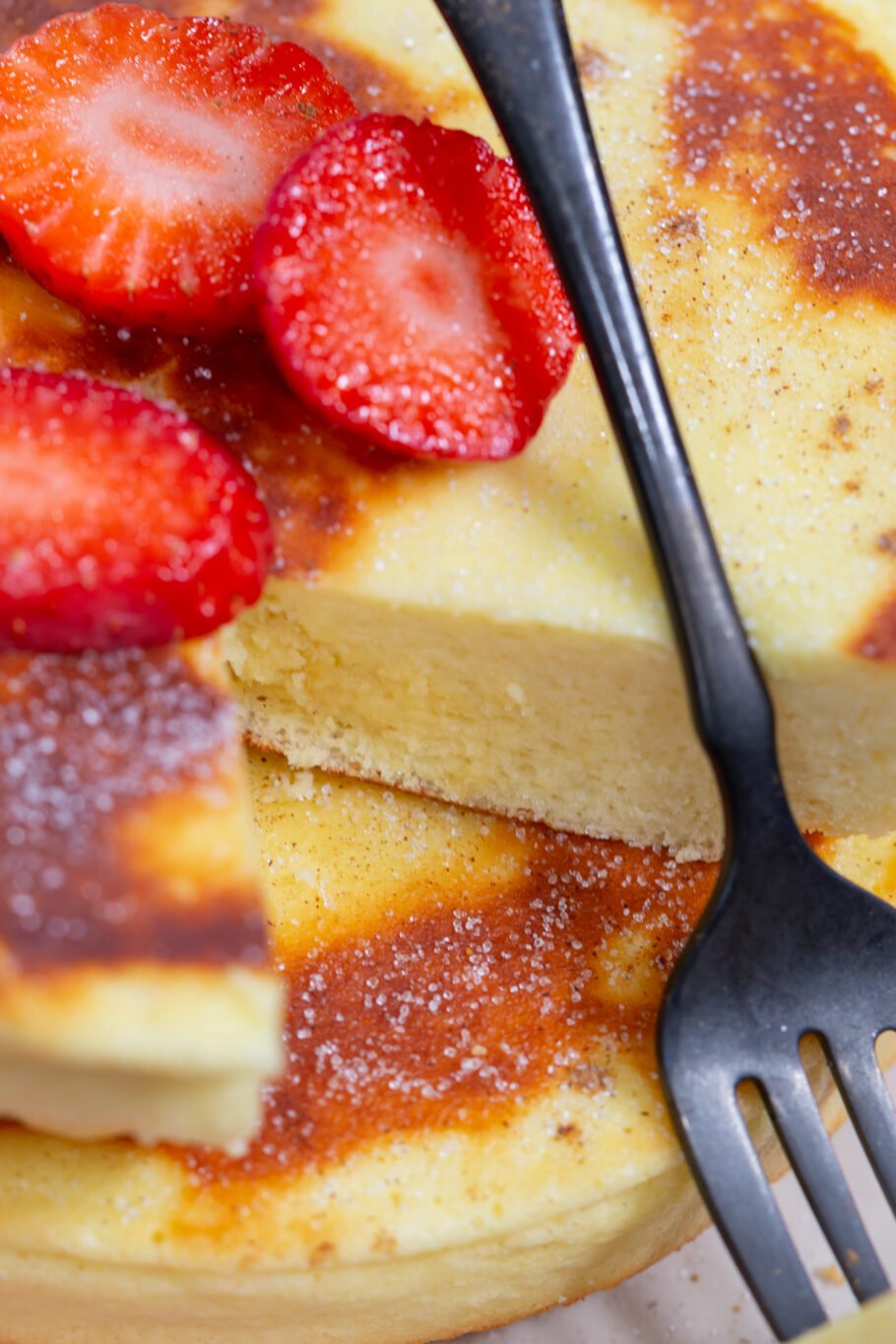 Once your peaks form go ahead and add it into your other mix and lightly mix everything together.
Bring that over to your stovetop, turn your burner on low heat, and take out a pan that has a lid. Throw some non-stick cooking spray into it once it heats up and add some of your mix into your pan.
You can make these whatever size you want. After 2 minutes, add a little more mix on top and repeat the process one more time.
It's taking too long!
Yeah, I think that way may take longer than some people would like, especially if you're making more than a couple Japanese pancakes. Let's speed the prep up by 10 fold since that's what this site is all about!
Take out a cake pan, here I'm using a 6'' cake pan. This is the same one I use for most of my cheesecake recipes, you can check it out here. You can use a couple of these or make even bigger pancake if you want. The choice is yours. Today we're using 2.
Coat your pan(s) with some non-stick cooking spray, evenly distribute your mix, and throw them in the oven for around 20 minutes on 325F/162C. Pull them out when they still have a little jiggle so you don't overcook them.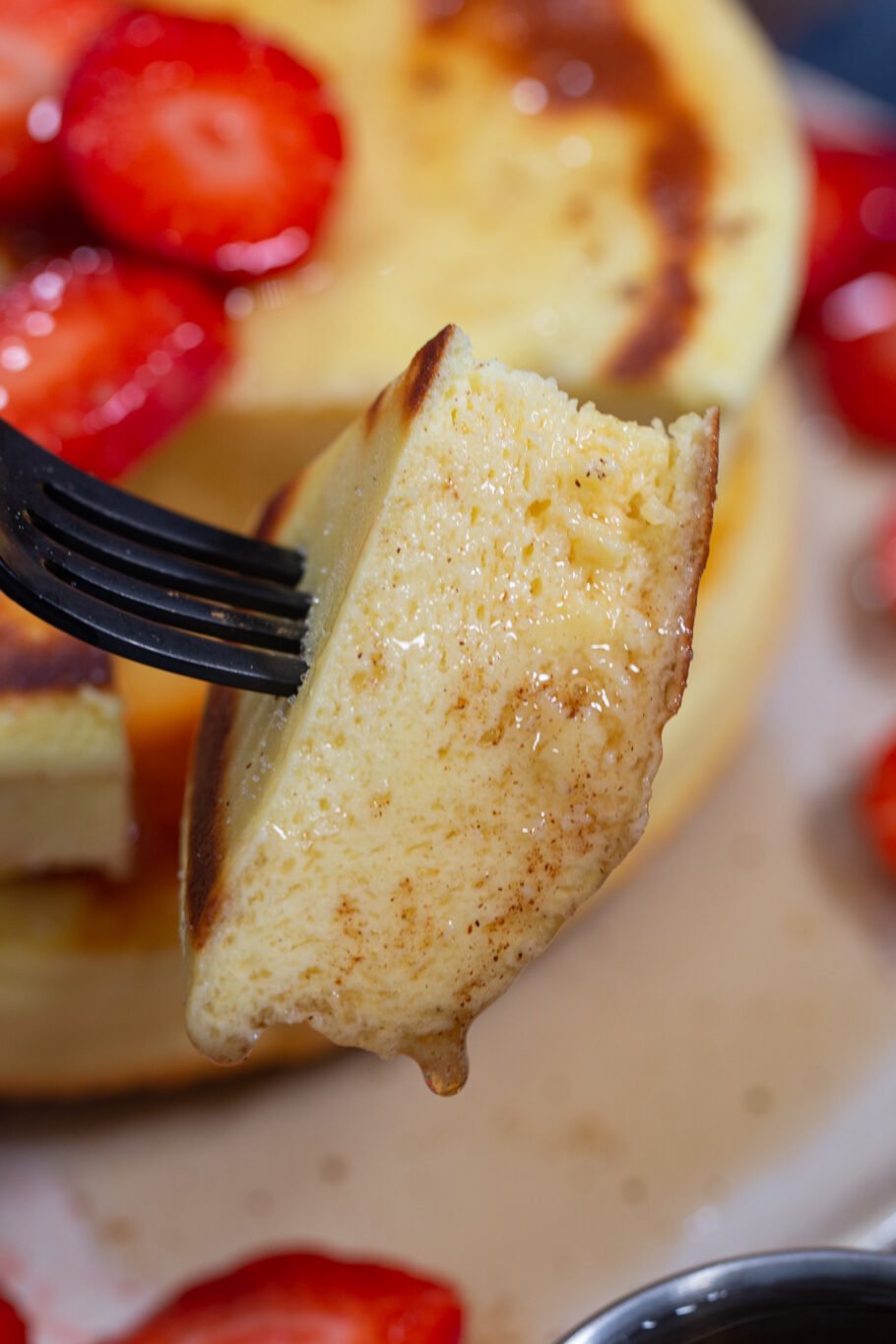 For around 250 calories you get to eat this huge FLUFFY Japanese Pancakes, I would consider these an extremely good bang for your buck.
If you're curious, I usually top mine with some greek yogurt, fresh fruit, and sugar free syrup. Let me know what you use below!
OH YEAH, thank you all for the birthday wishes too. <3
Try our Cottage Cheese Pancakes out next!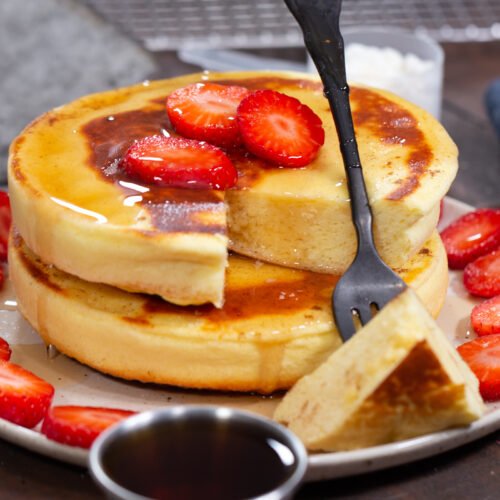 Fluffy Protein Japanese Pancakes
This homemade Fluffy Protein Japanese Pancakes recipe only takes around 5 minutes to prep, is delicious, and under 300 calories!
Print
Pin
Rate
Save Recipe
Saved!
The Protein Chef is a participant in the Amazon Services LLC Associates Program, an affiliate advertising program designed to provide a means for us to earn fees by linking to Amazon.com and affiliated sites.
Ingredients
3

Large

Whole Eggs

2

Ounces

Milk Substitute

-

or Milk

1

Scoop

Protein Powder -

Your Choice Flavor

2

Tablespoons

Sweetener

-

I like Erythritol

½

Cup

Pancake Mix

-

or Make Your Own
Instructions
Cake Pan Method
Take out a bowl

Add into it your 3 Large Egg Yolks (keep your Egg Whites off to the side), Milk Substitute, Protein Powder, Sweetener, and Pancake Mix

Mix everything up until smooth

Use a whisk or hand mixer and beat your Egg Whites for a couple minutes or until they can shape waves without crashing (stiff peaks some would say!)

Add your Egg Whites into your other mix and lightly mix them in

Take out a cake pan or multiple, coat it/them with some non-stick cooking spray, and evenly distribute your mix

Bake your Japanese Pancakes on 325F/162C for around 20 minutes (remove them with a little jiggle left so they don't overcook)
Stovetop Method
Take out a stovetop pan that has a lid, turn your burner on low heat, and coat it with some non-stick cooking spray

Pour some of your mix in once it heats up and cover your pan

After 1-2 minutes remove your cover and add a little bit more mix on top

Cover and repeat the process one more time

Flip your pancake over, cover it again, and let it took for a couple minutes
Notes
LOW HEAT if you're making them on the stovetop! Slow and steady wins this race!
Add a little water inside your stovetop pan while they cook and they'll be sure to hold moisture!
Change up the flavor with your protein powder!
Calories Pancake (Makes 2):
Calories: 266
Fat: 8.5g
Saturated Fat: 2g
Sodium: 402mg
Carbs: 24g (Net Carbs: 21.5g)
Fiber: 2.5g
Sugar: 4.5g
Protein: 24g
Calories in the whole recipe:
Calories: 533
Fat: 17g
Saturated Fat: 4g
Sodium: 804mg
Carbs: 48g (Net Carbs: 43g)
Fiber: 5g
Sugar: 9g
Protein: 48g
Nutrition
Calories:
266
kcal
|
Carbohydrates:
24
g
|
Protein:
24
g
|
Fat:
8.5
g
|
Saturated Fat:
2
g
|
Sodium:
402
mg
|
Fiber:
2.5
g
|
Sugar:
4.5
g