Rather than talk about my absence, let's just go for action and start it off with some super easy Cottage Cheese Pancakes that are packed with great macros and guess what? You don't need protein powder to make them!
For this one since we're using cottage cheese and you probably don't want that texture in your pancakes…take out a blender or food processor and after that we really only have 3 steps…
Step 1. Add in 3/4 cup of cottage cheese, 2 large eggs, 2 large egg whites, 1 tablespoon of your favorite sweetener (I prefer erythritol), 1/2 cup of coconut flour (any flour should work though I do like the taste of the coconut flour in these), 1 teaspoon of vanilla extract, and 1/2 teaspoon of baking powder.
Now before we jump into the next step you can easily change up the flavor or macros of these by adding in things like cocoa powder, peanut or other nut butter, protein powder, ground cinnamon, and so on!
Step 2. Blend or process everything together…pretty easy so far, right?
Step 3. Throw a pan on medium heat, coat it with non-stick cooking spray, and make your pancakes however big you want them. You should cook each side for 1-2 minutes.
I think we covered everything. The whole recipe maybe takes 10 minutes!
My Blender: http://amzn.to/2kk1fZt
Large Fry Pan: http://amzn.to/2jJuk1h
Cheaper Large Fry Pan: http://amzn.to/2fea3Rr
$20 Kitchen Scale: http://amzn.to/2k8YrPt
Products I Use: https://theproteinchef.co/products
Ingredients:
3/4 Cup (99g) Fat Free Cottage Cheese
2 Large Whole Eggs
2 Large Egg Whites
1 Tablespoon Sweetener (Better Cravings Erythritol Preferred)
1/2 Cup (72g) Better Cravings Coconut Flour (or Other Flour)
1 Teaspoon Vanilla Extract
1/2 Teaspoon Baking Powder
TIP: Change up the macros or flavors by adding in ingredients like cocoa powder, nut butters, protein powder, ground cinnamon, and more!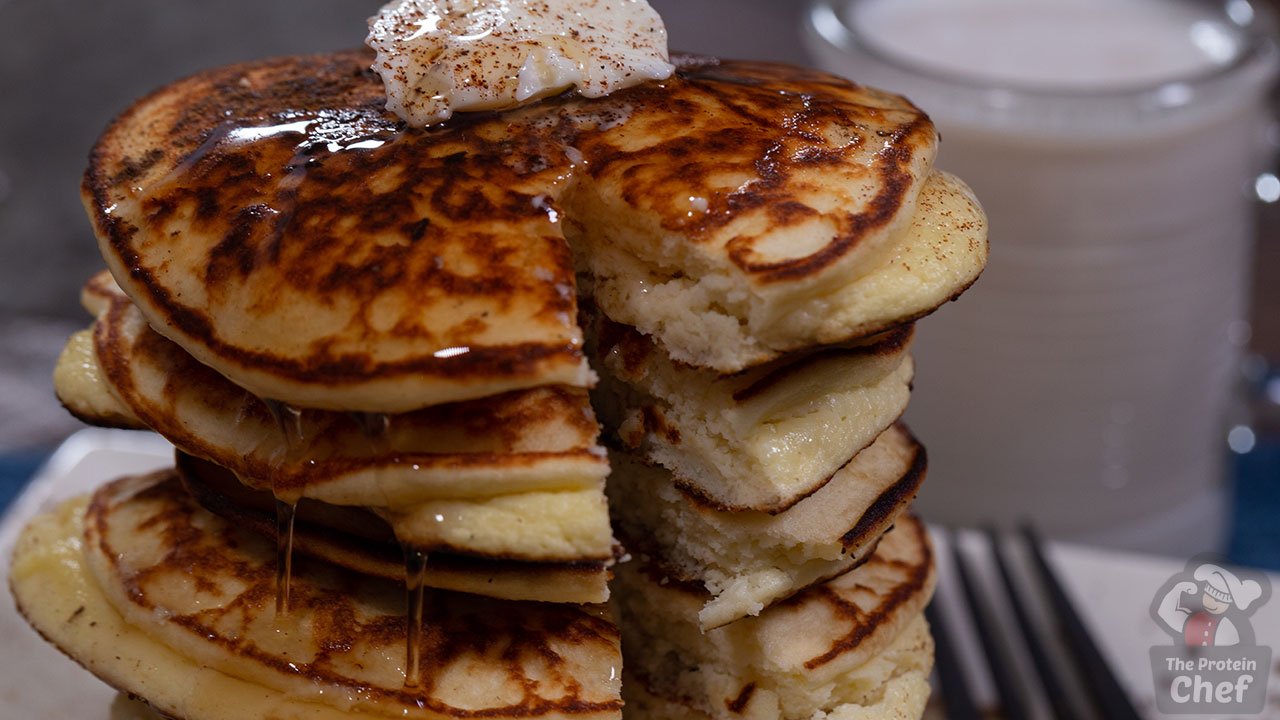 How to make:
Add all of your ingredients into a blender or food processor
Blend or process until smooth
Turn a burner on medium heat, coat a pan with some non-stick cooking spray, pour your mix in, and cook each side for 1-2 minutes
Calories in the whole recipe:
Calories: 558
Fat: 18g
Saturated Fat: 11g
Sodium: 804mg
Carbs: 46g (Net Carbs: 26g)
Fiber: 20g
Sugar: 10g
Protein: 53g