A new macro packed meal prep recipe has arrived thanks to the sponsor of this post, Verde Farms! That recipe? A High Protein Cheesesteak Casserole that's easy to make with super simple ingredients!
P.S. On the topic of beef, what is your favorite cut? Let me know in the comments below!
Start this one with 1 pound of your choice of protein. I like using either a 93/7 ground beef or some delicious Verde Farms ribeye. If you choose ribeye or similar, make sure cut it up into pieces.
From here, take out a stovetop pan and turn your burner on medium heat.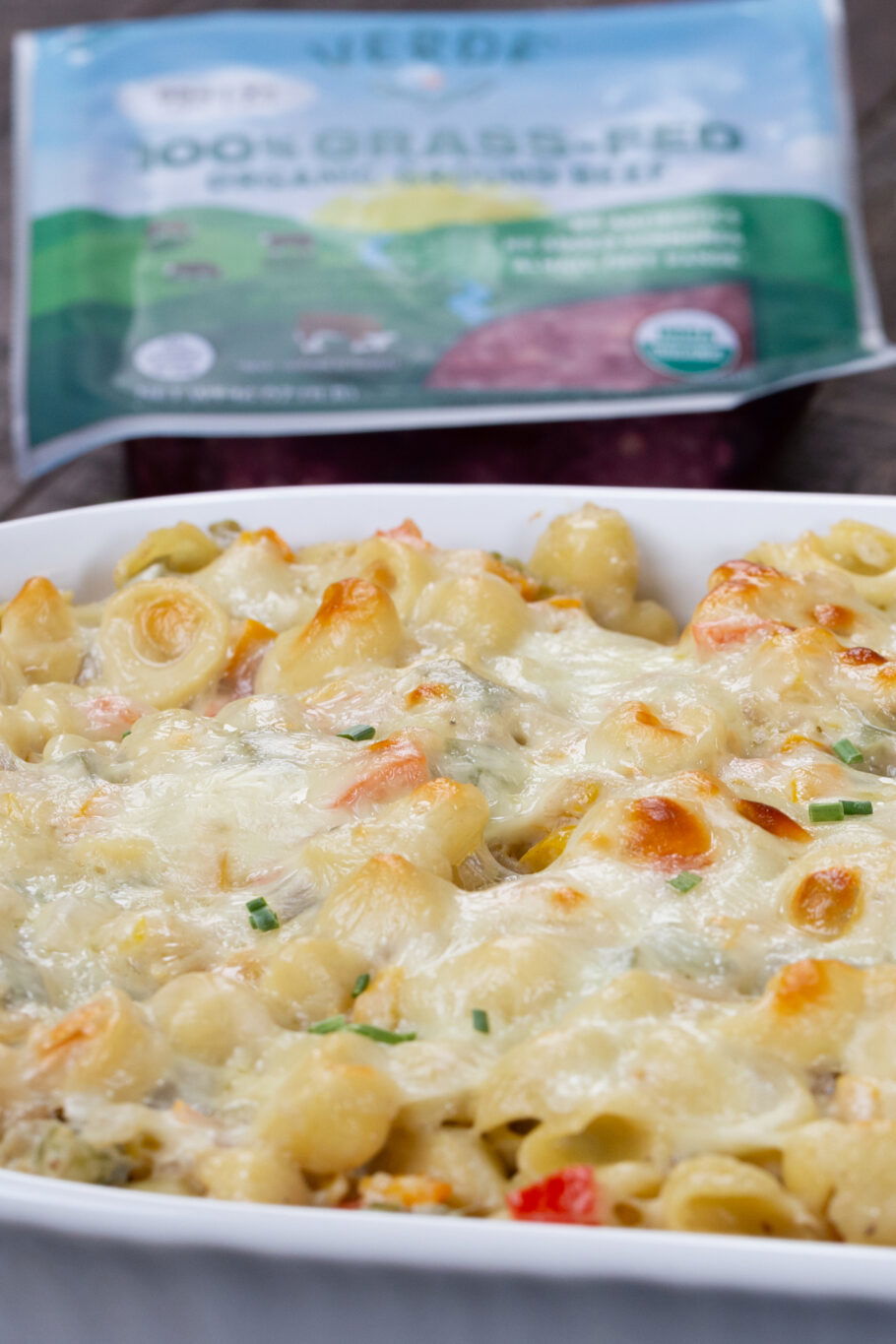 Add in either a couple tablespoons of butter or your choice oil. I personally prefer butter for this recipe. If you don't like butter and/or prefer oil, use that!
After that heats up add in 2 teaspoons of minced garlic, your choice protein, 1/2 teaspoon of black pepper, 1/2 teaspoon of salt, 1/2 chopped up onion, and some chopped up bell peppers (choose your favorites).
Pro tip? If you like other vegetables in your cheesesteak, like mushrooms, add those in now!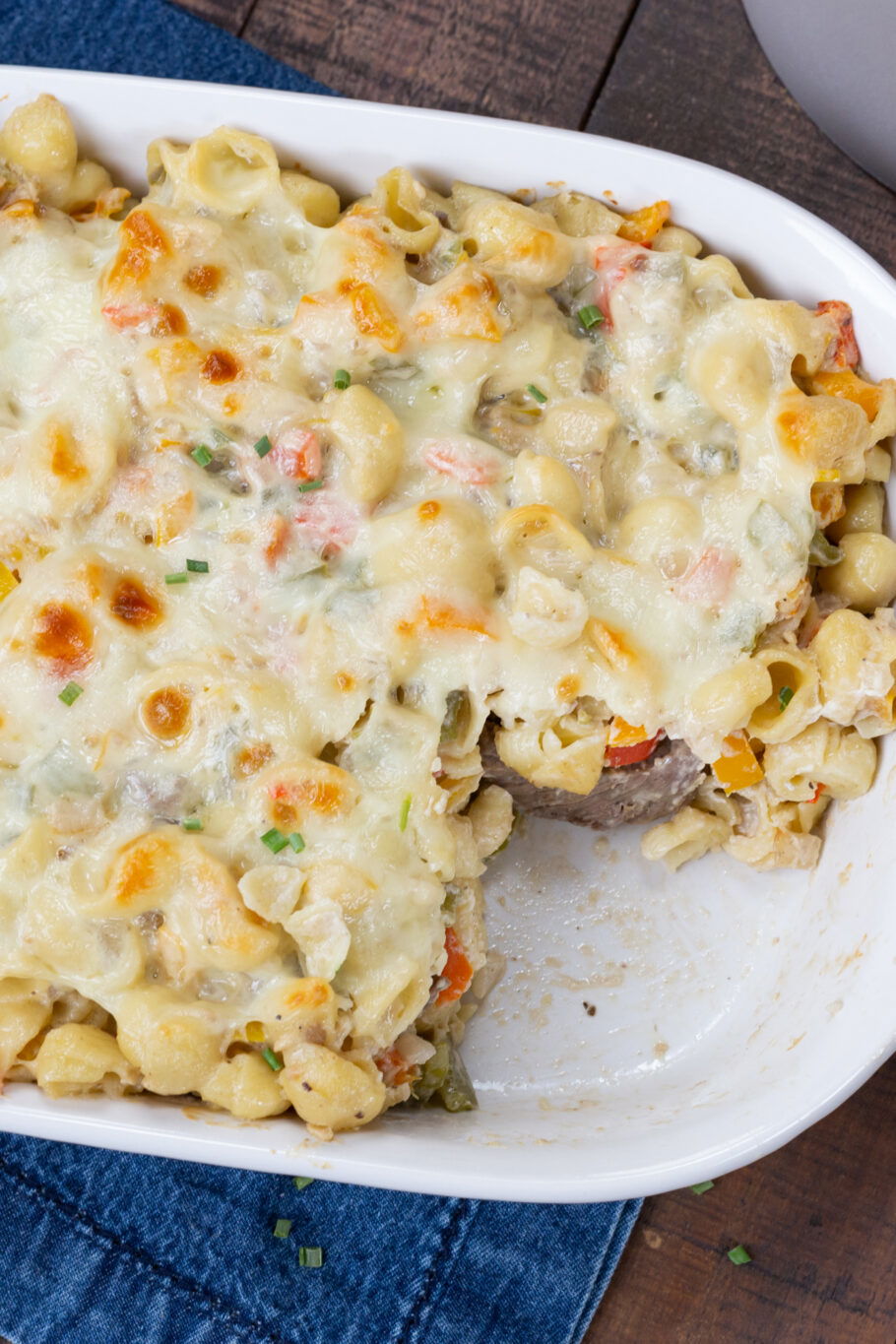 Keep everything moving as it cooks for around 5-10 minutes depending on the protein you're using.
Other protein? If you don't have ground beef or ribeye you can interchangeably use any other cut of beef, ground chicken or turkey, chicken breast, and so on!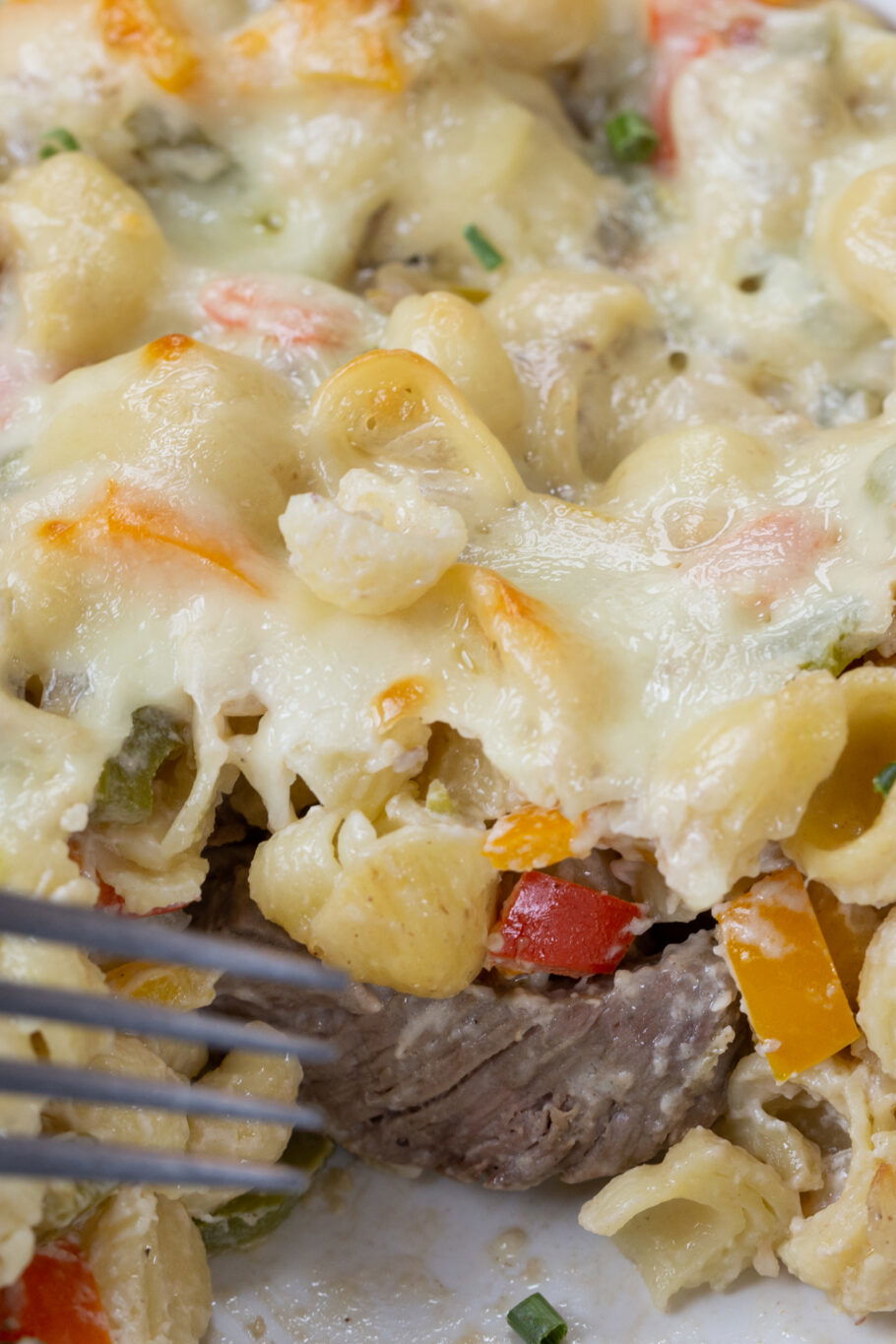 Cheesesteak Casserole Pasta
While that's cooking and if you can afford the carbs, we're going to make some optional pasta.
To make it, add into a pan 2 cups of broth, 2 cups of water, and 4 servings of pasta. I used small shells but any kind of pasta will work great.
Let your pasta cook for however long your box says to.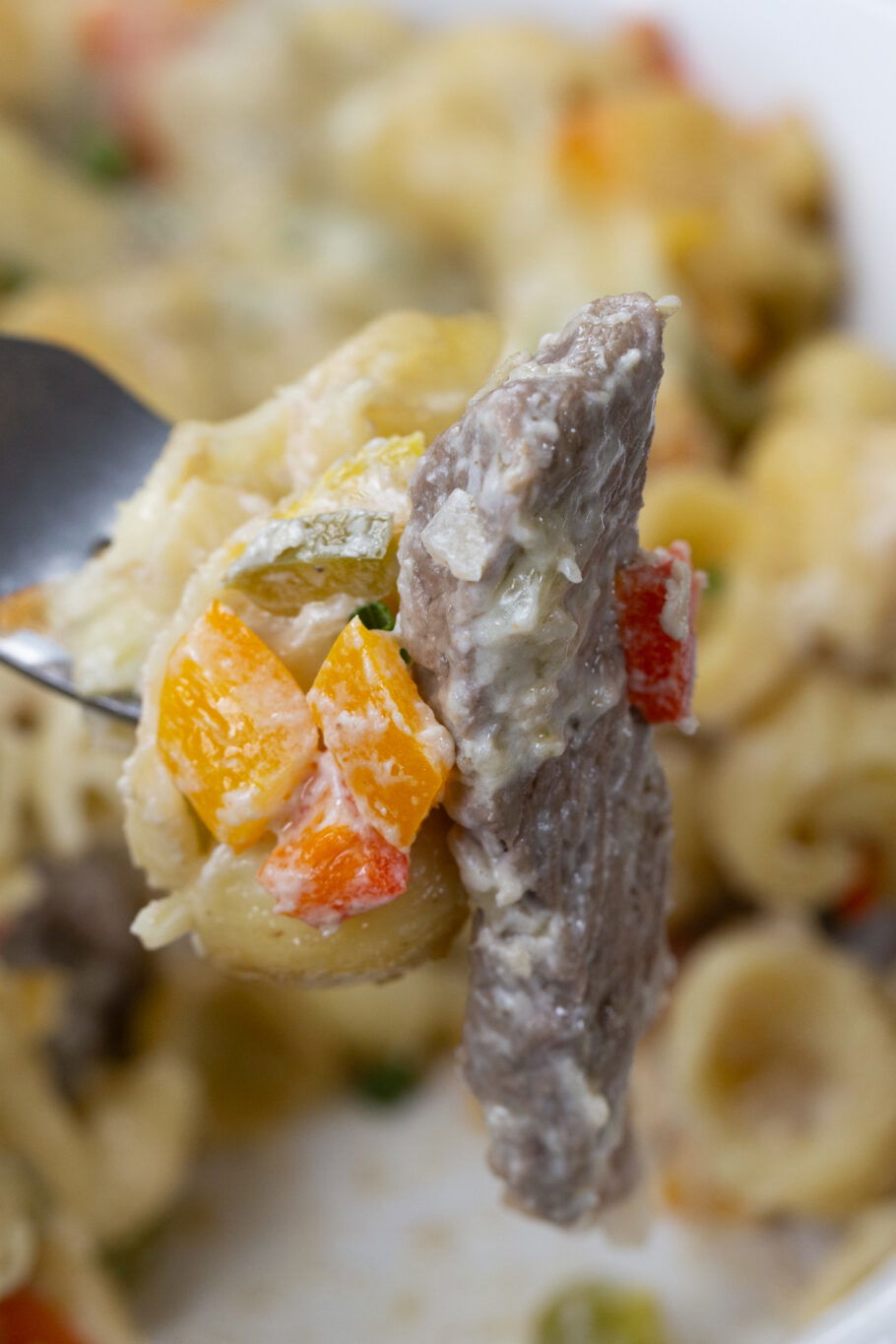 Why broth? When cooking your pasta with it it adds flavor and more protein to the recipe!
Cheesesteak Casserole Cheeses
Once your protein looks cooked, turn your stovetop burner on low heat and get ready to add your cheese!
Start by lightly mixing in 8 ounces of cream cheese. You can used full, reduced, or fat free. The nutritional information for all of these variations will be in the recipe card below.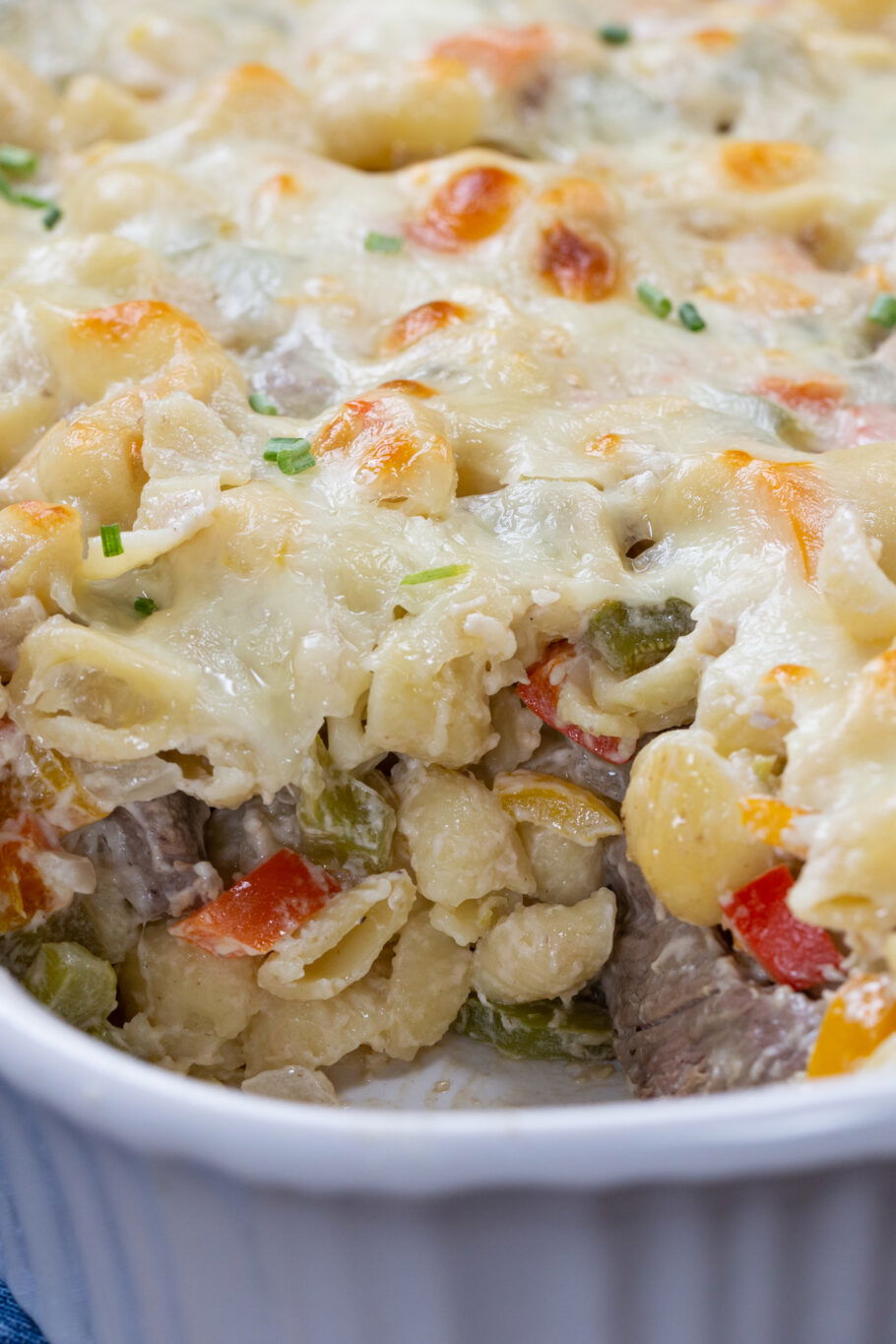 Finish with 1/2 cup of cheddar cheese, and your optionally cooked pasta!
Mix everything around until your cheeses have melted, this should only take a couple minutes.
Take out a casserole or baking dish and add that mix into it.
Top your dish with 6 thin slices of provolone and put it into the oven on 350F/176C for around 15-20 minutes or until it looks like this…
I usually make 6 servings with this one. Don't forget to store it in the fridge or freeze it!
Now let's talk about our sponsor, Verde Farms. Their beef is 100% grass fed, free range, and has no added hormones or antibiotics. Everything I've had has been delicious! You can check their products out nationwide on Amazon Fresh, Target, or VerdeFarms.com to find a local retailer near you.
Ready for dessert? How about a Cookies & Cream Protein Cheesecake?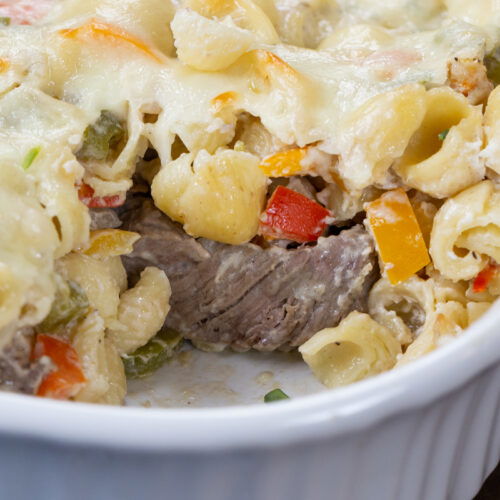 High Protein Cheesesteak Casserole
Another healthy and delicious meal prep! This High Protein Cheesesteak Casserole recipe is easy to make and made with simple ingredients.
Print
Pin
Rate
Save Recipe
Saved!
The Protein Chef is a participant in the Amazon Services LLC Associates Program, an affiliate advertising program designed to provide a means for us to earn fees by linking to Amazon.com and affiliated sites.
Ingredients
1

Pound

Protein

-

Your Choice (I like 93/7 Ground Beef and Ribeye)

2

Tablespoons

Butter

-

or Oil

2

Teaspoons

Minced Garlic

½

Teaspoon

Black Pepper

½

Teaspoon

Salt

½

White Onion

½

Green Pepper

-

*Optional (Use your favorite Bell Pepper(s))

½

Red Pepper

-

*Optional (Use your favorite Bell Pepper(s))

½

Orange Pepper

-

*Optional (Use your favorite Bell Pepper(s))

½

Yellow Pepper

-

*Optional (Use your favorite Bell Pepper(s))

8

Ounces

Cream Cheese

½

Cup

Cheddar Cheese

6

Slices

Provolone Cheese

-

Thin

8

Ounces

Pasta

-

*Optional

2

Cups

Bone Broth

-

*Optional for your Pasta

2

Cups

Water

-

*Optional for your Pasta
Instructions
Add your Butter or Oil into a stovetop pan over medium heat

Continue with your Minced Garlic, Protein (chop it up if you're not using Ground Beef), Black Pepper, Salt, Onion, and Bell Peppers

Let those cook while occasionally stirring for 5-10 minutes depending on the Protein you're using

Prepare your Pasta with your Broth and Water for however long your box/package says to

Turn your stovetop pan burner on low heat

Add in your Cream Cheese, Cheddar Cheese, and cooked Pasta

Mix everything around until your cheese has melted

Add your mix into a casserole/baking dish

Top your dish with your Provolone Cheese

Put it into the oven on 350F/176C for around 15-20 minutes or until your Provolone Cheese has melted
Notes
*If you make it WITHOUT the Pasta it'll have 154g LESS carbs.
Calories in the WHOLE recipe with Fat Free Cream Cheese and Ribeye (what I used):
Calories: 2583
Fat: 111g
Saturated Fat: 59g
Sodium: 2388.6mg
Carbs: 196g
Fiber: 27g
Sugar: 28g
Protein: 200g
In Each Bowl (Makes 6 Bowls):
Calories: 430
Fat: 18.5g
Saturated Fat: 9.8g
Sodium: 497.3mg
Carbs: 32.6g
Fiber: 4.5g
Sugar: 4.8g
Protein: 33.3g
*The rest of the breakdowns are with 93/7 Ground Beef. Most lean(er) proteins will be similar to these with the paired cream cheese listed.
Calories in the WHOLE recipe with Reduced Fat Cream Cheese and 93/7 Ground Beef:
Calories: 2969
Fat: 153g
Saturated Fat: 88g
Sodium: 2984mg
Carbs: 198g
Fiber: 27g
Sugar: 29g
Protein: 200g
Calories in the WHOLE recipe with Fat Free Cream Cheese and 93/7 Ground Beef:
Calories: 2539
Fat: 103g
Saturated Fat: 56g
Sodium: 2980mg
Carbs: 196g
Fiber: 27g
Sugar: 28g
Protein: 207g
Calories in the WHOLE recipe with Full Fat Cream Cheese and 93/7 Ground Beef:
Calories: 3196
Fat: 184g
Saturated Fat: 106g
Sodium: 2428mg
Carbs: 189g
Fiber: 27g
Sugar: 29g
Protein: 196g
Nutrition
Calories:
430
kcal
|
Carbohydrates:
32.6
g
|
Protein:
33.3
g
|
Fat:
18.5
g
|
Saturated Fat:
9.8
g
|
Sodium:
497.3
mg
|
Fiber:
4.5
g
|
Sugar:
4.8
g