Remember Strawberry Shortcake Ice Cream Bars? Yeah, they're still delicious! Unfortunately (keep reading!) I'm not gonna show you how to make them healthier today. What I am gonna show you is how to make a Strawberry Shortcake Protein Cheesecake that tastes just as good!
Start this one with 1/2 cup of almond flour for your crust and 2 tablespoons of melted butter. Mix those up together until it gets kind of clumpy.
Next take out a 6×2 pan (link below) and add some parchment paper into it. You could also use a bigger or smaller pan too but your baking times will change so keep that in mind.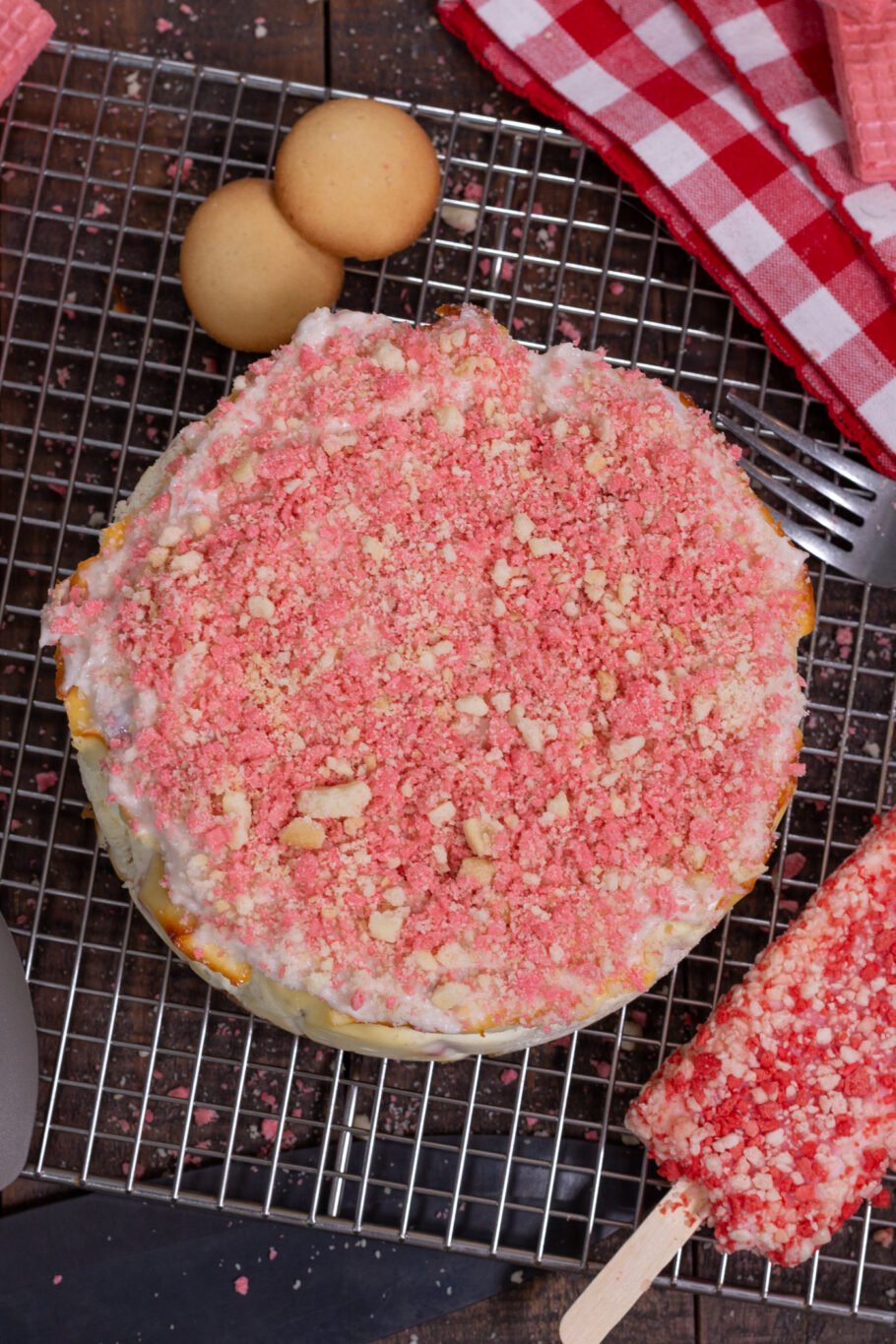 Add the crust mix into your pan and firmly press it in until it's even throughout. Bake that on 350F/176C until it's golden brown, around 10-15 minutes.
While that's baking add into a large bowl 16 ounces of cream cheese, 2 large whole eggs, 2 scoops of a protein powder, 1/4 cup to 1/2 cup of a sweetener depending on what you're using (I like erythritol), 2 teaspoons of vanilla extract, and 2 containers of a vanilla Greek yogurt.
Mix all of those together until smooth! Do your best to get most of the clumps out but don't over-mix it. You'll put too much air in the cheesecake and it won't have the right texture.
Finally, chop up some fresh strawberries and lightly mix/fold those in.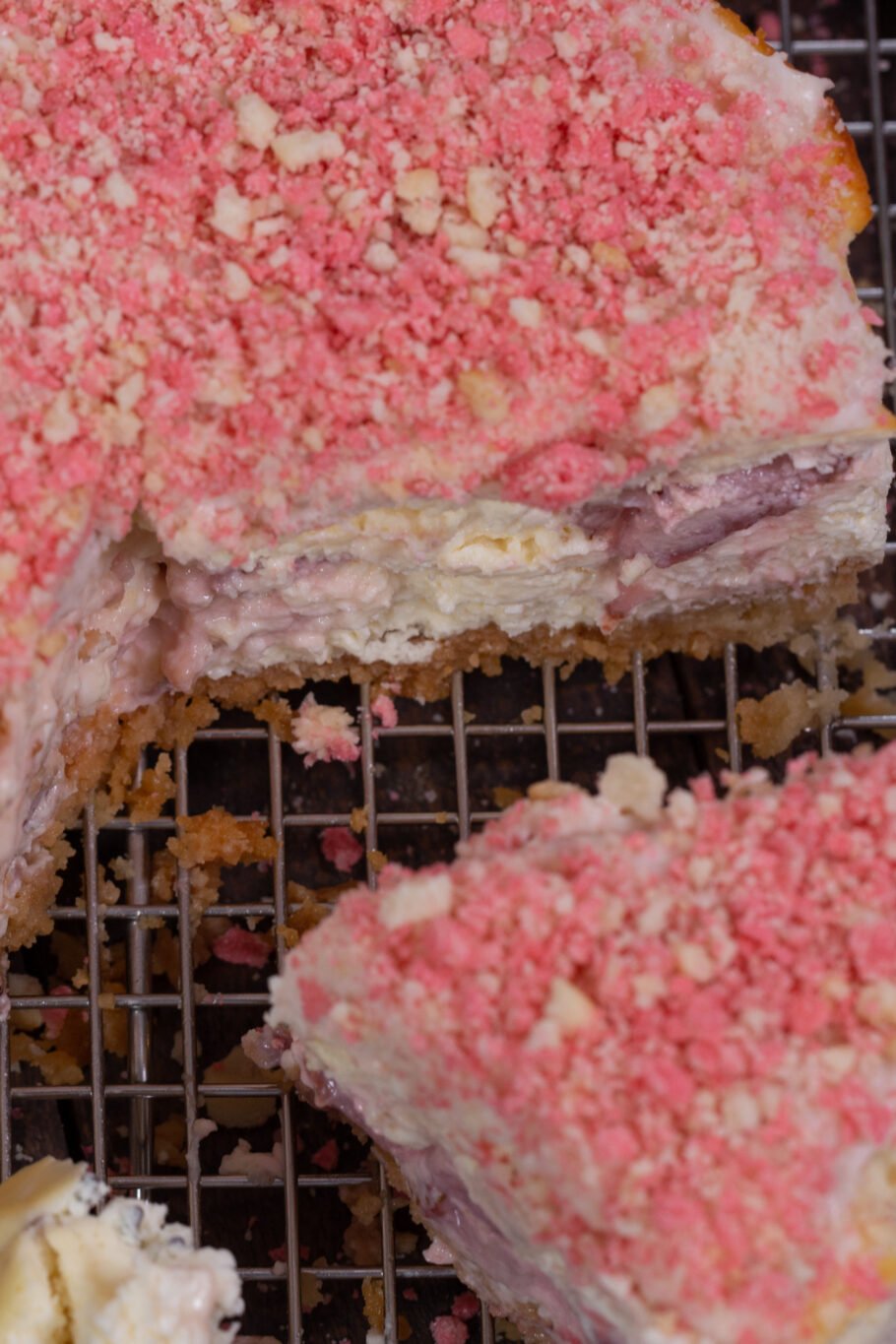 Pour your mix in once your crust is done and cooled. Throw that in the oven on 325F/162C for around 30-35 minutes. After that, drop it to 200F/93C and bake for an additional 50 minutes to 1 hour.
Remove it, let it cool, wrap it up, and throw it in the fridge for a few hours. I usually let it sit overnight.
Strawberry Shortcake Topping
To make your topping base layer you could just use a container of Greek yogurt but I prefer it to be a bit thicker. That's easily done by mixing in a scoop of protein powder and 1/4 teaspoon of xanthan gum. Evenly distribute that layer to the top of your cheesecake.
For the main layer you'll want to crush up 2 things.
Strawberry wafers, I use 2 of them.
A couple cookies which will depend on how big they are. These could be shortbread (my favorite), vanilla wafer cookies, or even animal crackers. Think outside the box and use what best fits your macros.
If you want, you could even go the sugar free route with both of these.
Mix those together, sprinkle on top, and prepare yourself for a mouthgasm!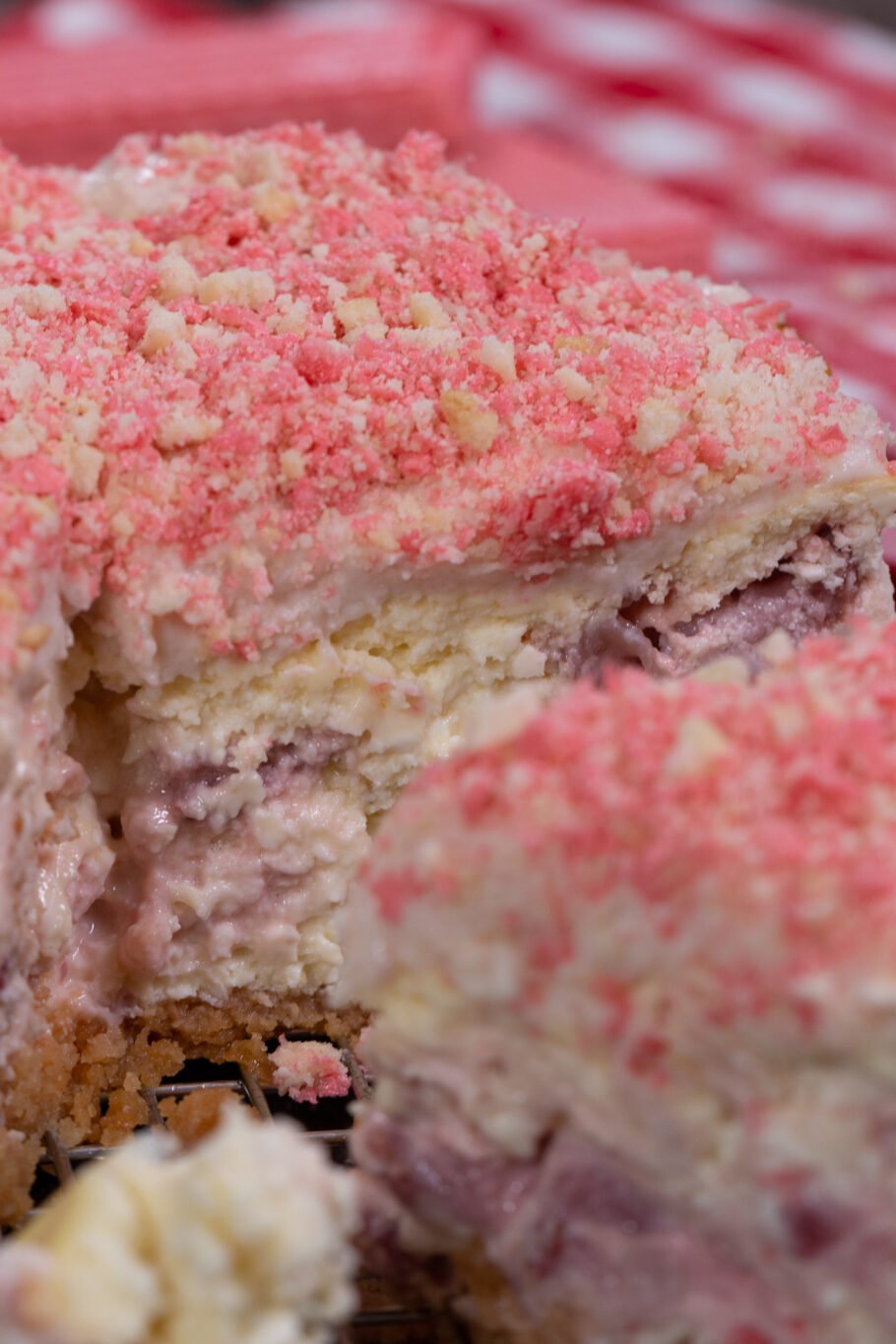 Pretty easy, right? A little goes a long way with the topping so even if you use something that's high in sugar, it's still not gonna add THAT much sugar to the recipe. You can also switch this recipe up to fit your macros. Example? Use full fat cream cheese, reduced, or even fat free!
Check out our Pumpkin Protein Cheesecake next!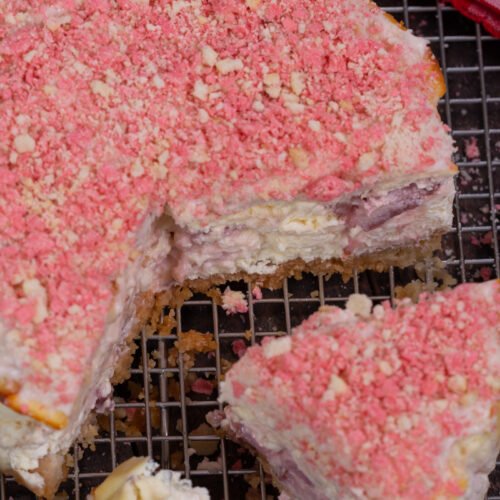 Strawberry Shortcake Protein Cheesecake
Strawberry Shortcake Protein Cheesecake is here. This cheesecake recipe is super easy to make and has the macros to fit almost any diet!
Print
Pin
Rate
Save Recipe
Saved!
The Protein Chef is a participant in the Amazon Services LLC Associates Program, an affiliate advertising program designed to provide a means for us to earn fees by linking to Amazon.com and affiliated sites.
Ingredients
Crust
½

Cup

Almond Flour

2

Tablespoons

Butter

-

or Coconut Oil
Cheesecake
16

Ounces

Cream Cheese

-

Full, Reduced, or Fat Free

2

Large

Whole Eggs

2

Scoops

Protein Powder -

Unflavored, Strawberry, or Vanilla work best

¼-½

Cup

Sweetener

-

I like Erythritol

2

Teaspoons

Vanilla Extract

2

Containers

Greek Yogurt

-

Vanilla

Strawberries

-

Fresh
Topping
1

Container

Greek Yogurt

-

Strawberry

1

Scoop

Protein Powder -

Your Choice Flavor

¼

Teaspoon

Xanthan Gum

2

Wafers

-

Strawberry

2

Cookies

-

Sugar Free, Shortbread, Vanilla Wafer, Animal Crackers, Golden Oreo, etc
Instructions
Crust
Mix together your Almond Flour and Melted Butter until clumpy

Take out a 6×2 pan and line it with parchment paper

Press your crust in and bake it on 350F/176C until golden brown (around 10-15 minutes)

Remove it and let it cool
Cheesecake
Mix together all of your Cheesecake ingredients (be careful not to over-mix or you'll add too much air to the cheesecake)

Chop up and lightly mix in your Strawberries

Pour your mix on top of your cooled crust in your 6×2 pan

Bake on 325F/162C for 30-35 minutes

Drop your temp to 200F/93C and bake for an additional 50 minutes-1 hour

Remove it from the oven, let it cool, wrap it up, and put it in the fridge for a couple hours
Topping
Mix together your Greek Yogurt, Protein Powder, and Xanthan Gum until it thickens up

Evenly distribute that mix to the top of your cheesecake

Crush up your Wafers & Cookies and mix them together

Sprinkle them on top!
Notes
Using a BIGGER or smaller pan will also come with a change in baking time!
Use whatever fits your macros!
Look for lower sodium alternatives!
Calories in My Topping:
Calories: 530
Fat: 6g
Saturated Fat: 2g
Sodium: 302mg
Carbs: 37g (Net Carbs: 32g)
Fiber: 5g
Sugar: 16g
Protein: 82g
REMEMBER TO DIVIDE THESE NUMBERS BY HOWEVER MANY SLICES YOU'RE CUTTING AND THEN ADD YOUR TOPPING!
Calories in my Strawberry Cheesecake w/ Crust & Fat Free Cream Cheese:
Calories: 1553
Fat: 61g
Saturated Fat: 20g
Sodium: 2304mg
Carbs: 98g (Net Carbs: 89g)
Fiber: 9g
Sugar: 51g
Protein 153g
*MY PREFERENCE
Calories in my Strawberry Cheesecake w/ Crust & Reduced Fat Cream Cheese:
Calories: 2049
Fat: 137g
Saturated Fat: 61g
Sodium: 2104mg
Carbs: 63g (Net Carbs: 54g)
Fiber: 9g
Sugar: 46g
Protein: 141g
Calories in my Strawberry Cheesecake w/ Crust & Full Free Cream Cheese:
Calories: 2519
Fat: 195g
Saturated Fat: 116g
Sodium: 1504mg
Carbs: 50g (Net Carbs: 41g)
Fiber: 9g
Sugar: 35g
Protein: 141
Nutrition
Calories:
256
kcal
|
Carbohydrates:
7.8
g
|
Protein:
17.6
g
|
Fat:
17.1
g
|
Saturated Fat:
7.6
g
|
Sodium:
263
mg
|
Fiber:
1.1
g
|
Sugar:
5.7
g