So you're dieting and the things you can eat list seems to keep getting shorter. You're in the mood for a sandwich but have no time and oh yeah…you also can't eat bread! Today we're gonna try and fix that with this delicious Low Carb Keto Bread in under 2 minutes with ingredients you probably already have on hand.
You'll start this one with a container that's in the shape of the size bread you're going for. Today I'm using a smaller round dish but think outside the box and make different sizes when needed!
Add into it 1 1/2 tablespoons of melted butter and 1 large whole egg. Mix those together. Once those are mixed add in 3 tablespoons of Better Cravings Almond Flour, 1/2 teaspoon of garlic seasoning to give the bread some flavor (you could also use chili powder, herbs, ground cinnamon, cocoa powder, and so on), and 1/2 teaspoon of baking powder. Mix those together until smooth.
Last top it with whatever you want and throw it in the microwave for 1-2 minutes depending on how powerful your microwave is. You could also add some more protein to this recipe by mixing in 1/2 scoop of a protein powder and 1 large egg white (it'll make it a bit fluffier too).
Checkout my brand Better Cravings and cheap Low Carb Mix! https://bettercravings.com/
Garlic Seasoning: http://amzn.to/2qAFwka
Once your bread is done it should pop right out of your dish and from here you can use it as is or chop it in half like this to make 2 slices.
Don't forget to toast it!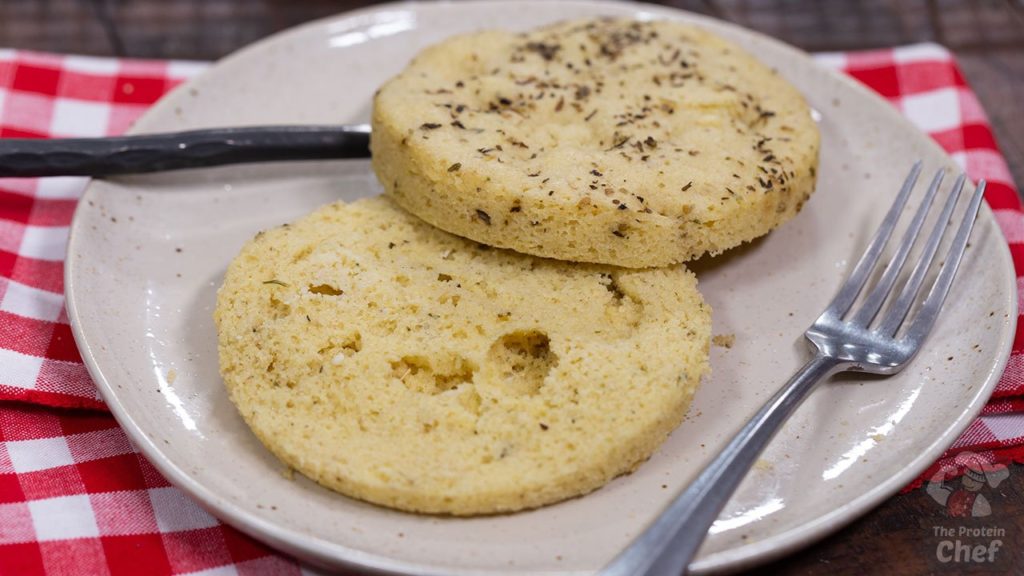 Super easy, right? I know microwave bread doesn't sound like the most appetizing thing in the world but I assure you this is actually good and not dry at all as long as you use the same ingredients that I did. You could try using another flour but in my experience, almond flour without question works best here.
Ingredients needed:
1 1/2 Tablespoons Butter
1 Large Whole Egg
3 Tablespoons (42g) Better Cravings Almond Flour
*Optional 1/2 Teaspoon Garlic Seasoning or Other Seasoning
1/2 Teaspoon Baking Powder
Want more protein in it? Add:
*Optional 1/2 Scoop Protein Powder (Any flavor works)
*Optional 1 Large Egg White
TIPS:
Use chili powder, ground cinnamon, taco seasoning, cocoa powder, and more to switch up the flavor depending on your needs/cravings! Did I mention that this as a dessert bread is delicious!?
DON'T FORGET TO TOAST IT!
Take it with you!
How to make:
Melt your Butter
Mix together your Butter and Egg
Add and mix in the rest of your ingredients
Top it with whatever you want
Microwave for around 2 minutes
Cut it in half and optionally toast it!
Calories in each slice without protein powder (makes 2):
Calories: 185
Fat: 16.5g
Saturated Fat: 6.5g
Sodium: 110mg
Carbs: 3.75g (Net Carbs: 1.5g)
Fiber: 2.25g
Sugar: .5g
Protein: 5.5g
Calories in each slice with protein powder (makes 2):
Calories: 219
Fat: 16.5g
Saturated Fat: 6.5g
Sodium: 188mg
Carbs: 3.75g (Net Carbs: 1.5g)
Fiber: 2.25g
Sugar: .5g
Protein: 14g