HEY! Something we can all hopefully agree on…cookies are delicious and usually not made to be diet friendly (let alone low carb friendly) but today that changes and hopefully you can get on board with these super easy to make keto cookies!
Start this one by melting a stick of salted butter (make sure your butter is salted or they won't taste nearly as good!). After that add in 1/2 cup of erythritol and mix those together. You could use another sweetener here but erythritol is my choice for anything keto since it's keto friendly.
Mix in 1 teaspoon of vanilla extract and 1 large whole egg. Continue with 1 cup of almond flour, 1 scoop of optional protein powder (I only add protein to give them a bit more fluffiness and help with the macros a bit), 1/4 teaspoon of salt, 1/2 teaspoon of baking powder, and 1/2 of teaspoon of xanthan gum. Mix everything together.
Next, lightly mix in some sugar free chocolate chips. Look for chocolate chips made with erythritol and if you can't find those you should be able to find sugar free chocolate made with erythritol that you can just break up yourself. You could just use nuts or something else too.
Last, take out a baking pan, line it with some parchment paper, and shape your cookies however big you want them. I find pressing them down onto your pan will give you the best result. Throw those in the oven on 350F/176C for 12-15 minutes or until the edges are golden brown.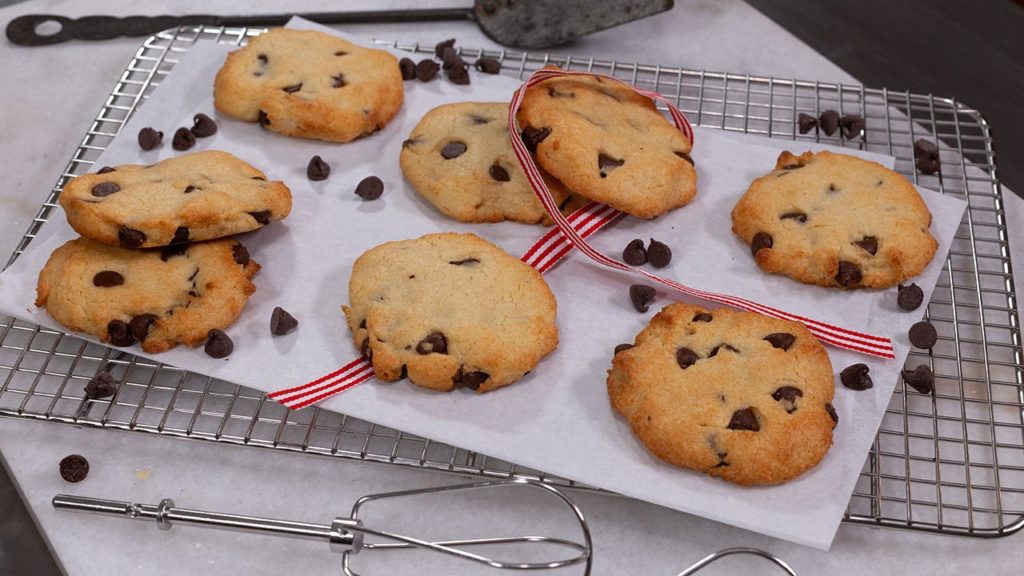 Checkout my new brand Better Cravings and Low Carb Mix! https://bettercravings.com/
Ingredients needed:
1 Stick (113g) Salted Butter
1/2 Cup Erythritol
1 Teaspoon Vanilla Extract
1 Large Whole Egg
1 Cup Almond Flour
1 Scoop Protein Powder *Optional
1/4 Teaspoon Salt
1/2 Teaspoon Baking Powder
1/2 Teaspoon Xanthan Gum
Sugar Free Chocolate Chips *Optional (Use nuts or anything else you want instead)
TIP:
Let them cool before eating them for more of a crunch!
How to make:
Melt your Butter and mix it together with your Erythritol
Mix in your Vanilla Extract and Egg
Mix in everything else but your Chocolate Chips
Lightly mix your Chocolate Chips in
Shape and press down your cookies onto a baking pan lined with parchment paper
Bake them on 350F/176C for around 12-15 minutes or until the edges are golden brown
Calories Per Cookies (Makes 12):
Calories: 145
Fat: 13g
Saturated Fat: 5.4g
Sodium: 78.8mg
Carbs: 2g (Net Carbs: 1g)
Fiber: 1g
Sugar: .4g
Protein: 4.9g