This week we're diving into the healthier pizza business with some high protein Air Fryer Pizza Egg Rolls & Wontons! These are super easy to make and did I mention that we're finally using an air fryer?!
Start this one by adding into a bowl 3 ounces of cream cheese, 1/4 cup of a pizza blend cheese, and 1/2 teaspoon of Italian seasoning. The type of cream cheese you use is completely up to you and your macros. We used reduced fat today but full or fat free work great too!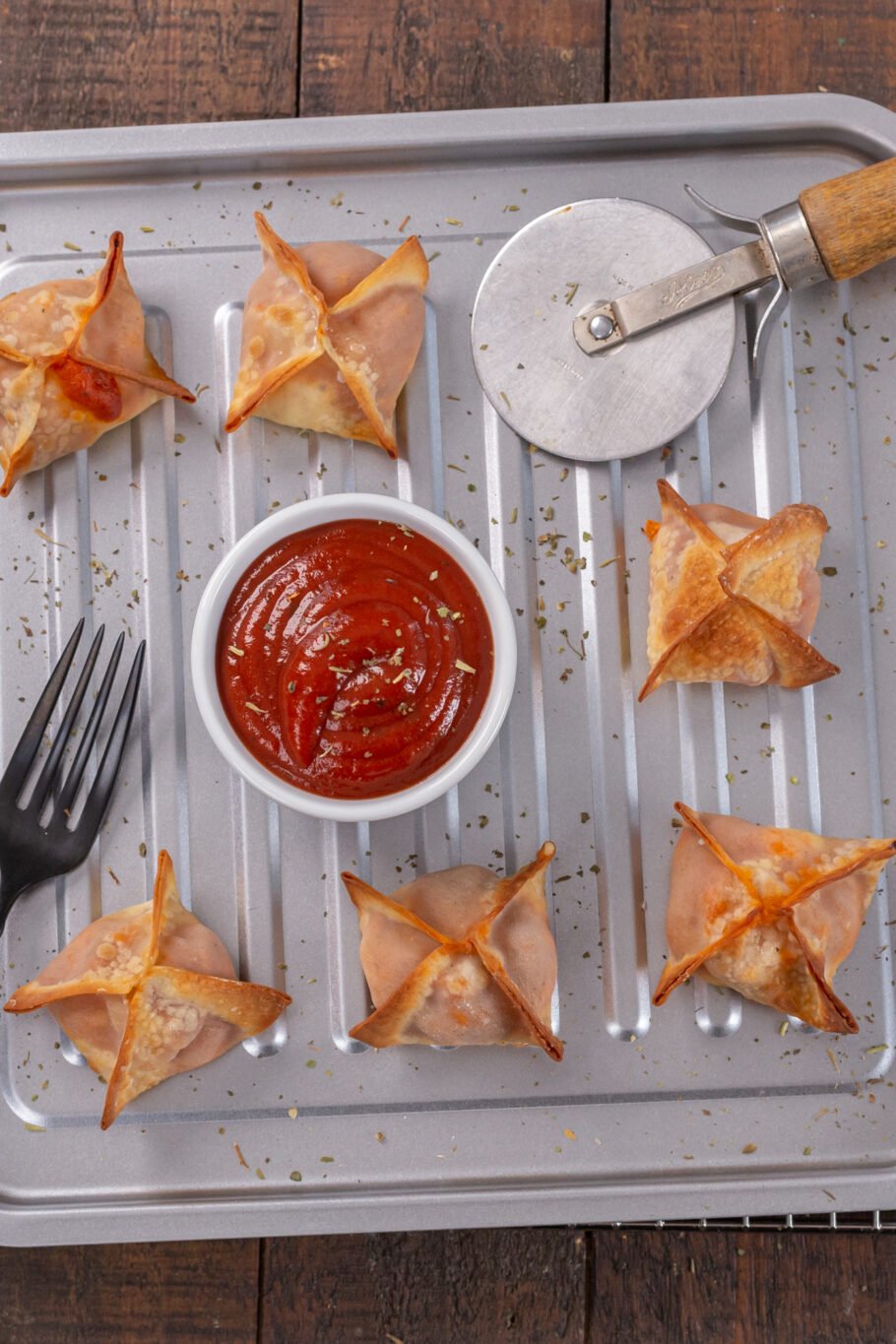 Mix those ingredients together until smooth. I like using a hand mixer to speed this up but a simple utensil and some muscle will work just as good!
You could also use ricotta or cottage cheese instead of cream cheese, I've used them all with success. I'll make sure to add the nutritional information using all 3 below in the recipe card.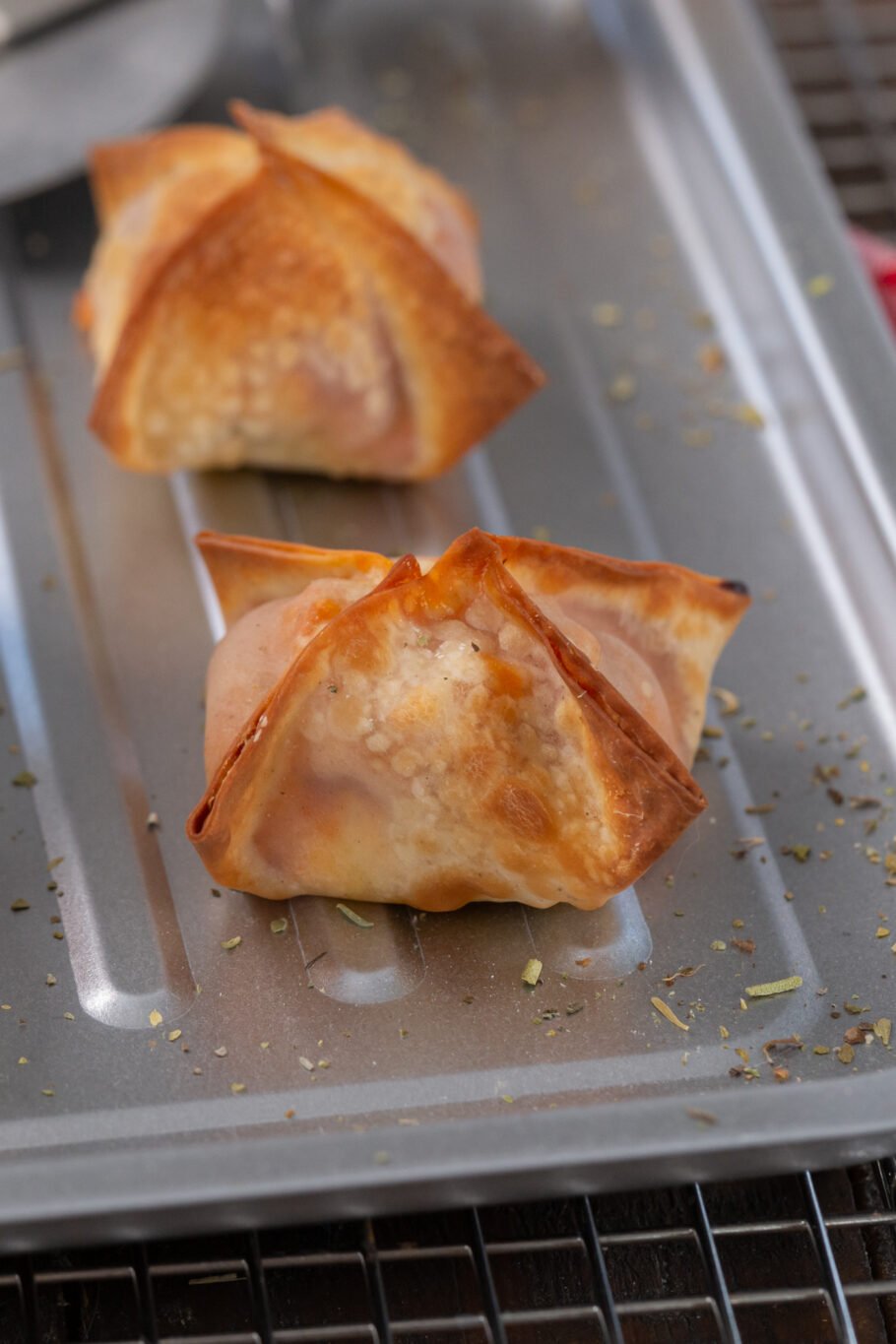 Next, take out some egg roll or wonton wraps and lay however many air fryer pizza egg rolls & wontons you're making out. I can usually get 6 wontons or 3 egg rolls with the amounts listed here so if you'd like more or less don't forget to scale the recipe.
You should also be able to find packs of egg roll or wonton wraps at most grocery stores and the best part? They only cost a couple bucks for a ton of them!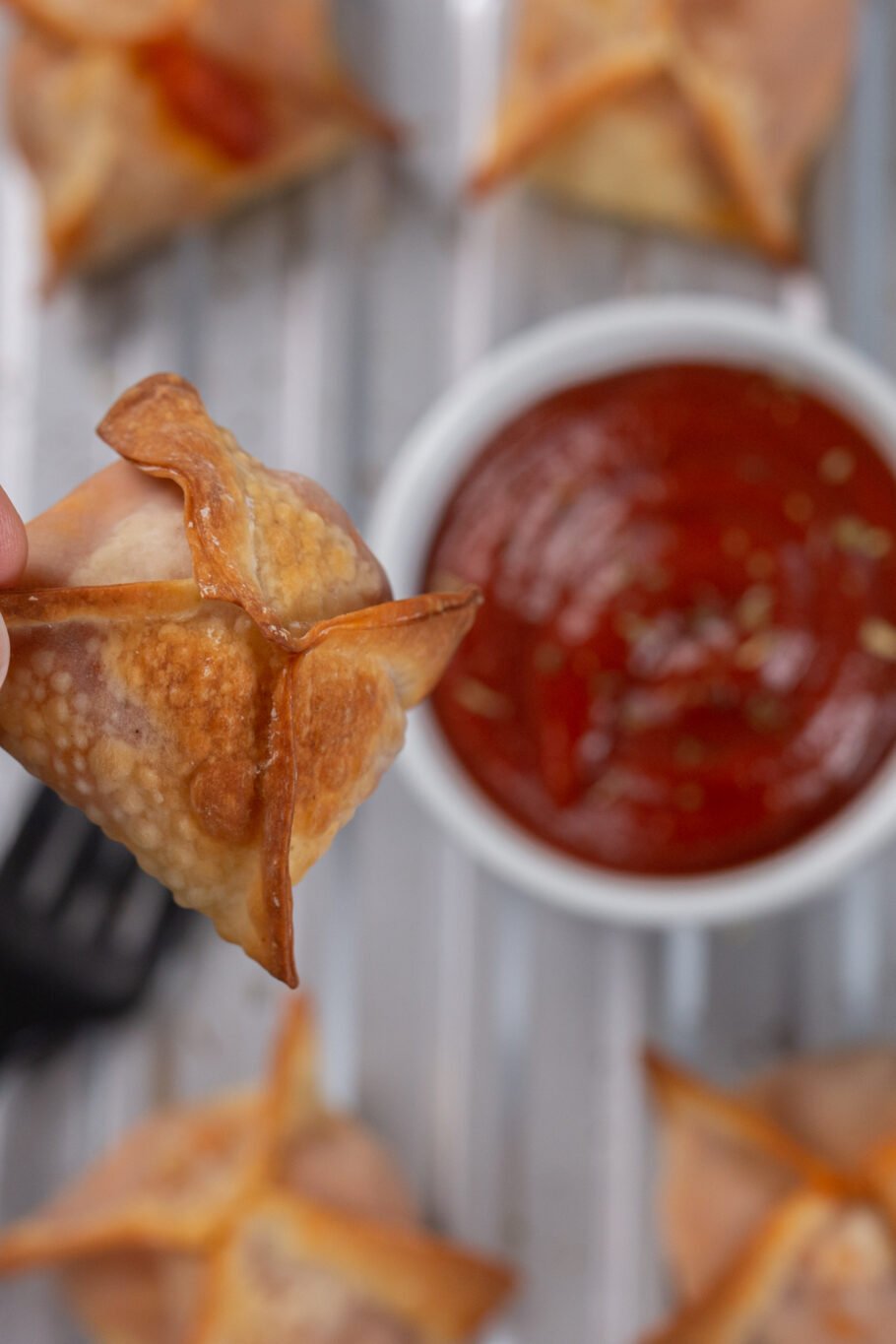 Evenly distribute your mix into each roll or wrap, top your mix with a little pizza sauce, and 1 ounce per pizza egg roll or 1/2 an ounce per pizza wonton or of your choice cooked protein. I went with chicken today but beef or turkey work great too.
Easy Pizza Wontons
It's time to close your wontons! My preferred method for doing this goes like this (you can see it in the video):
Wet your finger or a brush with a little water.
Wipe whatever you're using along the edges.
Fold your corners in one side at a time and make sure to squeeze them at the tip while pressing down to remove any air.
Repeat until you have your pizza wontons.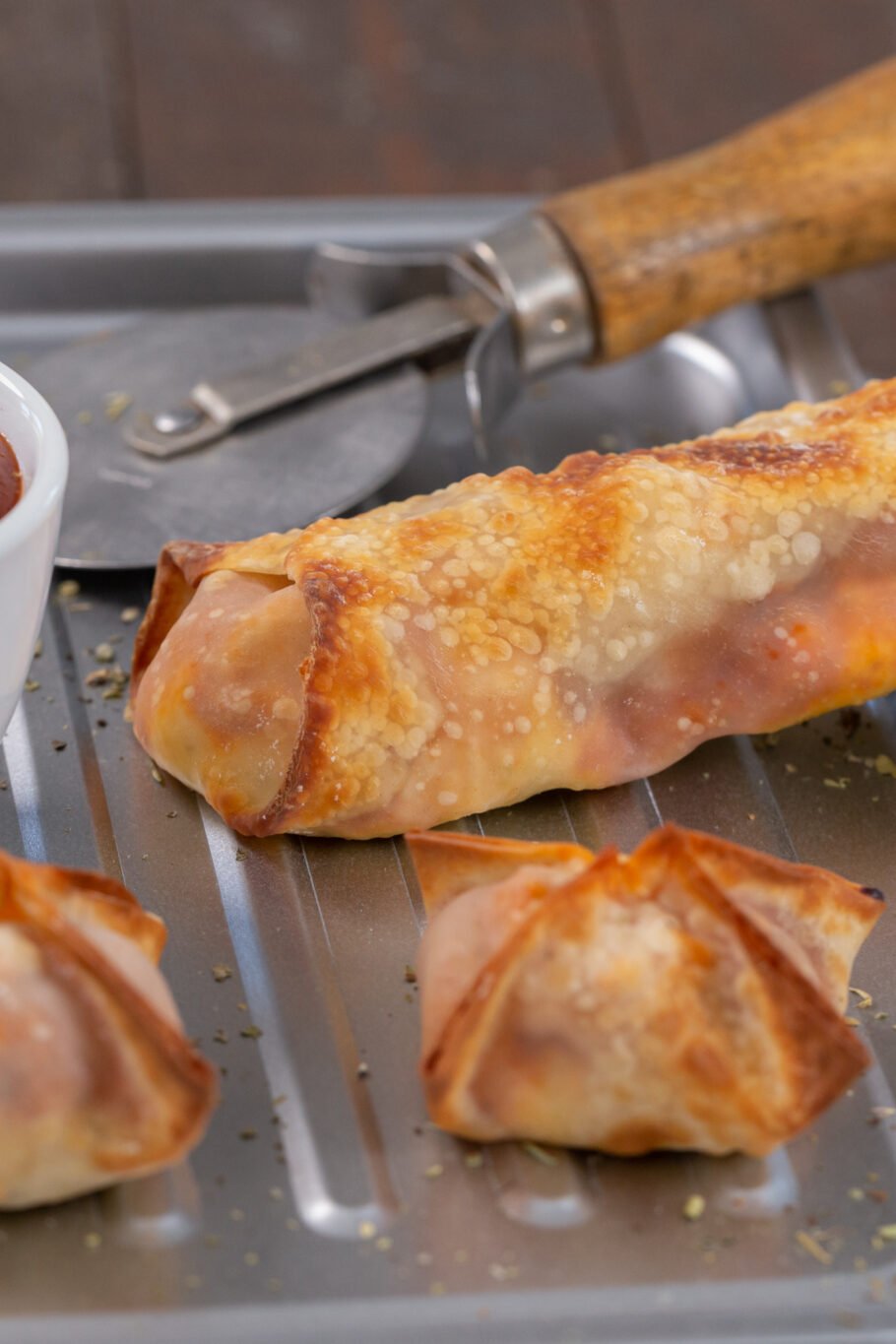 Easy Pizza Egg Rolls
It's time to close your egg rolls! There's a couple ways to do this but this is the easiest, in my opinion (there's another method in the video):
Wet your finger or a brush with a little water.
Wipe whatever you're using along the edges.
Fold in the corners closest to your filling (they should sit on top of your filling).
Pinch the bottom of those corners down on both sides to seal the ends.
Take one of your untouched corners and pull that "flap" over your filling.
Continue by rolling it forward to fully close it.
Repeat until you have your pizza egg rolls.
Last, coat whatever you're making with some oil. Non-stick cooking spray makes this super easy.
Put them onto an air fryer rack and let them cook on 365F/185C for around 10-12 minutes depending on what you're making. I usually flip mine over halfway through cooking but this is optional.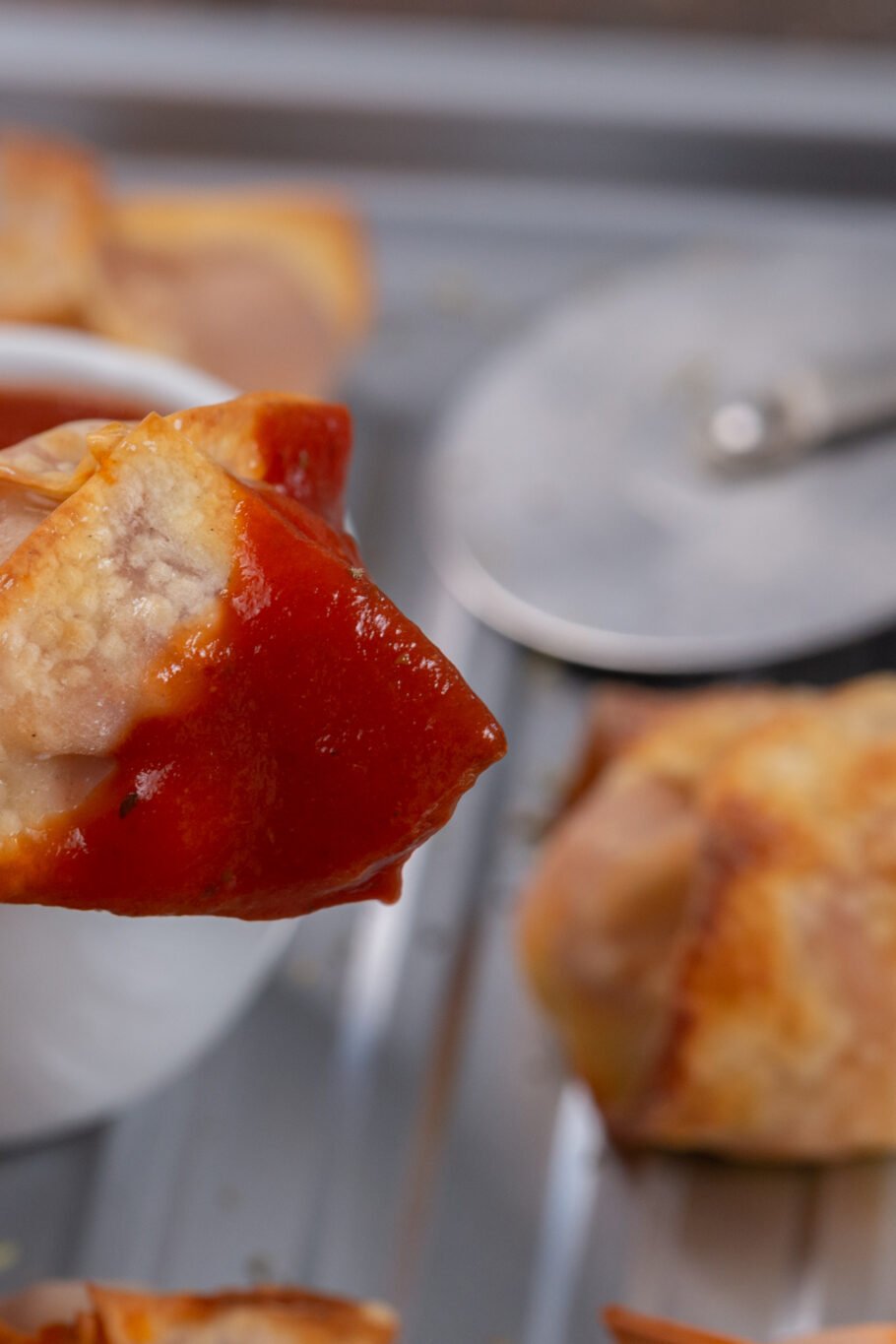 Don't have an air fryer? Bake them on 325F/162C for 10 minutes, flip them over, and bake them for an additional 10 minutes or until crispy but not burnt. Make sure to coat your baking sheet before putting them on.
Kitchen Hack
Don't have a vacuum sealer? Keep foods fresh for longer by using a straw to suck the air out of a sealable bag.
If you're talented enough you could also use your built in one (your mouth) to quickly suck the air out and close.
That's it and yes, it actually works!
Continue by taking your wraps out after your timer goes off or once they look like this…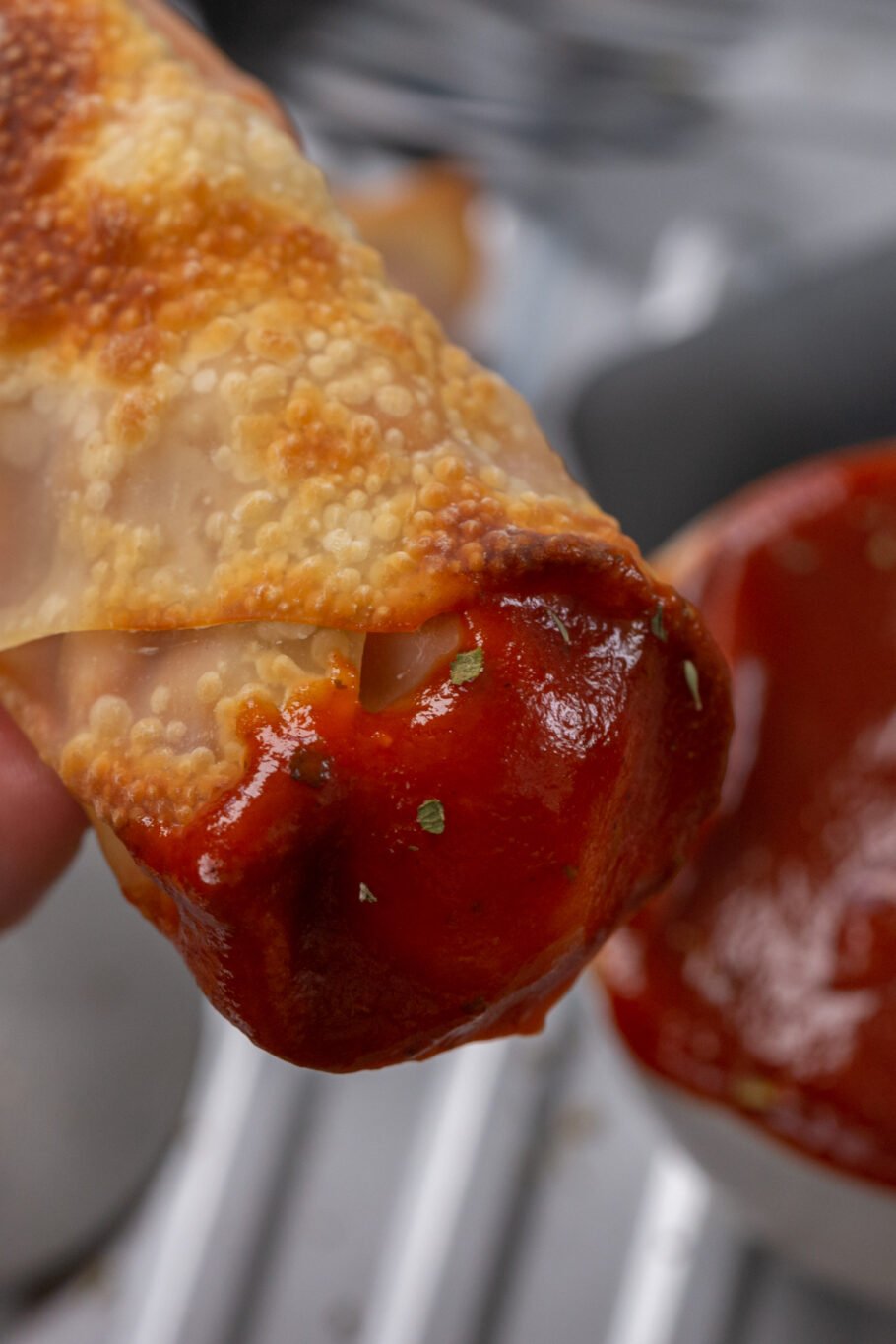 I like to dip mine in either some chili or pizza sauce.
Bored with the recipe? Switch it up by adding in your favorite pizza toppings, other seasonings, and so on! Let us know some of your favorite variations in the comments below.
Pair this with our Chocolate Microwave Protein Cheesecake recipe!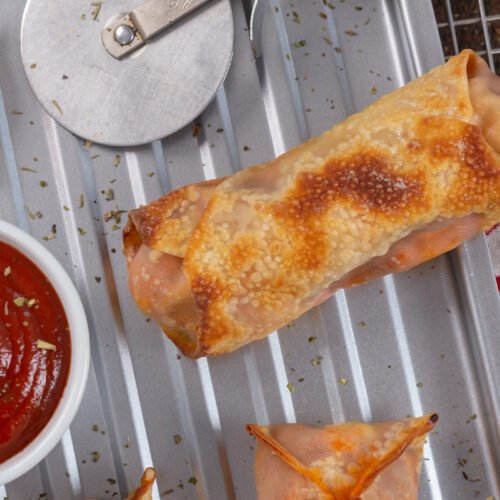 Air Fryer Pizza Egg Rolls & Wontons
Beat those pizza cravings with some healthy Air Fryer Pizza Egg Rolls & Wontons! This high protein recipe is easy to make and delicious.
Print
Pin
Rate
Save Recipe
Saved!
The Protein Chef is a participant in the Amazon Services LLC Associates Program, an affiliate advertising program designed to provide a means for us to earn fees by linking to Amazon.com and affiliated sites.
Ingredients
3

Ounces

Cream Cheese

-

Ricotta or Cottage Cheese work too

¼

Cup

Pizza Cheese

½

Teaspoon

Italian Seasoning

¼

Cup

Pizza Sauce

½-1

Ounce

Protein

-

Cooked Chicken, Beef, or Turkey

3

Egg Roll Wraps

-

This recipe makes either 3 Egg Rolls or 6 Wontons

6

Wonton Wraps

-

This recipe makes either 3 Egg Rolls or 6 Wontons
Instructions
Mix together your Cream Cheese, Pizza Cheese, and Italian Seasoning until smooth

Take out your Egg Roll or Wonton Wraps

Evenly distribute your mixture into them

Top your mixture with your favorite Pizza Sauce

Top your Pizza Sauce with 1/2 Ounce Cooked Protein Per Wonton or 1 Ounce Cooked Protein Per Egg Roll

Wet the edges of whatever you're using with either your finger or a brush

Make your Egg Rolls by folding in the corners closest to your filling (they should sit on top of your filling)

Pinch the bottom of those corners down on both sides to seal the ends

Take one of your untouched corners and pull that "flap" over your filling

Continue by rolling it forward to fully close it

Make your Wontons by folding your corners in one side at a time

Squeeze them at the tip while pressing down to remove any air

Coat whatever you're making with some light oil (cooking spray makes this easy)

Put them into your air fryer basket and cook them on 365F/185C for around 10-12 minutes (you can optionally flip them over halfway through cooking)

Don't have an air fryer? Make sure your wraps are fully coated with oil and bake them on 325F/162C for 10 minutes per side
Notes
Calories with Reduced Fat Cream Cheese Per Egg Roll (Makes 3 Egg Rolls):
Calories: 175
Fat: 7.3g
Saturated Fat: 3g
Sodium: 319.3mg
Carbs: 16g
Fiber: .3g
Sugar: 2.3g
Protein: 11.3g
Calories with Reduced Fat Cream Cheese (Whole Egg Rolls Recipe):
Calories: 526
Fat: 22g
Saturated Fat: 12g
Sodium: 958mg
Carbs: 48g
Fiber: 1g
Sugar: 7g
Protein: 34g
Calories with Reduced Fat Cream Cheese Per Wonton (Makes 6 Wontons):
Calories: 78
Fat: 3.7g
Saturated Fat: 2g
Sodium: 153mg
Carbs: 5.7g
Fiber: .2g
Sugar: 1.2g
Protein: 5.7g
Calories with Reduced Fat Cream Cheese (Whole Wontons Recipe):
Calories: 470
Fat: 22g
Saturated Fat: 12g
Sodium: 918mg
Carbs: 34g
Fiber: 1g
Sugar: 7g
Protein: 34g
Calories with Whole Milk Ricotta Cheese (add Egg Roll or Wonton Wraps separately):
Calories: 308
Fat: 16g
Saturated Fat: 9g
Sodium: 682mg
Carbs: 13g
Fiber: 1g
Sugar: 7g
Protein: 28g
Calories with Fat Free Cottage Cheese (add Egg Roll or Wonton Wraps separately):
Calories: 230
Fat: 6g
Saturated Fat: 3g
Sodium: 792mg
Carbs: 13g
Fiber: 1g
Sugar: 6g
Protein: 31g
Nutrition
Calories:
78
kcal
|
Carbohydrates:
5.7
g
|
Protein:
5.7
g
|
Fat:
3.7
g
|
Saturated Fat:
2
g
|
Sodium:
153
mg
|
Fiber:
0.2
g
|
Sugar:
1.2
g