We're back! Yes, it's still 2020 and no, I'm not retiring. Gearing up for 2021 (which is going to be the best year ever as we all deserve it!) I'm gonna start by throwing a quick little healthy Cottage Cheese Cheesecake your way!
This cheesecake is simple, made to be a single serving, cheap, and super easy to make.
Cottage Cheese Cheesecake
All you need for the cheesecake mix is a food processor or blender. No mixing bowls means less time cleaning up and could all use some more time…I think.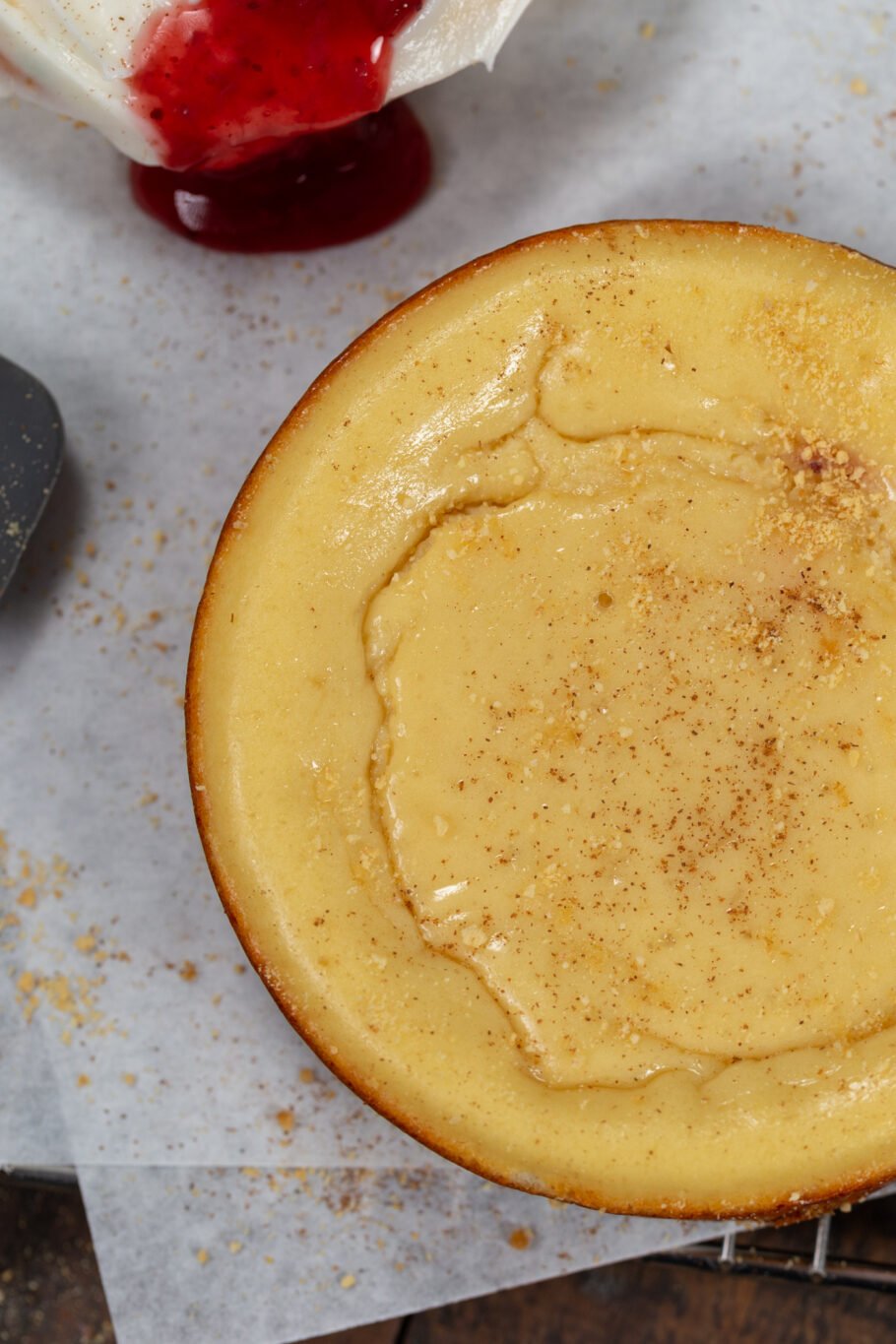 Add into your processor or blender 1 large whole egg, 1/2 cup of cottage cheese, 1/2 teaspoon of vanilla extract, 1 tablespoon of your favorite sweetener, 1 scoop of your favorite flavor protein powder, and 1 tablespoon of a complimenting flavor Greek yogurt.
Process all of those together until smooth.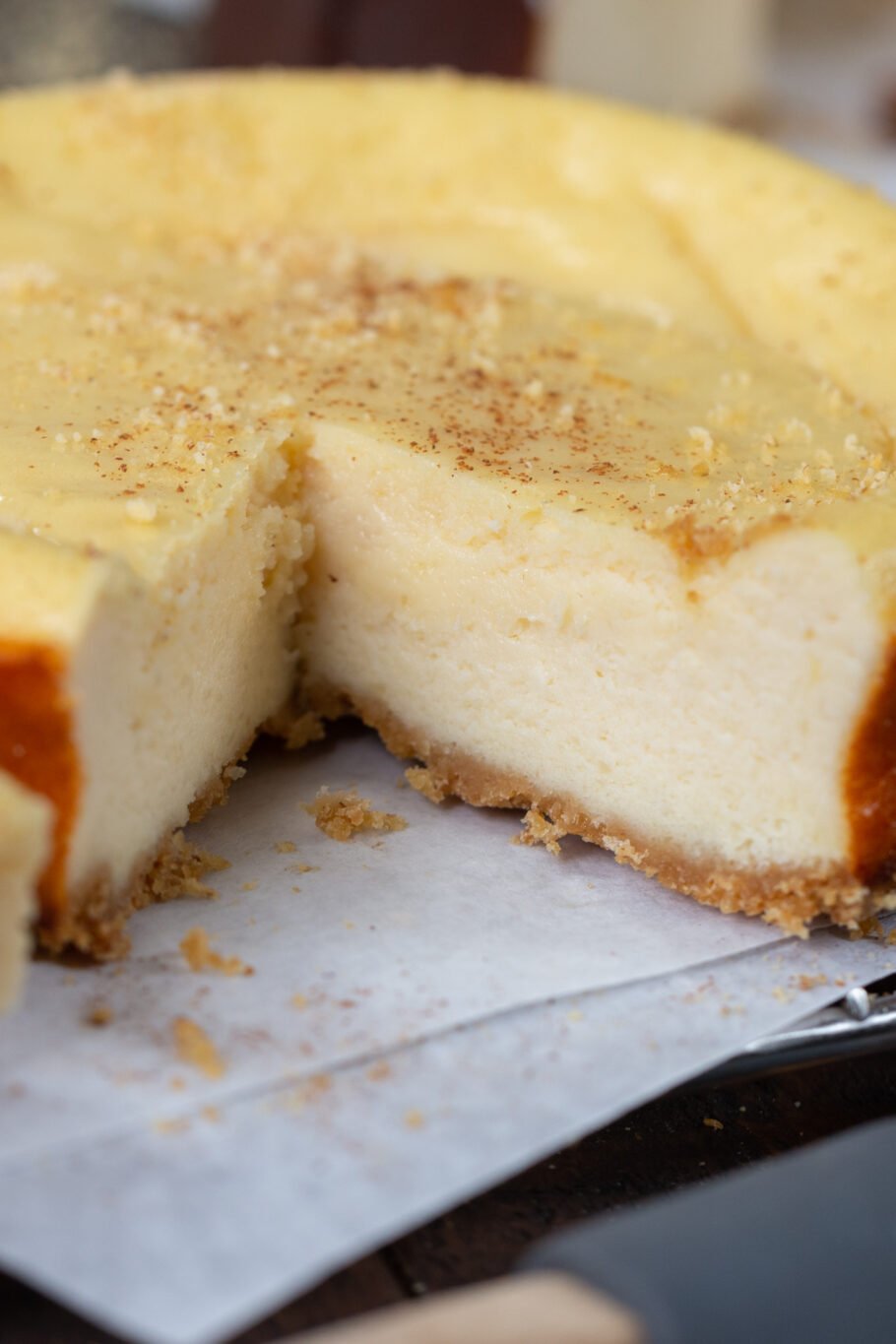 You could now mix in nuts, chocolate chips, or anything else you want but I'm opting out of that today.
You now have a couple options here for your cottage cheese cheesecake. Ready? No crust and less carbs or crust and more carbs, simple!
Cottage Cheese Cheesecake Crust
For a crust all you have to do is mix together some graham cracker crumbs and a little butter. Press those into the bottom of your dish or pan and bake it on 375/190C for 5-7 minutes or until it looks golden brown.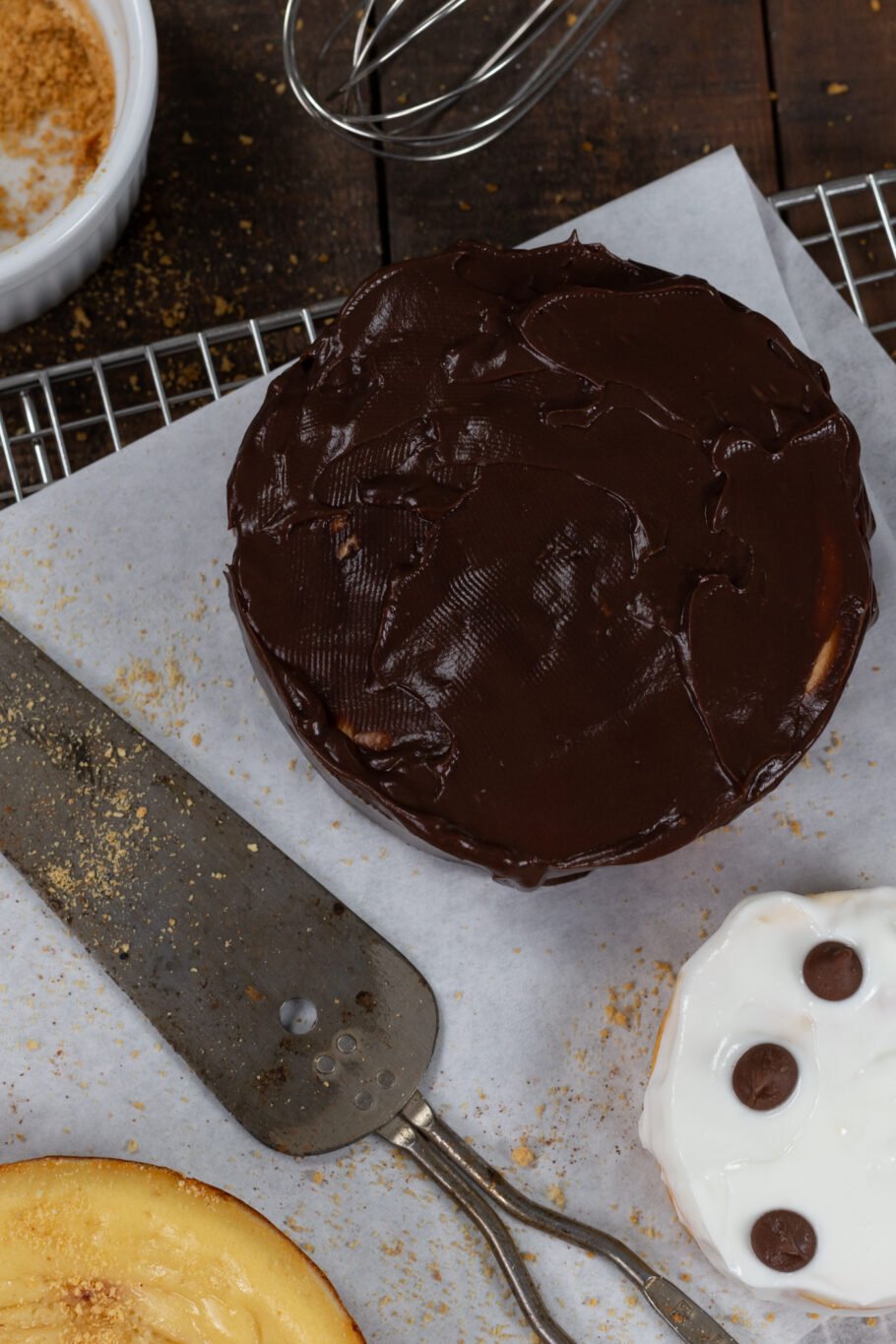 Yes, just regular graham cracker crumbs and some butter. These single serving cheesecakes are small enough that you're really not adding that many calories to the recipe by using a crust.
Remember, everything in moderation.
Whether you're using a crust or not, follow by pouring your mix into a pan or something oven safe that's the size you want, and baking it on 325F/162C for around 20-25 minutes.
Depending on how small or big your pan is, it could take more or less time.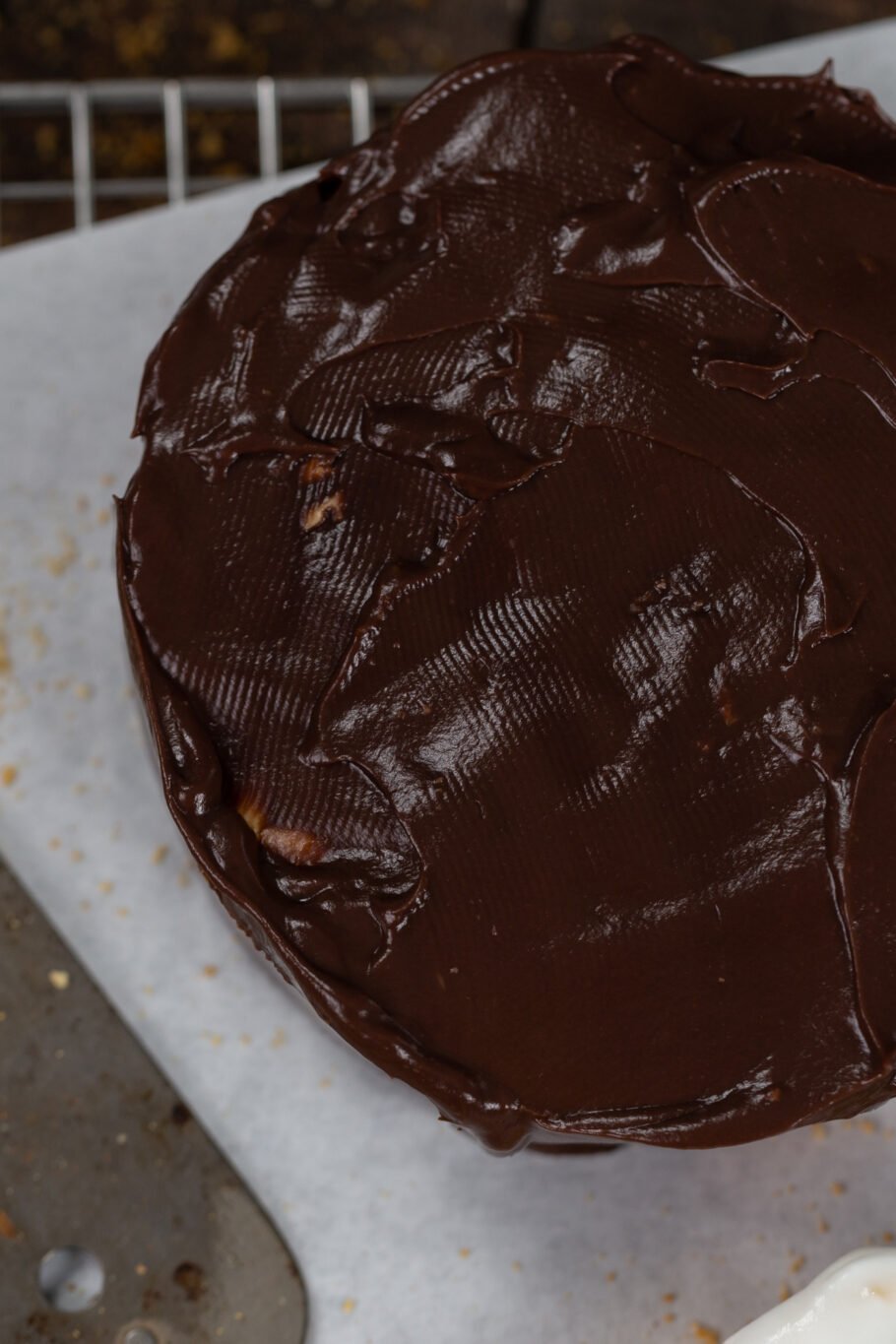 Take it out, let it sit, and put your cottage cheese cheesecake in the fridge for a few hours. That's it, you're done!
You can double or triple this recipe to make a few servings at a time and switch up the variation by using different flavor powders and yogurt.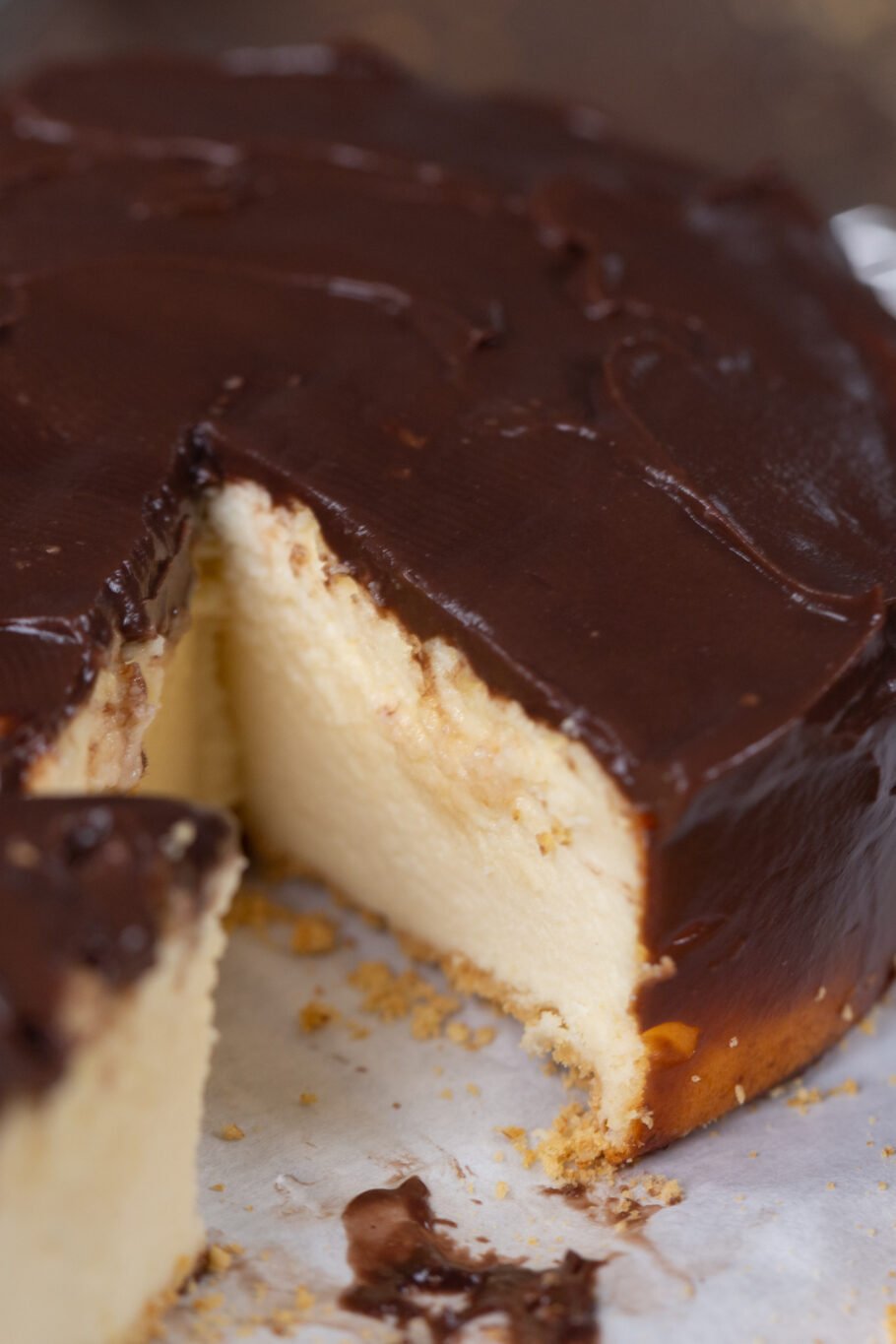 Another tip I'll throw at you here is that you can top this with things like sugar free pudding or jello, pumpkin, healthier pie fillings or make your own with fresh fruit, protein frostings to add more protein to the recipe, nut butters, whipped cream, and much more.
Think outside the box and this recipe will never get old.
Want an even quicker cheesecake? Try our Microwave Protein Cheesecake next!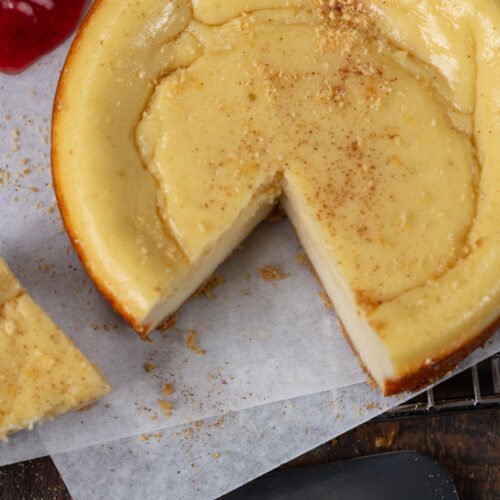 Easy Cottage Cheese Cheesecake
Satisfy your cheesecake cravings while dieting with this easy to make and healthy Cottage Cheese Cheesecake that's packed with protein!
Print
Pin
Rate
Save Recipe
Saved!
The Protein Chef is a participant in the Amazon Services LLC Associates Program, an affiliate advertising program designed to provide a means for us to earn fees by linking to Amazon.com and affiliated sites.
Ingredients
Crust
15

g

Graham Cracker

-

Crumbs Your Choice

½

Tablespoon

Butter

-

Your Choice
Cheesecake
1

Large

Whole Egg

½

Cup

Cottage Cheese

-

Use Reduced or Full Fat if you want

½

Teaspoon

Vanilla Extract

1

Tablespoon

Sweetener

-

Your Choice

1

Scoop

Protein Powder -

Your Choice

1

Tablespoon

Greek Yogurt

-

Complimenting Flavor
Instructions
Crust
Mix together your Graham Cracker crumbs and Butter.

Press it into your Cheesecake dish or pan.

Bake on 375F/192C for around 5-7 minutes.
Cheesecake
Add all of your ingredients for the Cheesecake into a food processor or blender.

Process or blend everything together until smooth.

Pour your mix into your Cheesecake dish or pan.

Bake on 325F/162C for around 20-25 minutes.

Let it cool, wrap it up, and put it into the fridge for a few hours.
Notes
Top or add into it anything you want – unlimited variations!
Calories listed are for the Cottage Cheese Cheesecake without the crust. Here are the calories for the crust:
Calories Per Small Crust:
Calories: 115
Fat: 7g
Saturated Fat: 4g
Sodium: 140mg
Carbs: 12g
Fiber: 0g
Sugar: 2.5g
Protein: 1g
Nutrition
Calories:
291
kcal
|
Carbohydrates:
14
g
|
Protein:
43
g
|
Fat:
7
g
|
Saturated Fat:
3
g
|
Sodium:
364
mg
|
Fiber:
0
g
|
Sugar:
6
g