To start this year we're going to make some delicious protein pancakes in the oven, on a baking sheet. These Sheet Pan Protein Pancakes are super easy to make and come with endless variations! Did I mention there's enough for the whole family and each serving only has around 4 grams of net carbs?
Start this one with 2 bowls. You'll need 1 bowl big enough to fit all of your ingredients and another bowl big enough to whip 2 large egg whites in.
In your first bowl big enough for all of your ingredients add 4 large whole eggs, 1/2 cup of almond flour, 1/4 cup of coconut flour, 6 ounces of cream cheese (we're using reduced fat today), 1 container of your choice flavor Greek yogurt, 2 scoops of your choice flavor protein powder, 1/4 cup of sweetener, 1 teaspoon of vanilla extract, 1/2 teaspoon of optional ground cinnamon, 3 teaspoons of baking powder, and 1/2 teaspoon of salt.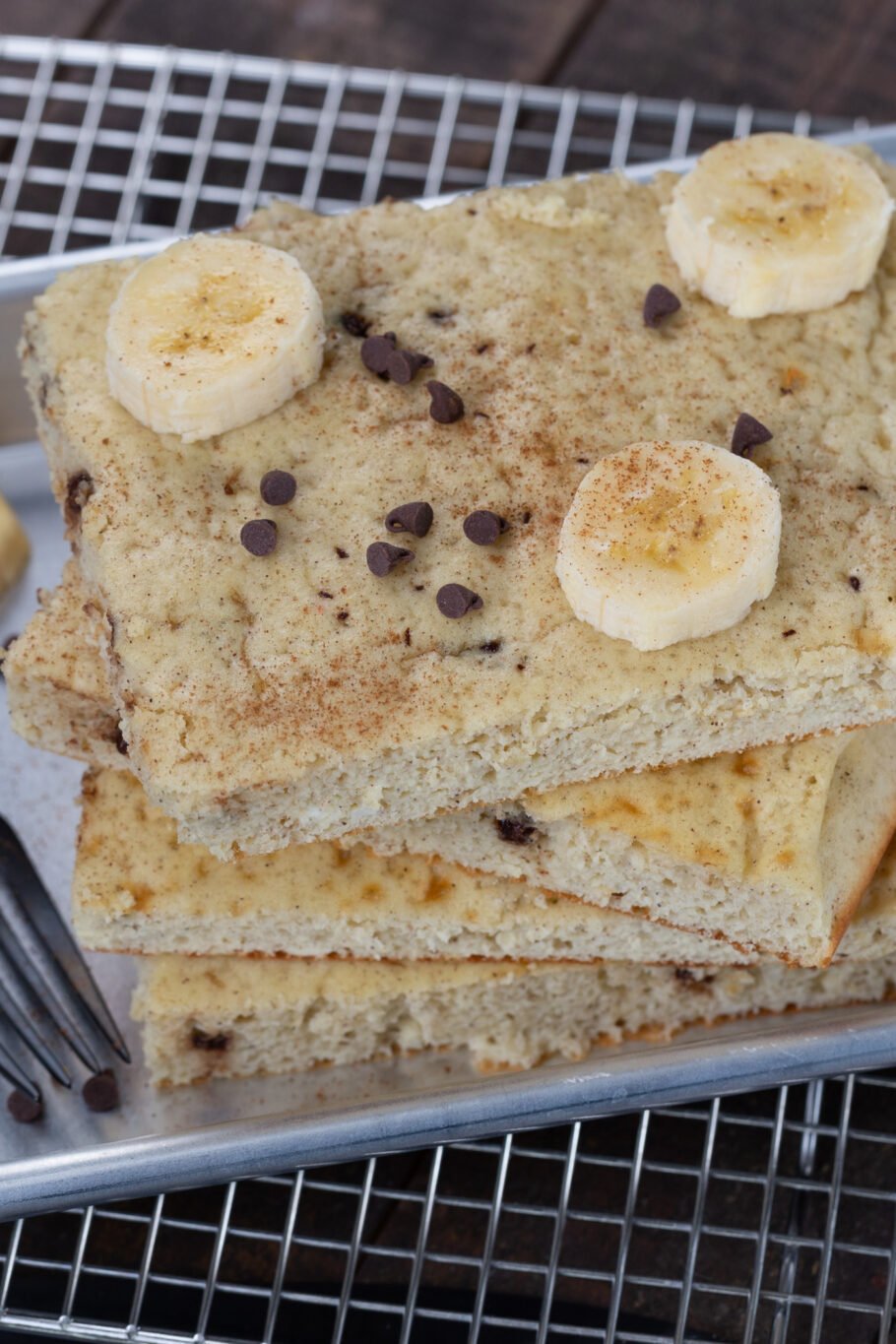 Go ahead and mix all of those ingredients together until smooth.
Keep in mind that if you don't want to make or need this portion size you can easily chop the recipe in half or scale it in the recipe card below.
Fluffy Sheet Pan Protein Pancakes
In your other bowl add 2 large egg whites and whip them with a mixer until they "thicken up" which should only take a couple minutes. You'll know they're done when a loose foam forms that almost looks like snow when you scoop it.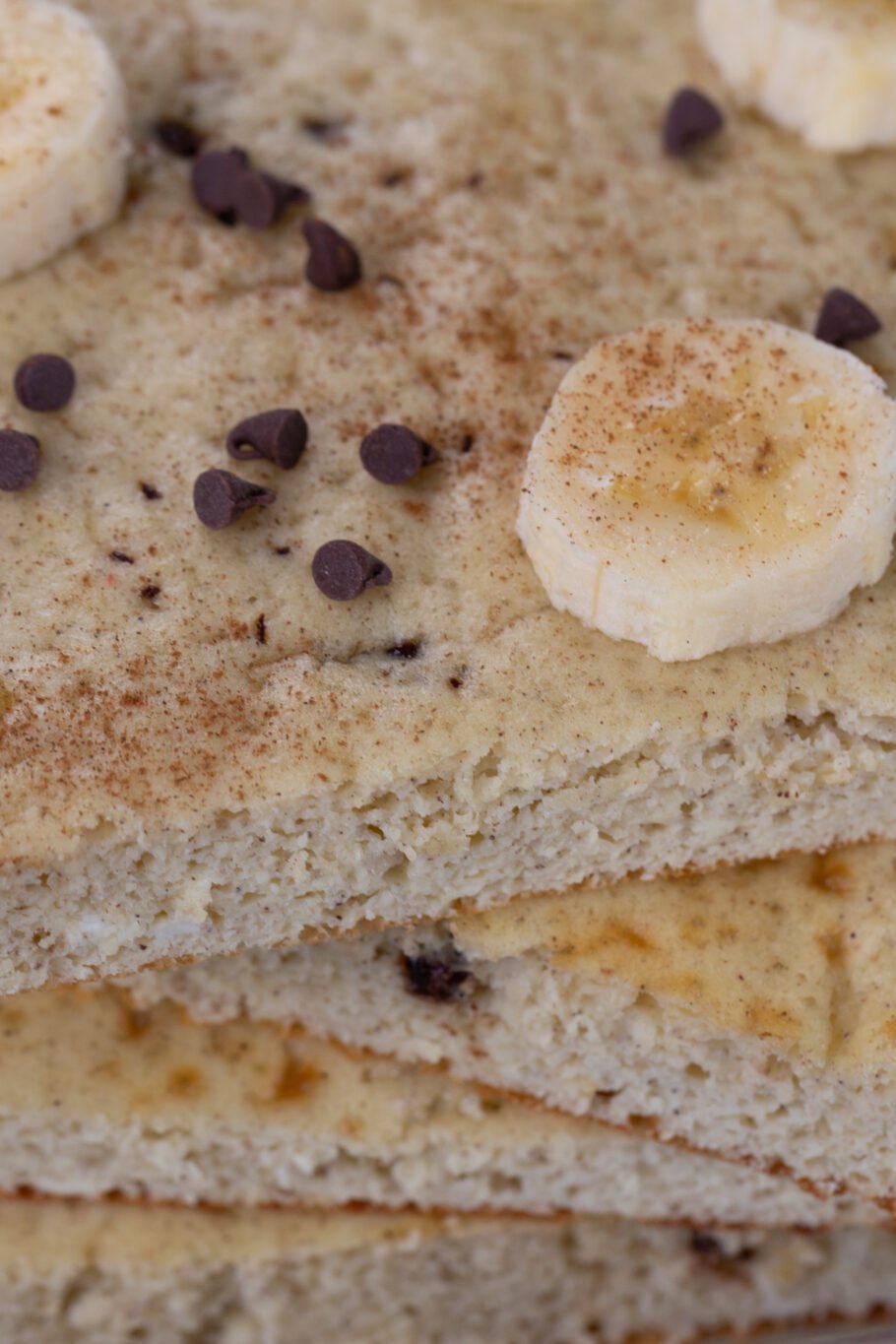 Add those whipped egg whites into your other mix and gently mix everything together.
Take out a baking sheet, line it with some parchment paper or aluminum foil coated with non-stick cooking spray, and pour your sheet pan protein pancakes batter into it.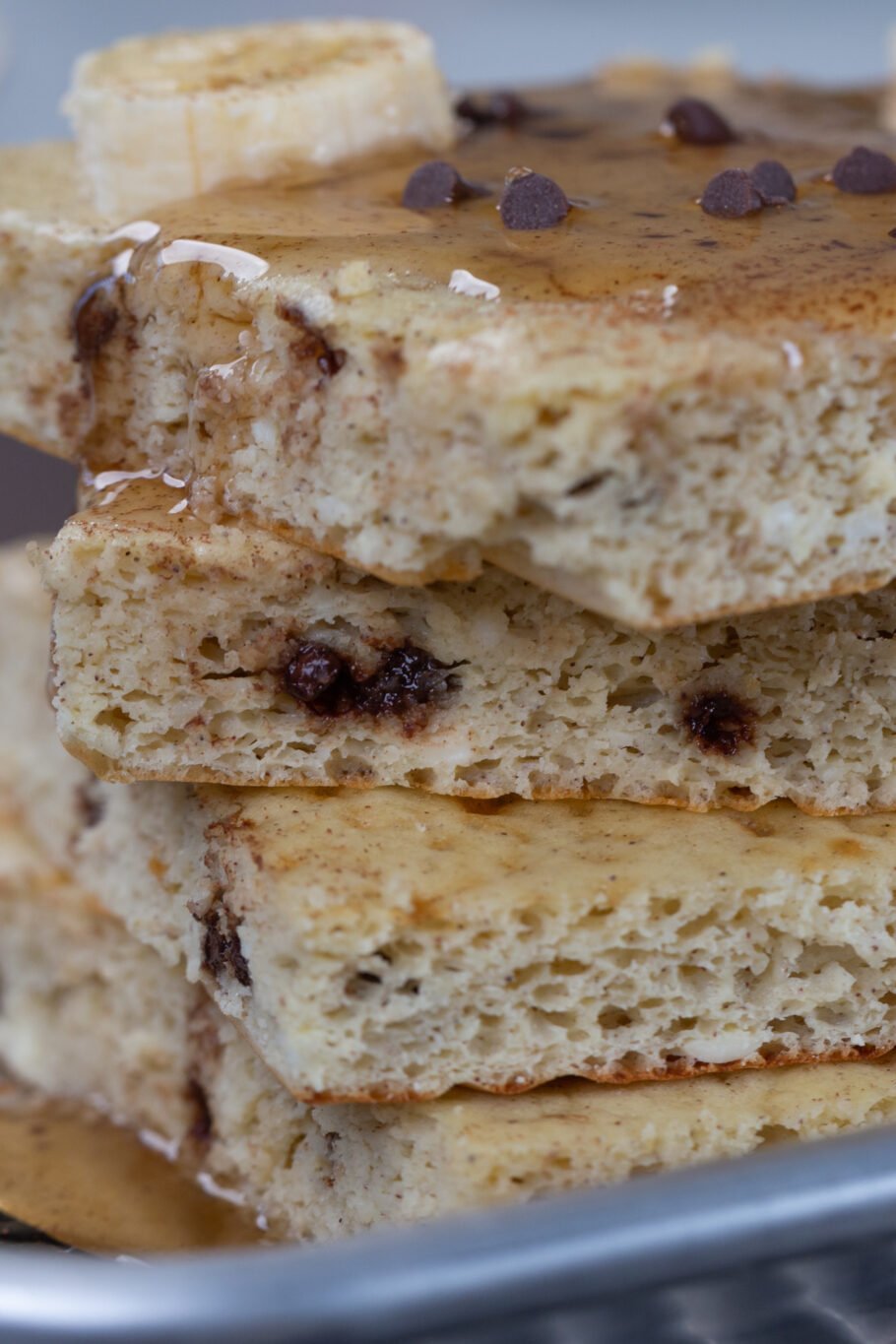 Make sure your batter is level, top it with some mini chocolate chips or anything else you want, and put your soon to be sheet pan pancakes into the oven on 425F/218C for around 10 minutes.
Diet Tip
To quickly weigh out your peanut butter all you have to do is take out your kitchen scale, put it on grams, place your peanut butter on top it, zero it out with the tare button, and scoop or eat your peanut butter until it says negative however many grams you want. I ate 1 serving today which would be -32 grams.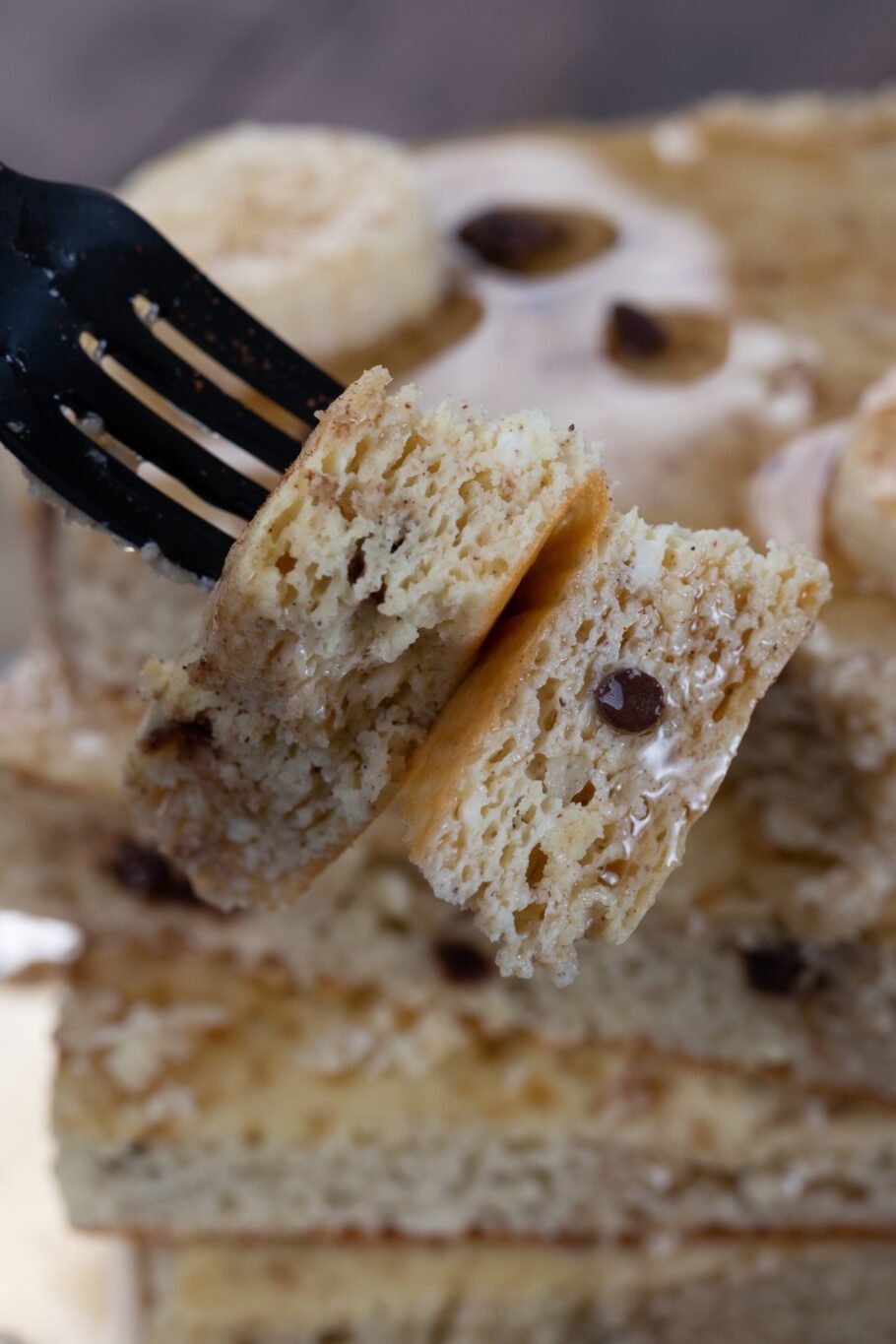 Remove your sheet pan protein pancakes after 10 minutes or once a toothpick inserted into the center comes out clean and cut them into however many servings you want!
You're done! You now have another easy way to make some protein pancakes! You can easily mix and match your flavors to change this recipe up, just make sure the ingredients you're using taste good. I'll add some of my favorite variations below.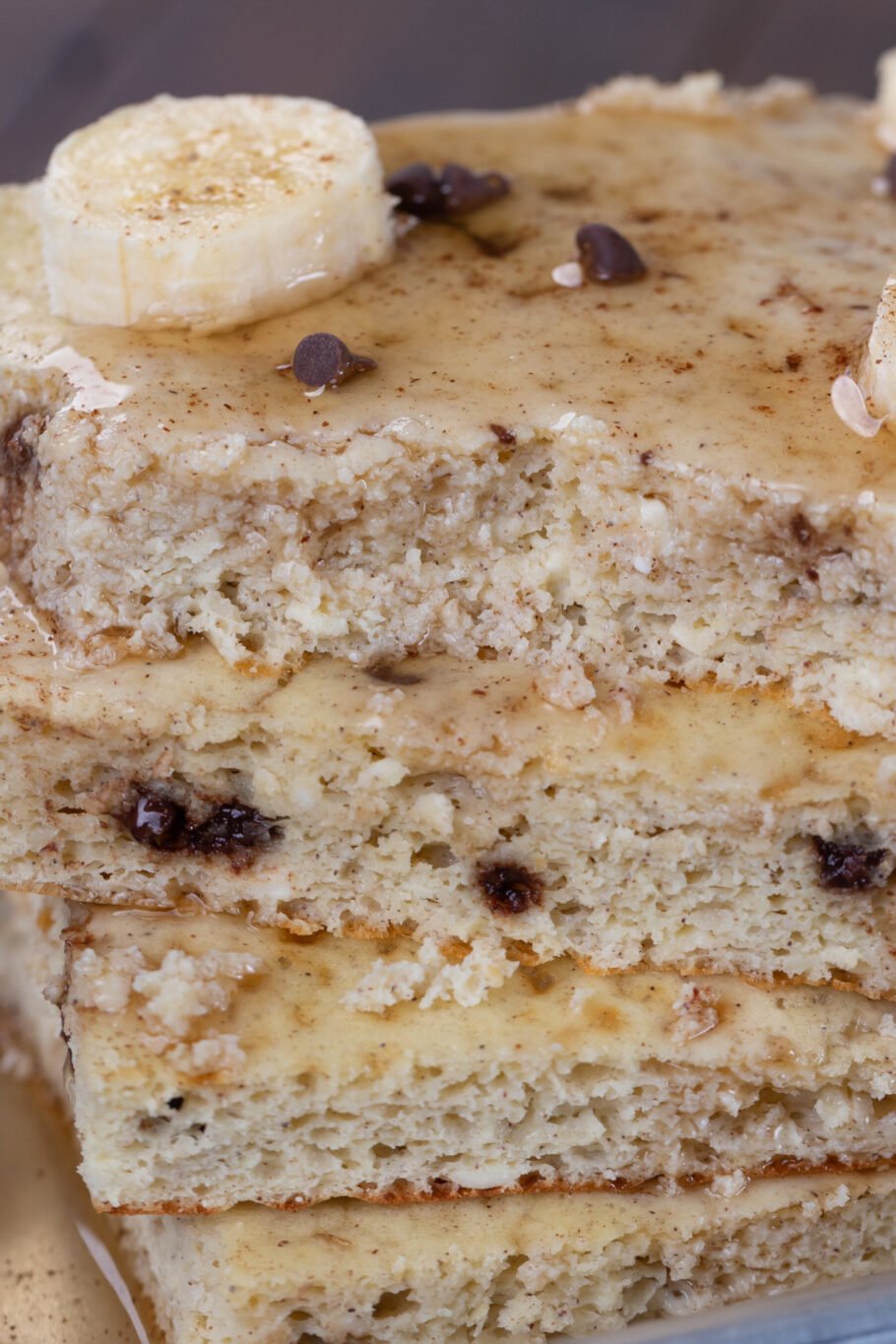 Sheet Pan Pancake Variations
Chocolate Banana
Chocolate Protein Powder
Banana Cream Greek Yogurt
Banana Slices (mixed in)
Strawberry Cheesecake
Vanilla Protein Powder
Blueberry Flavored Greek Yogurt
Blueberries (mixed in)
Blueberry
Strawberry Protein Powder
Cheesecake Flavored Greek Yogurt
Graham Cracker Crumb Topping
Coffee
Coffee/Mocha Flavored Protein Powder
Coffee/Mocha Flavored Greek Yogurt
Cocoa Powder Topping
*Optionally Add in 1-2 Tablespoons Cocoa Powder
Comment below your favorite sheet pan protein pancakes!
Ready for some more healthy pancakes? Try our Fluffy Protein Japanese Pancakes next.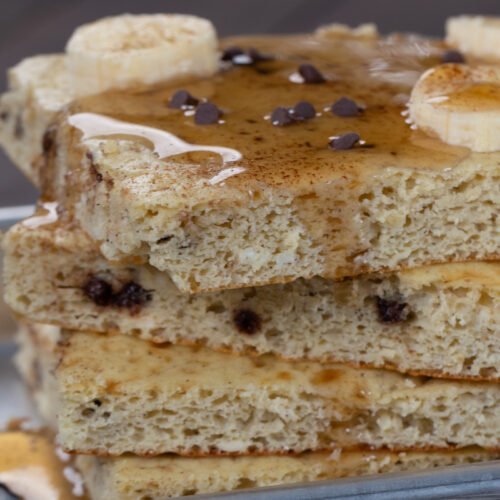 Easy Sheet Pan Protein Pancakes
A healthy pancake recipe made in the oven! These Easy Sheet Pan Protein Pancakes are fluffy, delicious, and take just minutes to prep.
Print
Pin
Rate
Save Recipe
Saved!
The Protein Chef is a participant in the Amazon Services LLC Associates Program, an affiliate advertising program designed to provide a means for us to earn fees by linking to Amazon.com and affiliated sites.
Ingredients
4

Large

Whole Eggs

½

Cup

Almond Flour

¼

Cup

Coconut Flour

6

Ounces

Cream Cheese

1

Container

Greek Yogurt

-

Your Choice Flavor

2

Scoops

Protein Powder -

Your Choice Flavor

¼

Cup

Sweetener

-

Your Choice (I used Erythritol)

1

Teaspoon

Vanilla Extract

½

Teaspoon

Ground Cinnamon

-

*Optional

3

Teaspoons

Baking Powder

½

Teaspoon

Salt

2

Large

Egg Whites

Mini Chocolate Chips

-

*Optional For Topping
Instructions
You'll need 2 bowls, 1 bowl big enough for all of your ingredients, and another bowl big enough to whip your Egg Whites in

In your bowl big enough for all of your ingredients add everything aside from your 2 Large Egg Whites into it

Mix all of those ingredients together

Whip your 2 Large Egg Whites in your other bowl with a hand mixer until they "thicken up"

Add your whipped Egg Whites into your other mix and gently mix everything together

Take out a baking sheet and optionally line it with parchment paper or aluminum foil coated with non-stick cooking spray

Pour your mix onto your baking sheet and make sure it's level

Top it with whatever you want like some Mini Chocolate Chips

Put your baking sheet into the oven on 425F/218C for around 10 minutes or until a toothpick inserted into the center comes out clean
Notes
Flavor Variations
Chocolate Banana
Chocolate Protein Powder
Banana Cream Greek Yogurt
Banana Slices (mixed in)
Strawberry Cheesecake
Vanilla Protein Powder
Blueberry Flavored Greek Yogurt
Blueberries (mixed in)
Blueberry
Strawberry Protein Powder
Cheesecake Flavored Greek Yogurt
Graham Cracker Crumb Topping
Coffee
Coffee/Mocha Flavored Protein Powder
Coffee/Mocha Flavored Greek Yogurt
Cocoa Powder Topping
*Optionally Add in 1-2 Tablespoons Cocoa Powder
Calories in the WHOLE recipe:
Calories: 1449
Fat: 81g
Saturated Fat: 30g
Sodium: 1670mg
Carbs: 52g (28g Net Carbs)
Fiber: 24g
Sugar: 18g
Protein: 128g
Nutrition
Calories:
241
kcal
|
Carbohydrates:
8.6
g
|
Protein:
21.3
g
|
Fat:
13.5
g
|
Saturated Fat:
5
g
|
Sodium:
334
mg
|
Fiber:
4
g
|
Sugar:
3.6
g