We're back! And today we're back with a couple questions for another simple recipe. Do you like Pizza? Do you like Chips? How about Pizza Chips? Not just any Pizza Chips but ones that are low carb, keto friendly, packed with protein, and only take a couple minutes to prep! Did I mention you really only need 3 ingredients to make them?
All you need for this one is a bowl that you'll add everything into. Easy enough, right? Add into it 1 cup of mozzarella cheese, 1/2 cup of cottage cheese, 1/4 teaspoon of oregano, and some optional garlic seasoning.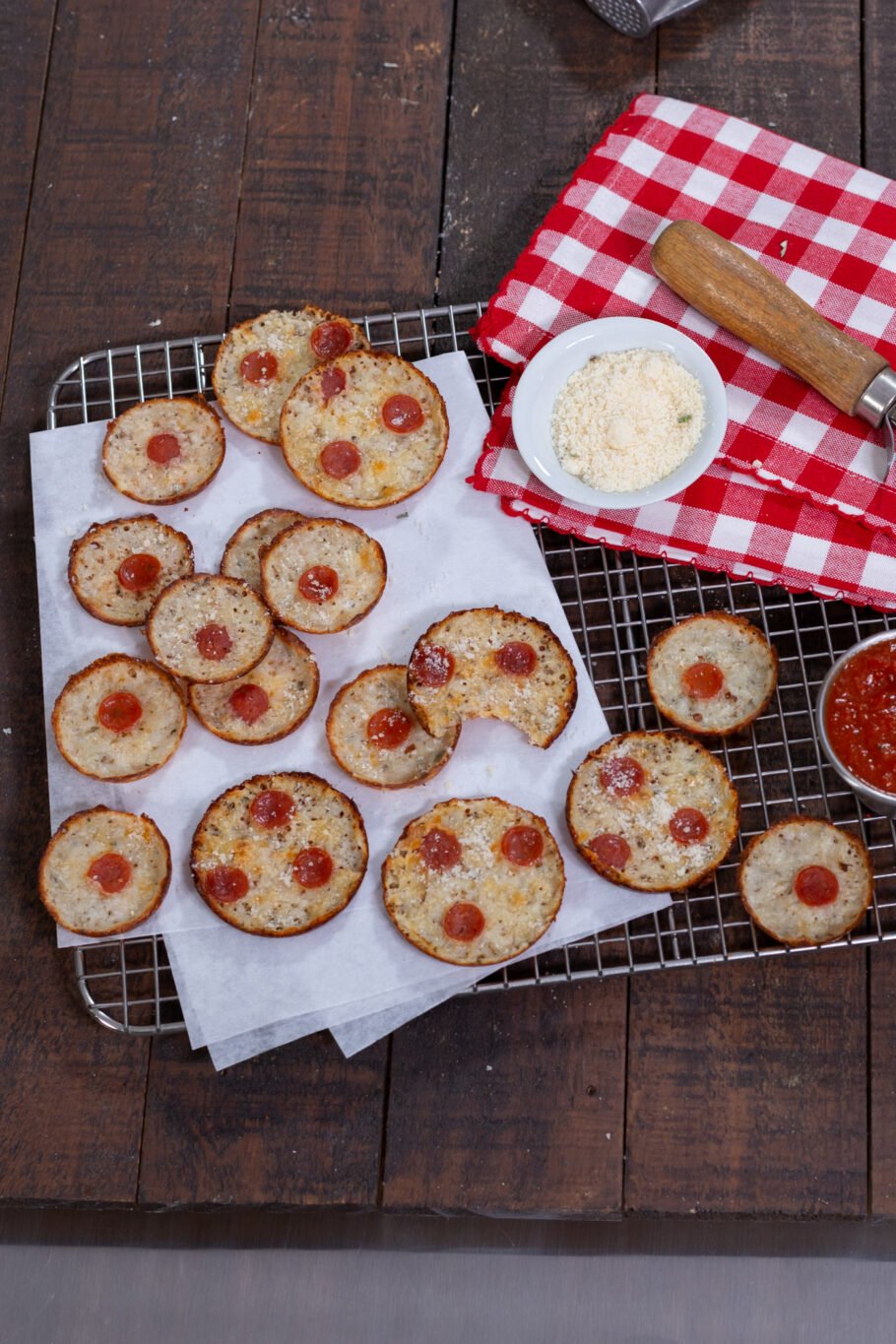 Add pepper, salt, chili powder, or any seasonings to change up the flavor when you get bored. You can also use whatever type ingredients fit your diet like full, reduced, or fat free cheeses!
Next, take out a baking pan or dish and shape your chips. I like using cupcake pans to easily make different sizes but this all depends on what you have on hand. Work with what you got!
Top your future pizza chips with some mini pepperoni slices and throw them in the oven on 400F/204C for 15-20 minutes or until the edges start to brown.
Dip Your Chips!
I like to sprinkle my low carb pizza chips with some grated parmesan cheese then dip them in pizza sauce! You could dip them in salsa too if you're really watching your macros.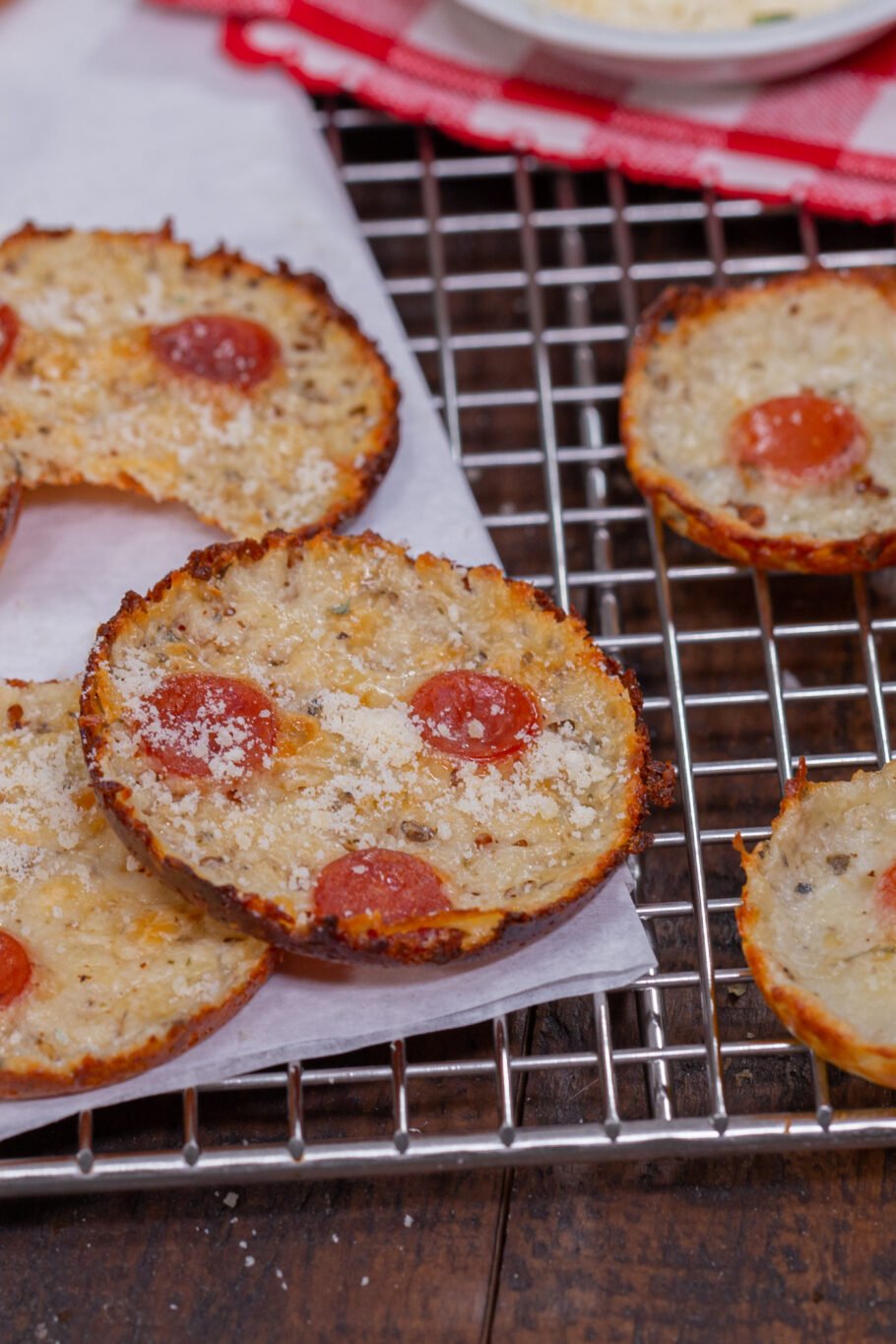 There's a million variations to this one. Make them sweet, spicy, and/or salty…the choice is yours here. You can easily change up the macros too. Think outside the box and you should be able to make them work for your diet!
Let me know some other creative ways you guys will make these down below.
Need a dessert to go with your low carb pizza chips? Try our Keto Cookies next!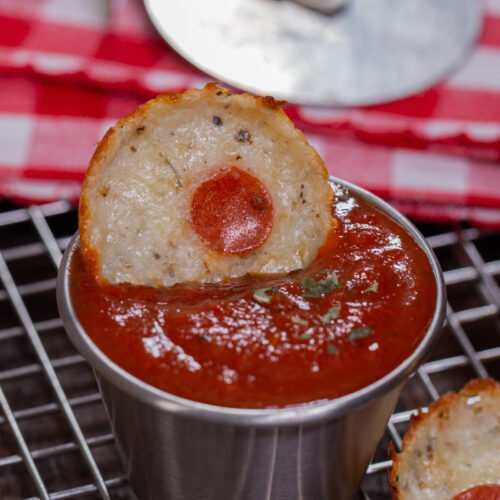 Simple Low Carb Pizza Chips
Looking for a low carb or keto friendly snack? These Low Carb Pizza Chips are, simple, delicious and only take 3 ingredients to make them!
Print
Pin
Rate
Ingredients
1

Cup

Mozzarella Cheese

–

112g Use Full, Reduced, or Fat Free

½

Cup

Cottage Cheese

–

113g Use Full, Reduced, or Fat Free

¼

Teaspoon

Oregano

½-1

Teaspoon

Garlic Seasoning

–

*Optional (Use any other seasonings, herbs, or spices you want to change up the flavor)

Slices

Pepperoni

–

*Optional

Pizza Sauce

–

For Dipping *Optional

Parmesan Cheese

–

Grated For Dipping *Optional
Instructions
Take out a bowl

Add all of your ingredients into it

Mix everything together

Evenly distribute your mix in small layers to the bottom of a muffin pan or baking sheet (just make sure to shape them like chips if you're using a baking sheet)

Press your mix in firmly

Top your pizza chips with some optional pepperoni slices

Bake them on 400F/204C for around 15-20 minutes or until the edges start to brown

Sprinkle them with parmesan and dip them in pizza sauce!
Notes
The bigger your pizza chips are, the longer they'll take to cook!
Reduced Fat Mozzarella + Fat Free Cottage Cheese
Calories 1/2 Your Chips (Makes 2):
Calories: 185
Fat: 8.5g
Saturated Fat: 5.5g
Sodium: 452mg
Carbs: 4g
Fiber: 0g
Sugar: 3g
Protein: 21g
Calories in the whole recipe:
Calories: 371
Fat: 19g
Saturated Fat: 11g
Sodium: 904mg
Carbs: 8g
Fiber: 0g
Sugar: 6g
Protein: 42g
Fat Free Mozzarella + Fat Free Cottage Cheese
Calories in the whole recipe:
Calories: 252
Fat: 0g
Saturated Fat: 0g
Sodium: 1202mg
Carbs: 13g
Fiber: 0g
Sugar: 5g
Protein: 50g
Full Fat Mozzarella + Full Fat Cottage Cheese
Calories in the whole recipe:
Calories: 404
Fat: 28g
Saturated Fat: 12g
Sodium: 402mg
Carbs: 6g
Fiber: 0g
Sugar: 0g
Protein: 32g
Nutrition
Calories:
185
kcal
|
Carbohydrates:
4
g
|
Protein:
21
g
|
Fat:
8.5
g
|
Saturated Fat:
5.5
g
|
Sodium:
452
mg
|
Fiber:
0
g
|
Sugar:
3
g