Craving bagels but can't afford the carbs? Today we fix that and make some Low Carb Keto Bagels! These are super easy to make, great for those on a low carb or keto diet, actually have the taste and texture of a bagel, and the best part? You probably already have all the ingredients on hand!
Like making recipes like this? Buy your almond and coconut flour in bulk, it's WAY cheaper!
Checkout my new brand Better Cravings (bulk ingredients): https://bettercravings.com
Start this one by adding into a bowl 2 1/2 cups of a shredded cheese and 2 ounces of cream cheese. I'm using mozzarella today but cheddar or even a blend is great too depending on the flavor you're going for. Mozzarella is pretty bland so it makes for a great base. You could also use reduced fat or fat free if you're not worried about the carbs.
Throw those 2 ingredients in the microwave for around a minute depending on how powerful your microwave is and then mix them together (they should mix easy if you microwaved them for long enough). Throw that back in the microwave for an additional 30 seconds.
Right after the microwave add into that same bowl 3 tablespoons of melted butter, 2 large beaten whole eggs, 1/2 of coconut flour, 2 tablespoons of almond flour, any seasonings, herbs, or spices you want your bagels to have (I like garlic seasoning), 1 tablespoon of baking powder, and 1/4 teaspoon of xanthan gum. Mix those together with something that won't break…or just use your hands (more fun).
Garlic Seasoning: http://amzn.to/2qAFwka
Once it feels like dough and looks mixed together, take out a doughnut pan. Coat that pan with some non-stick cooking spray then rip off a piece of your dough and roll it up. Press that into your doughnut pan. If you really don't wanna buy a doughnut pan you can take out a baking sheet lined with parchment paper and put your rolled dough on that.
Last, top your bagels with whatever you want. I'm using an everything seasoning mix I found at Walmart!
Cheap Doughnut Pan: https://amzn.to/2XmpGJC
Throw those into the oven on 400F/204C for around 10-14 minutes or until they look like this…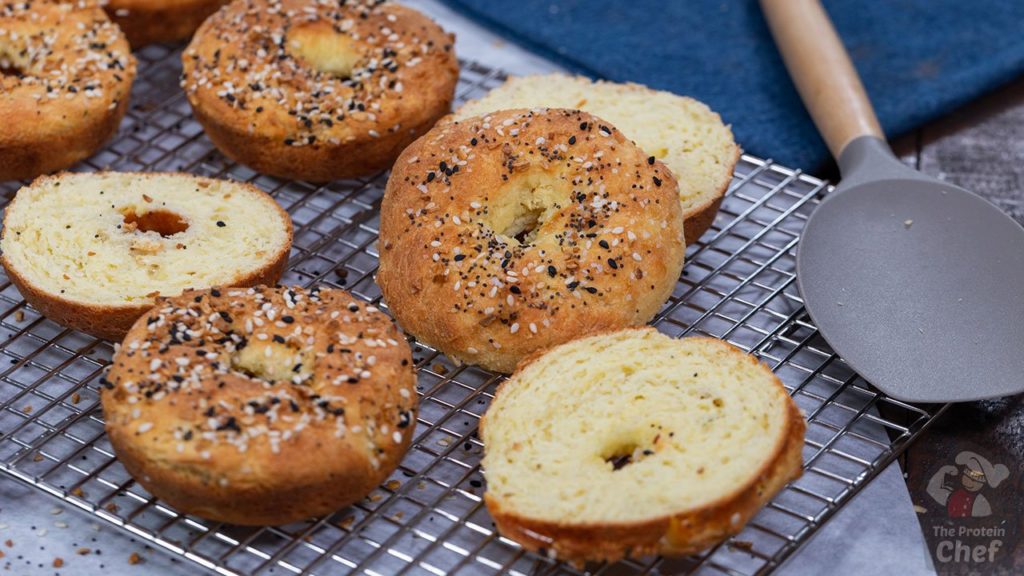 So there are your Low Carb Keto Bagels! Yes, they taste just as good as they look and even better when you lightly toast them. Get creative with these and you'll never get sick of them…cinnamon raisin topped with some protein frosting, onion topped with some chive cottage cheese, and so on! Let the community know in the comments below what seasonings you use, what you top yours with, and/or what you add in so we can think outside the box together.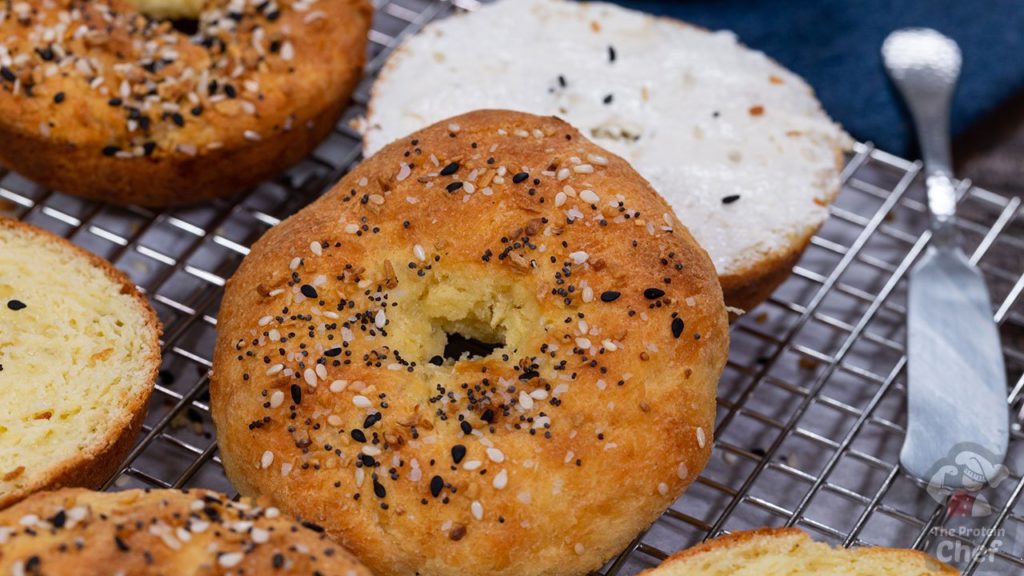 Ingredients needed:
2 1/2 Cups Mozzarella or Other Cheese (Full, Reduced, or Fat Free)
2 Ounces Cream Cheese (Full, Reduced, or Fat Free)
3 Tablespoons Melted Butter
2 Large Beaten Whole Eggs
1/2 Cup Coconut Flour
2 Tablespoons Almond Flour (You could also use 2 Tablespoons Protein Powder)
Your Favorite Seasonings, Herbs, or Spices
1 Tablespoon Baking Powder
1/4 Teaspoon Xanthan Gum
*Topping (I like Everything Seasoning)
TIPS:
Remember to account for how powerful your microwave is when microwaving your cheeses together (it may take less or more time)!
Mix everything together with your hands…it's way easier!
Buy your almond and coconut flour in bulk to save money!
Don't have a doughnut pan? Use a baking sheet and parchment paper!
Toast them!
Cheap Doughnut Pan: https://amzn.to/2XmpGJC
How to make:
Add your Mozzarella and Cream Cheese into a large bowl and microwave them for around 1 minute
Mix those together (they should mix easy if you microwaved them for long enough) and throw them back in the microwave for :30 seconds
Mix in the rest of your ingredients aside from any topping you're using until it feels like dough
Take out a doughnut pan and coat it with some non-stick cooking spray
Rip off a piece of your dough, roll it up, and press that piece of dough into your pan (make sure not to cover up the center hole)
Top your doughnuts
Bake them on 400F/204C for 10-14 minutes or until they rise and turn golden brown
Calories Per Bagel (Makes 6) w/ Reduced Fat Cream Cheese & Reduced Fat Mozzarella:
Calories: 211
Fat: 15g
Saturated Fat: 8.5g
Sodium: 364mg
Carbs: 7g (Net Carbs: 3g)
Fiber: 4g
Sugar: 1.1g
Protein: 12g
Calories Per Bagel (Makes 6) w/ Full Fat Cream Cheese & Full Fat Mozzarella:
Calories: 245
Fat: 19g
Saturated Fat: 9.6g
Sodium: 308mg
Carbs: 6.5g (Net Carbs: 2.5g)
Fiber: 4g
Sugar: 1g
Protein: 12g
*NOT AS KETO FRIENDLY
Calories Per Bagel (Makes 6) w/ Fat Free Cream Cheese & Fat Free Mozzarella:
Calories: 184
Fat: 10g
Saturated Fat: 5g
Sodium: 454mg
Carbs: 9.5g (Net Carbs: 5.5g)
Fiber: 4g
Sugar: 1.5g
Protein: 14g