It's good to have options, right? Today, we're giving you 3 healthy breakfast recipes for the price of 1! These Quick & Easy Breakfast Bagel Sandwich recipes are delicious, have great macros, and take no time at all to make!
Quick & Easy Breakfast Bagel Sandwich
Take out a stovetop pan, turn your burner on medium heat, coat it with some non-stick cooking spray, and let it heat up.
Crack 2 large whole eggs and a large egg white into it after it heats up.
Flip them when you're ready and put on a piece of your choice cheese to one of your eggs.
However long you cook your eggs is up to you, I prefer mine a bit runny (over easy/medium).
While your cheese is melting take out and toast your bagel, I'm using a cinnamon raisin one today for my breakfast bagel sandwich.
Microwave a couple slices of precooked bacon while that's toasting.
If you want to add anything else onto this, like some avocado slices, prep that now.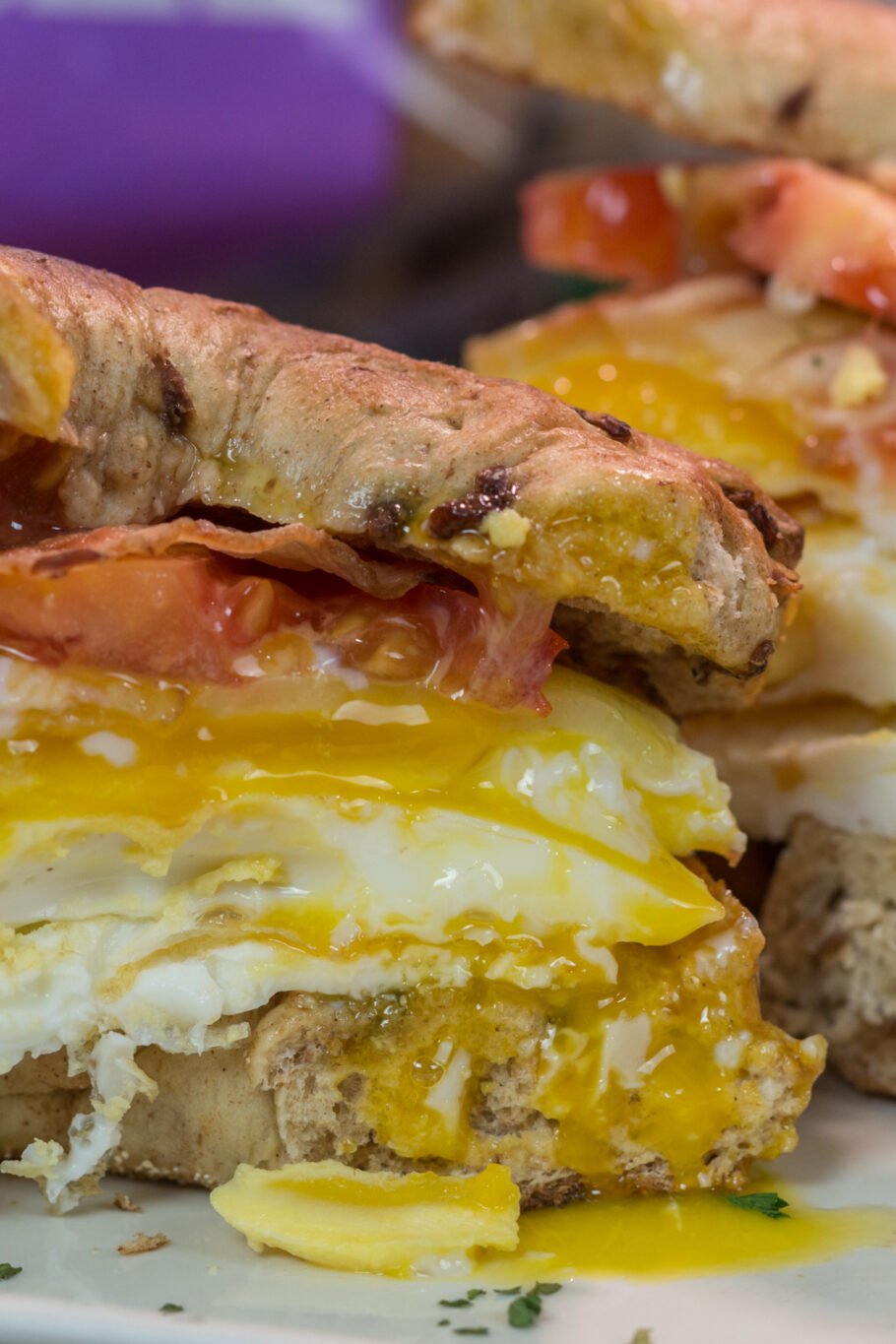 Start with half of your bagel, add on your eggs, bacon, extras, and close it off with the other half!
It's really hard to beat a breakfast bagel sandwich, especially one that's this quick. If you've never tried one, the time is now!
Quick & Easy Tuna Bagel Sandwich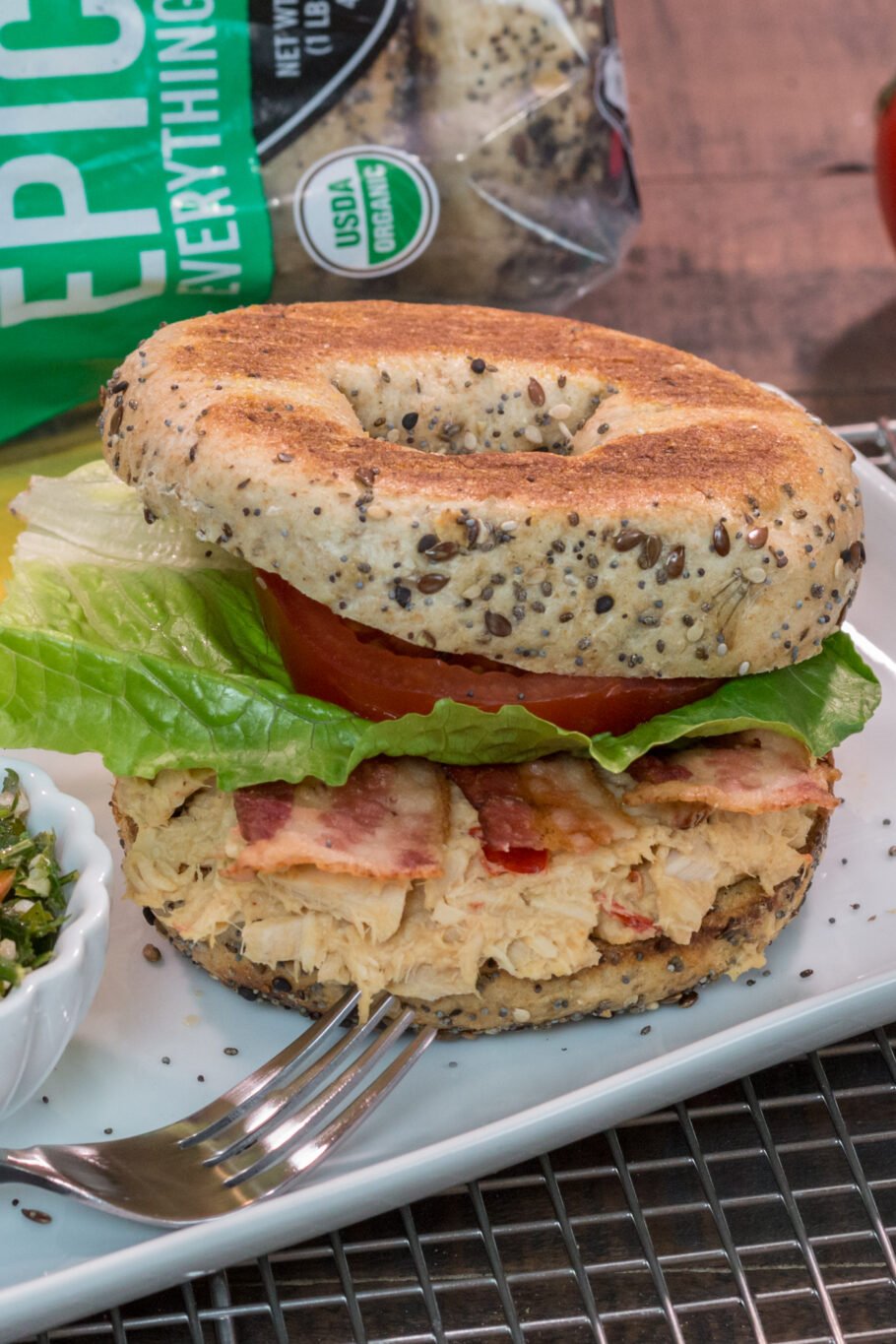 All you need for this one is a can of drained tuna and a couple tablespoons of some hummus, whatever flavor you want.
Mix both of those together, take out an everything bagel, and toast it if you want.
Add your mix onto it.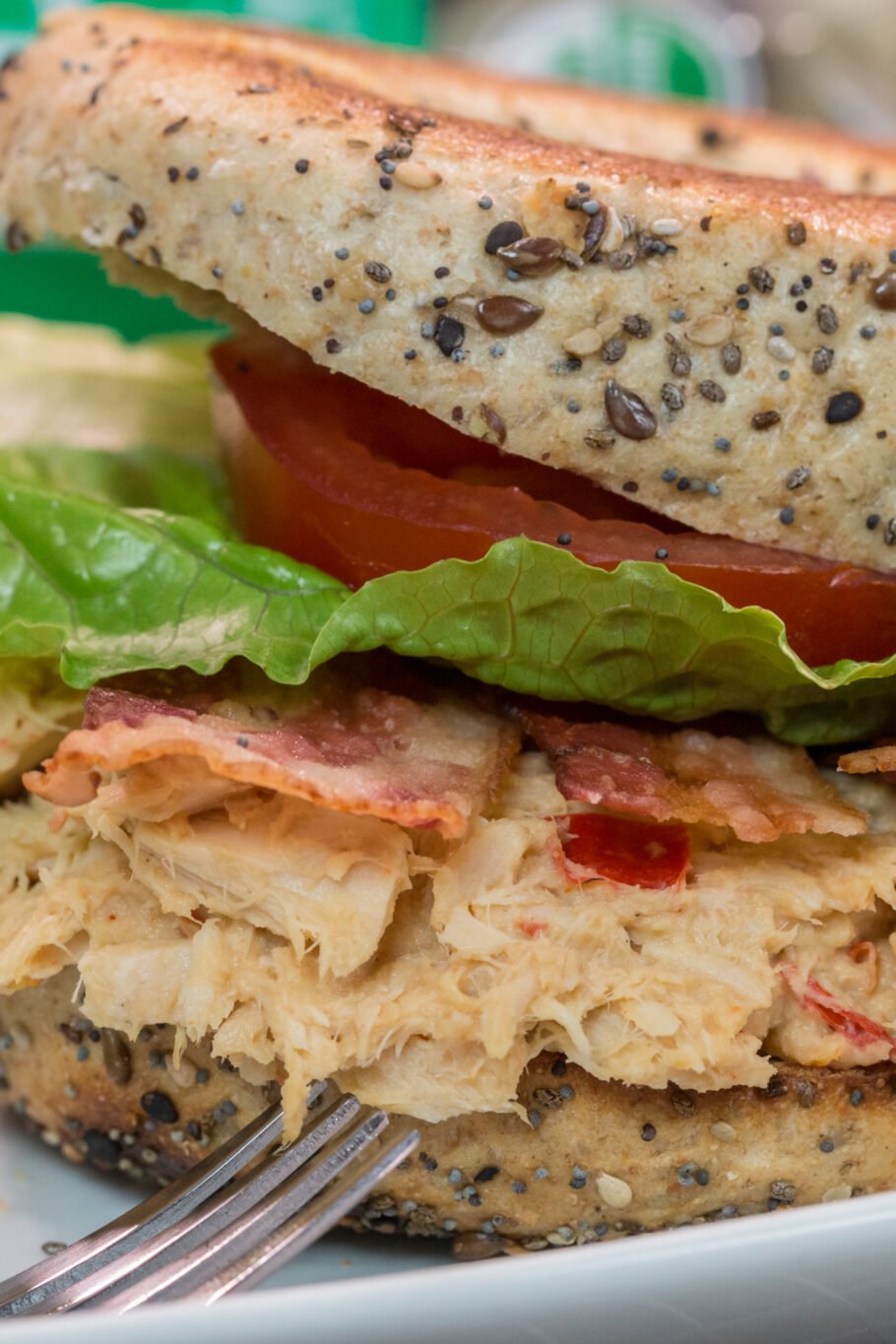 Top your mix with your favorite condiments like bacon, lettuce, and tomato.
Close it off.
Quicker than a drive through, definitely tastier, and way more filling for the price.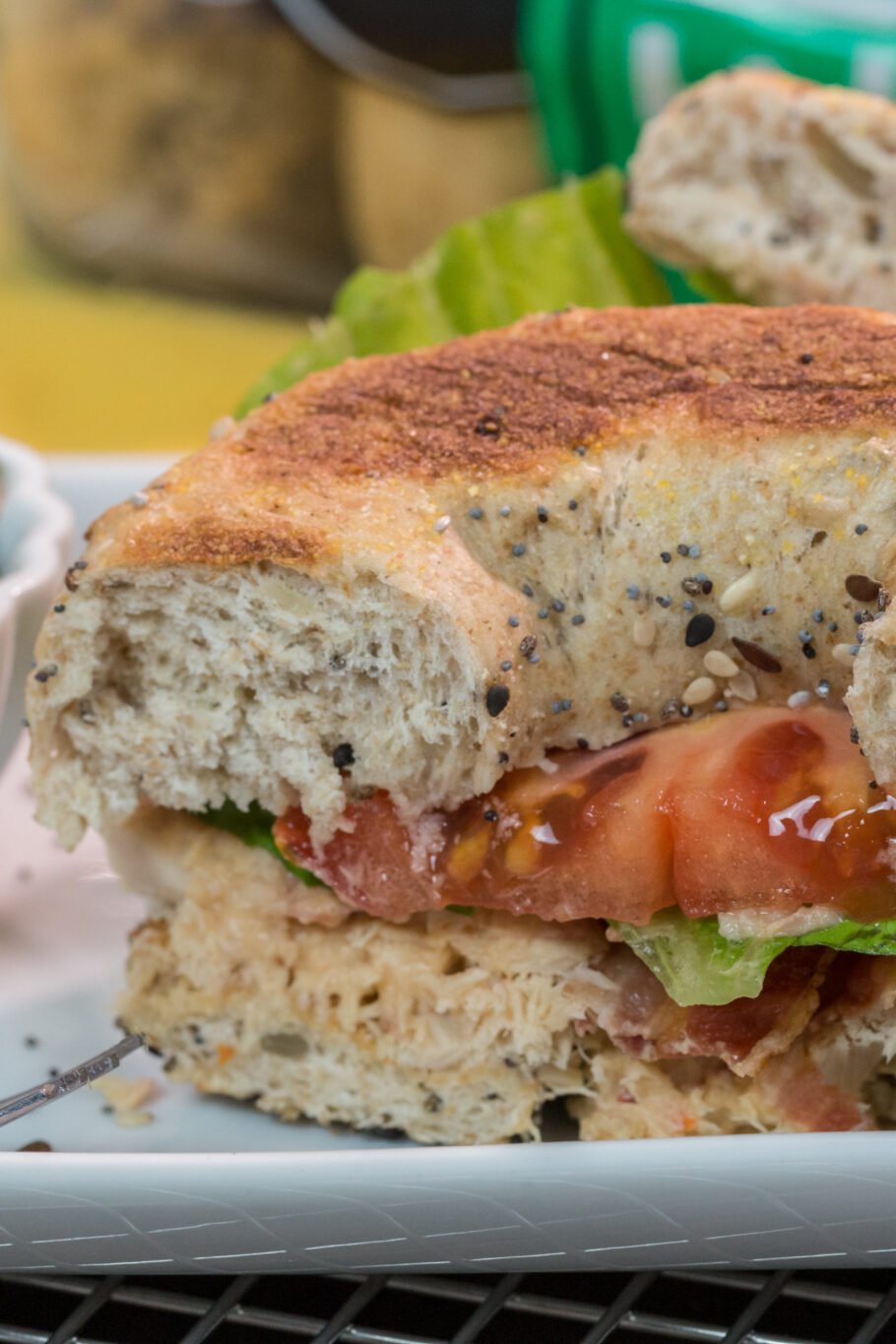 Most of you probably mix your tuna with mayo but if you've never tried it with hummus…you're missing out!
A quick tip for this breakfast bagel sandwich? If it's too big for you, cut it in half and make 2 servings out of it.
Quick & Easy Pizza Bagels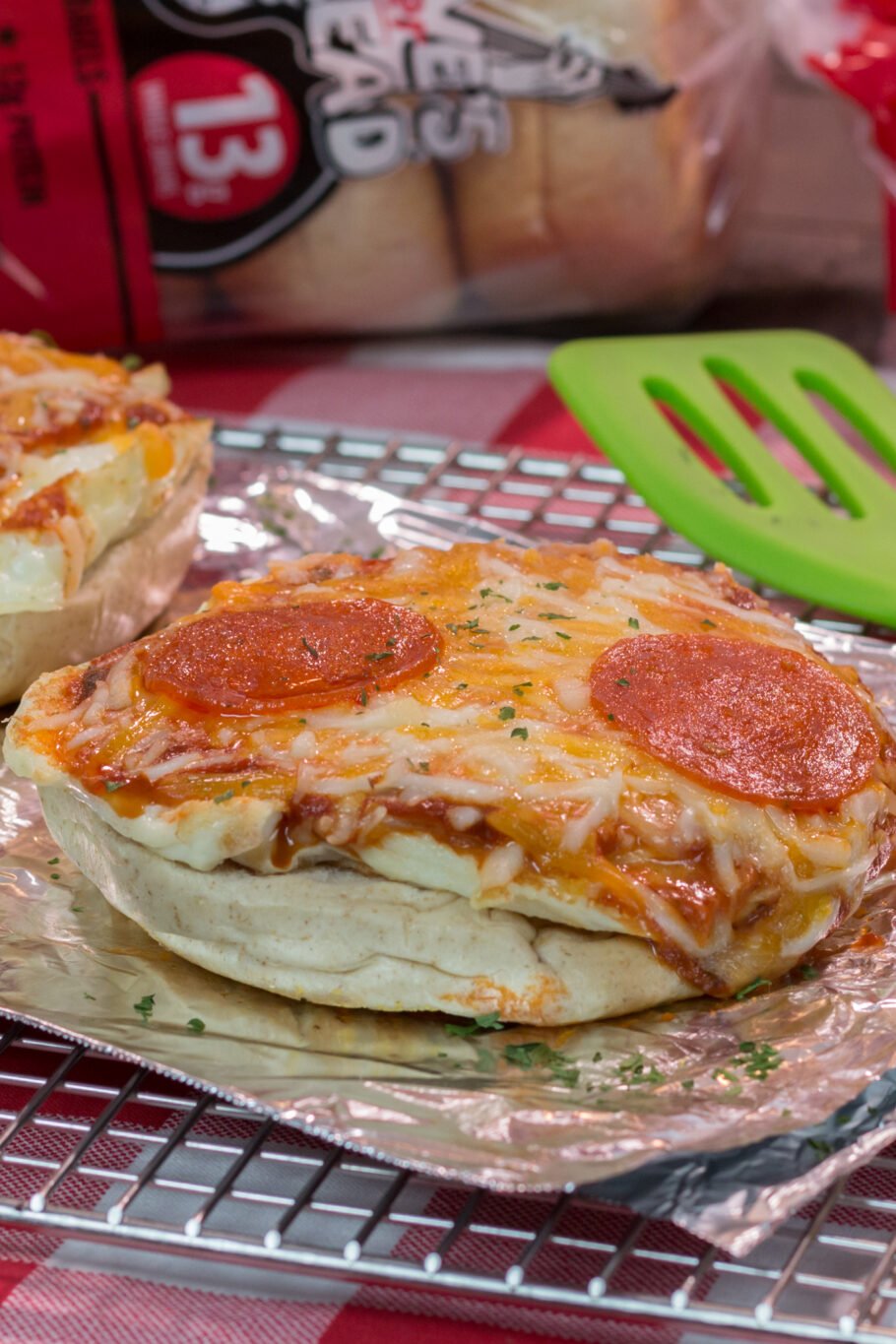 Start by cooking 2-4 large egg whites over medium heat.
The trick here is to keep them from spreading too much so that your egg whites are equally as round as your bagel.
If they spread too much, don't stress out! You can fold them over.
Once your egg whites are done cooking take out a a plain bagel of your choice and place them onto each half of your breakfast bagel sandwich.
Top your egg whites with 1/4 cup of pasta sauce or salsa, 1/2 cup of a pizza blend cheese, and some optional pepperoni slices if you like them.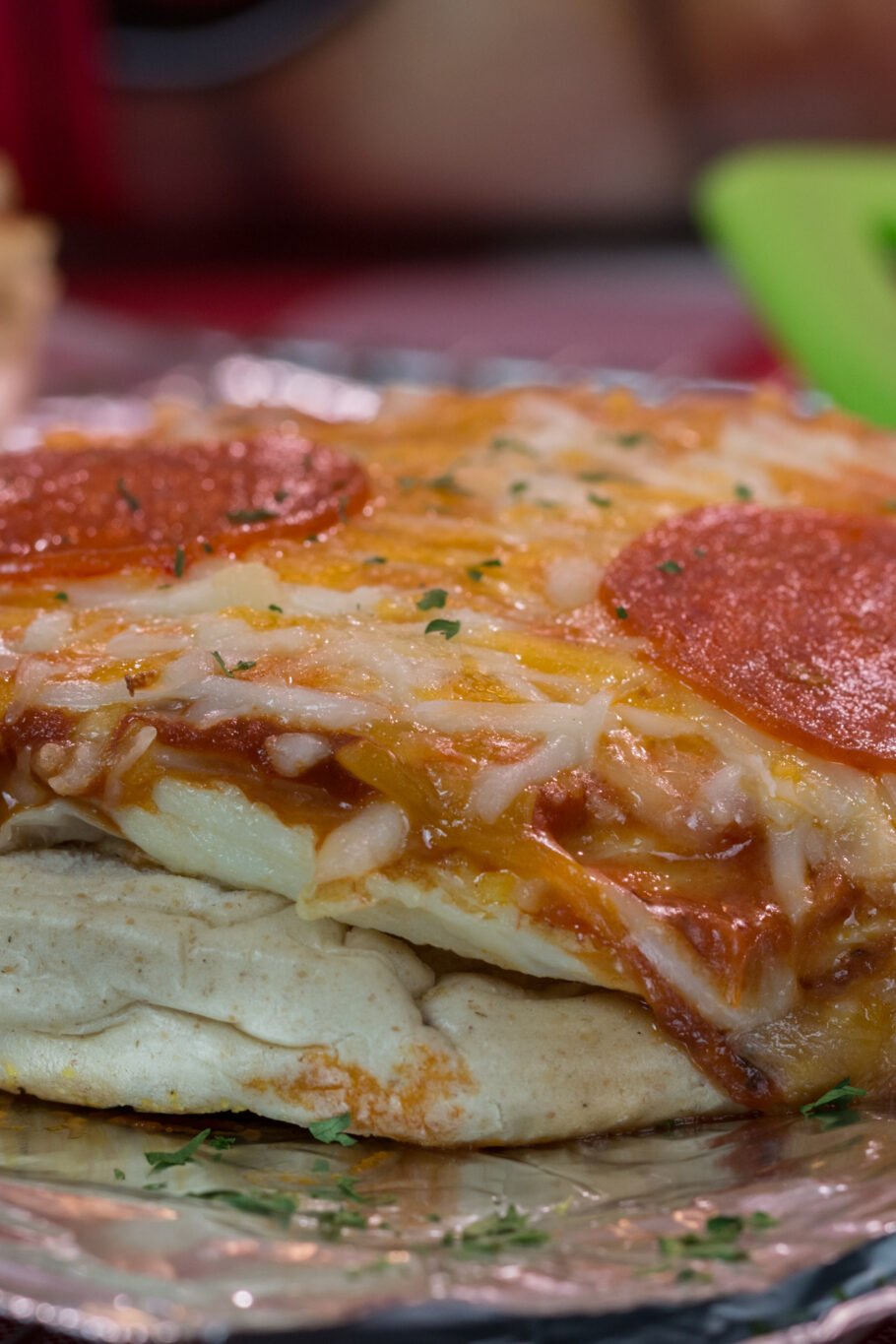 Place those onto a baking sheet and then into the oven on 375F/190C for around 10 minutes.
If this recipe didn't make you salivate, I don't know what will. Pizza, on a bagel, for breakfast! Does it get much better than that!?
Quick, fun, and delicious breakfast bagel sandwich recipes you can easily change up to make your own! Use your favorite bagels, condiments, vegetables, and whatever else will fit your macros.
Let me know what your favorite combinations are below in the comments.
How about trying our Keto Bagels next?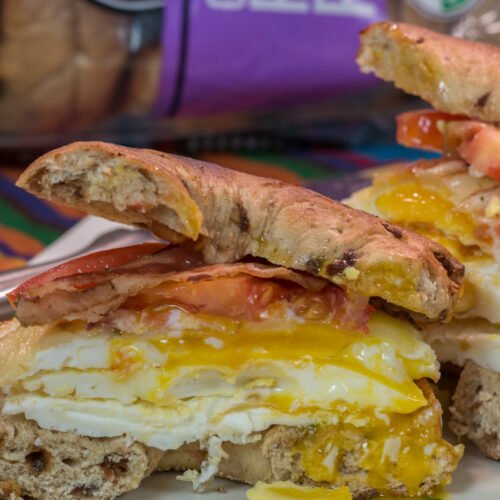 3 Quick & Easy Breakfast Bagel Recipes
Looking for some healthy breakfast options? Try one of these Quick & Easy Breakfast Bagel Recipes! Pizza, tuna, hummus, bacon, and MORE!
Print
Pin
Rate
Save Recipe
Saved!
The Protein Chef is a participant in the Amazon Services LLC Associates Program, an affiliate advertising program designed to provide a means for us to earn fees by linking to Amazon.com and affiliated sites.
Ingredients
Quick & Easy Breakfast Bagel Sandwich
2

Large

Whole Eggs

1

Large

Egg White

1

Slice

Cheese

-

Your Choice (Fat Free, Reduced Fat, or Full Fat)

1

Bagel

1-2

Slices

Bacon

-

Precooked
Quick & Easy Tuna Bagel Sandwich
1

Can

Tuna

-

Drained

2-4

Tablespoons

Hummus

-

Whatever flavor you want

1

Bagel

1-2

Slices

Bacon

-

Precooked

Lettuce

-

Your choice

Tomato

-

Your choice
Quick & Easy Pizza Bagels
2-4

Large

Egg Whites

-

Per Half

1

Bagel

¼

Cup

Pasta Sauce

-

or Salsa

½

Cup

Pizza Cheese

-

56g (Fat Free, Reduced Fat, or Full Fat)

Slices

Pepperoni

-

*Optional
Instructions
Simple Breakfast Bagel Sandwich
Take out a pan, turn it on medium heat, and coat it with some non-stick cooking spray

Once it heats up add in your Eggs and cook them however long you want to (I prefer over easy or over medium)

Flip them and add on a slice of Cheese to one of your Eggs

Toast your Bagel and microwave your Bacon

Add your Eggs onto your Bagel once your Cheese is melted followed by your Bacon and anything else you want
Everything Hummus Epic Bagel Sandwich
Drain your Tuna and mix it together with your Hummus

Toast your Bagel if you want to then add your mix onto it

Top it with whatever you want like Bacon, Lettuce, and Tomato
Plain Awesome Pizza Bagels
Take out a pan, turn it on medium heat, and coat it with some non-stick cooking spray

Once it heats up add in your Egg Whites and cook them (use your spatula to shape them so that they are the same size as your Bagel OR fold them over once cooked)

Toast your Bagel if you want to then add your Egg Whites onto each half

Evenly distribute your Sauce, Cheese, and Pepperoni Slices

Place them onto a baking sheet and bake them on 375F/190C for around 10 minutes
Notes
Simple Breakfast Bagel Sandwich
Calories in the whole sandwich:
Calories: 517
Fat: 17g
Saturated Fat: 4g
Sodium: 704mg
Carbs: 53g
Fiber: 3g
Sugar: 12g
Protein: 38g
Everything Hummus Epic Bagel Sandwich
Calories in the whole sandwich:
Calories: 511
Fat: 15g
Saturated Fat: 2g
Sodium: 639mg
Carbs: 55g
Fiber: 7g
Sugar: 6g
Protein: 39g
Plain Awesome Pizza Bagels
Calories in the whole sandwich:
Calories: 557
Fat: 17g
Saturated Fat: 8g
Sodium: 904mg
Carbs: 54g
Fiber: 4g
Sugar: 8g
Protein: 47g
Nutrition
Calories:
511
kcal
|
Carbohydrates:
55
g
|
Protein:
39
g
|
Fat:
15
g
|
Saturated Fat:
2
g
|
Sodium:
639
mg
|
Fiber:
7
g
|
Sugar:
6
g