It's time to satisfy your sweet tooth with a bar! Today we're starting this new season of recipes with some easy to make and absolutely delicious Simple Protein Cheesecake Bars made with just a few ingredients.
Easy Cheesecake Crust
To make these you'll want to start by preparing your crust. If you don't want a crust or want to lower the carbs in the recipe (featured below) you can skip this step.
For your easy cheesecake crust all you need to do is to take out 6 full graham cracker sheets and crush them up, I like using a rolling pin to do this.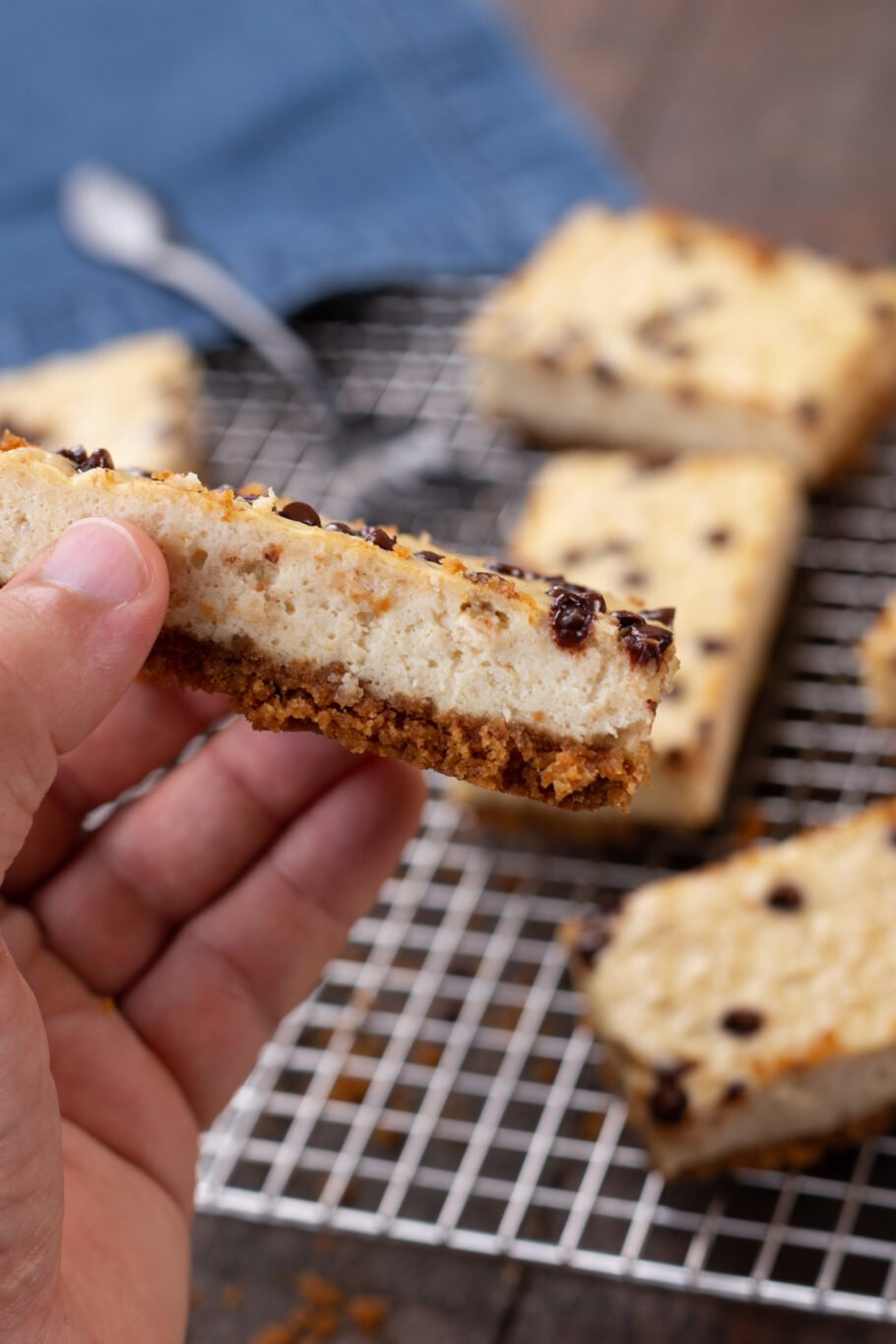 Next, melt 3 tablespoons of butter and mix that into your graham cracker crumbs thoroughly.
From here take out an oven safe dish or pan (I used 8×8), optionally line it, and evenly distribute your crust mix into the bottom of it. Make sure to compact it into whatever you're using.
Put that into the oven on 375F/190C for around 12-15 minutes or until it starts to turn golden brown.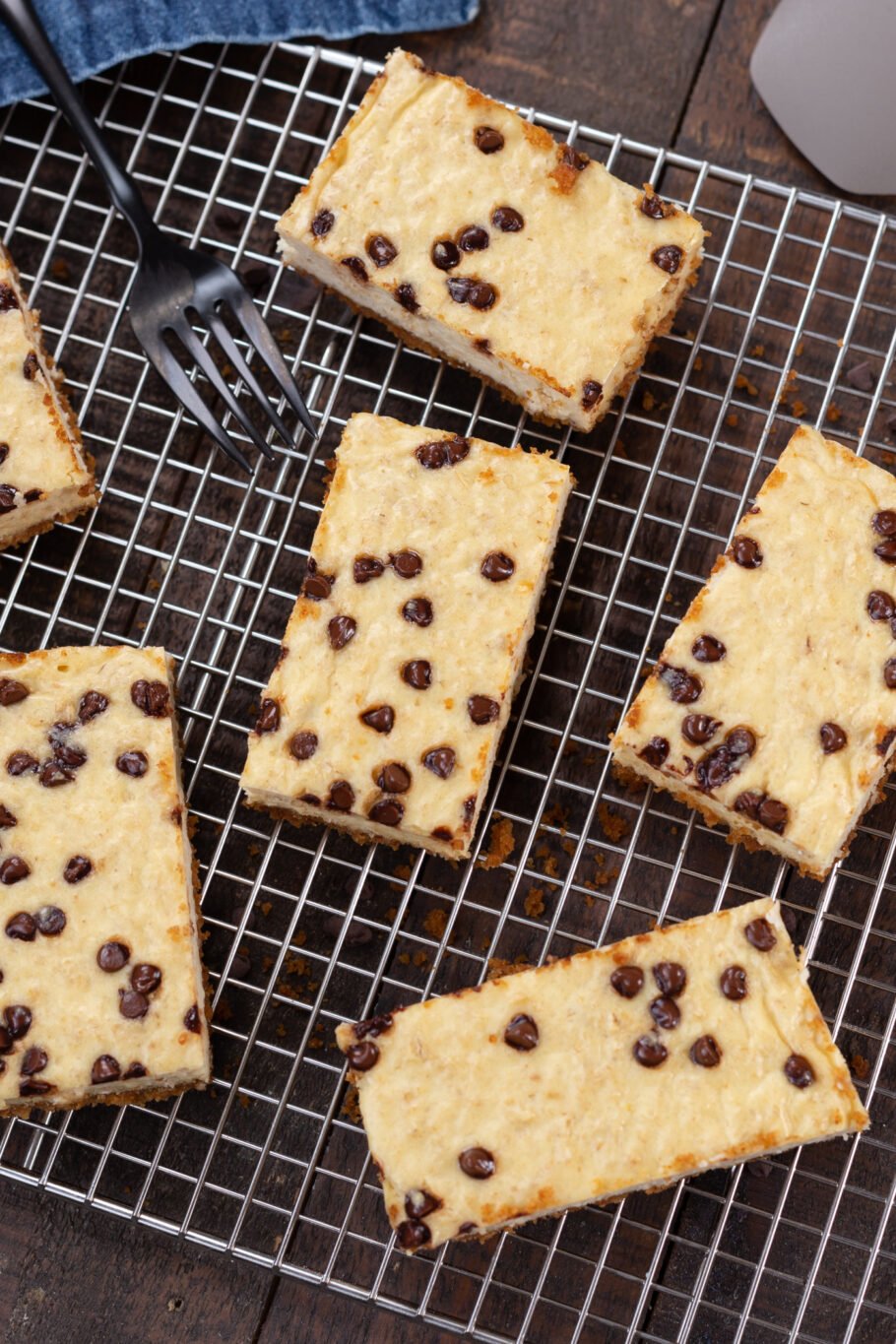 Cheesecake Bars
While that's baking, add into a food processor or powerful blender 1/2 cup of rolls oats, 2 large whole eggs, 2 scoops of a good tasting vanilla protein powder, 1 teaspoon of vanilla extract, 3 ounces of a vanilla Greek yogurt, and 1 1/2 cups of cottage cheese.
Tip: If you're not using a sweet enough protein powder add in a little sweetener!
Remember to always think outside the box! Bored with vanilla? You can easily switch these protein cheesecake bars up by changing the flavors of your protein powder and Greek yogurt.
Process or blend those ingredients together until smooth.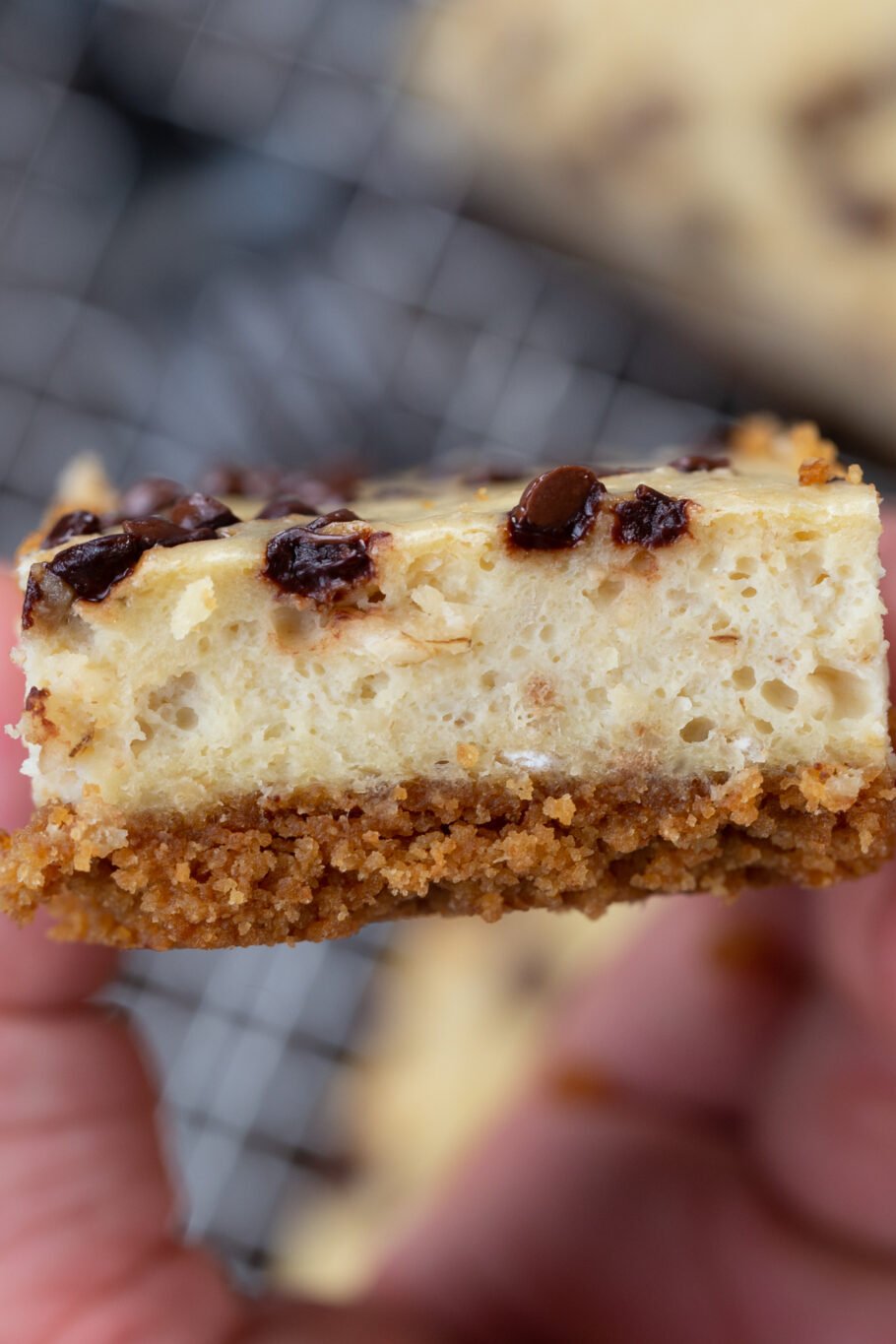 Pour and evenly distribute that cheesecake mix on top of your crust.
You can top it with whatever you want, I went with some mini chocolate chips today. Let me know your favorite cheesecake toppings in the comments below!
Put your soon to be cheesecake bars into the oven on 325F/162C for 30-35 minutes.
The cheesecake is done which means we're onto the last step! Remove it from the oven, let it cool for a bit, and throw it in the fridge for a couple hours.
You'll know it's ready when it looks like this…
Zwilling Fresh & Save
Now that that's in the oven we're going to talk about my new favorite kitchen product, Zwilling Fresh & Save Cube vacuum storage containers!
They come in multiple sizes, stack, have colorful sleeves, and a ton of convenient accessories like labels, pour spouts and measuring spoons. Did I mention the Zwilling pump which is super easy to use and aesthetically pleasing for any countertop!?
Outside of using these containers for ingredients as you saw in the video, I also love using them for meal prep and the Fresh & Save bags for marinating.
But the biggest and my main reason for using Zwilling Fresh & Save collection? They make everything last longer which in turn saves me money. If you want to check either of them out you can do so here:
P.S. Use coupon code "DEREKCUBE" with a $50 or more purchase of FRESH & SAVE CUBE products and you'll receive a set of label positioners and a set of labels and chalk marker for free.
Valid only on ZWILLING U.S. site and expires after 12/31/2023.
Ready for your next dessert? Try The Best Microwave Protein Brownie EVER!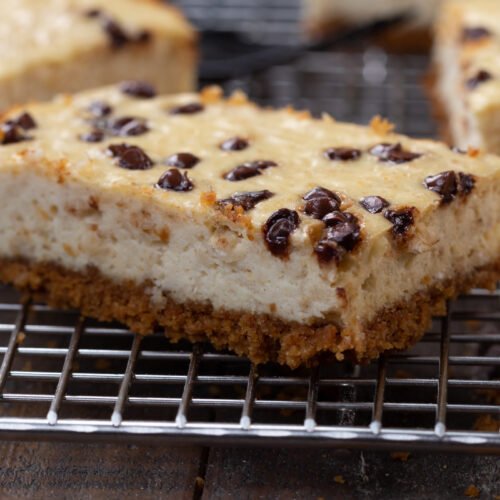 Simple Protein Cheesecake Bars
Craving dessert on your diet? We've got you covered with these easy to make Protein Cheesecake Bars made with simple ingredients!
Print
Pin
Rate
Save Recipe
Saved!
The Protein Chef is a participant in the Amazon Services LLC Associates Program, an affiliate advertising program designed to provide a means for us to earn fees by linking to Amazon.com and affiliated sites.
Ingredients
Optional Crust
6

Sheets

Graham Cracker

3

Tablespoons

Butter

-

Melted
Cheesecake Bars
½

Cup

Rolled Oats

2

Large

Whole Eggs

2

Scoops

Protein Powder -

Make sure it tastes good!

1

Teaspoon

Vanilla Extract

3

Ounces

Greek Yogurt

1 ½

Cups

Cottage Cheese
Instructions
Optional Crust
Crush up your Graham Cracker sheets into crumbs (I use a rolling pin to do this)

Mix together your crumbs and melted Butter

Press your mix firmly into the bottom of an optionally lined baking dish or pan (I used 8×8)

Bake on 375F/190C for 12-15 minutes or until started to turn golden brown
Protein Cheesecake Bars
Add all of your ingredients into either a food processor or powerful blender

Process or blend everything together until smooth

Evenly distribute your mix on top of your crust

Optionally add whatever you want to the top like some Chocolate Chips

Bake on 325F/162C for around 30-35 minutes

Remove it from the oven, let it cool, and put it into the fridge for a couple hours (optimal cheesecake texture)
Notes
*Easily change up the flavor with your Greek yogurt and Protein Powder flavors!
Calories in the WHOLE recipe without a Crust:
Calories: 807
Fat: 15g
Saturated Fat: 6g
Sodium: 1614mg
Carbs: 67g
Fiber: 4g
Sugar: 26g
Protein: 101g
Calories Per Bar without a Crust (Makes 8 Bars):
Calories: 100
Fat: 1.8g
Saturated Fat: .7g
Sodium: 201.7mg
Carbs: 8.3g
Fiber: .5g
Sugar: 3.2g
Protein: 12.6g
Calories in the WHOLE recipe with a Crust:
Calories: 1502
Fat: 58g
Saturated Fat: 29g
Sodium: 2130mg
Carbs: 138g
Fiber: 7g
Sugar: 49g
Protein: 107g
Calories Per Bar with a Crust (Makes 8 Bars):
Calories: 187
Fat: 7.2g
Saturated Fat: 3.6g
Sodium: 266.2mg
Carbs: 17.2g
Fiber: .8g
Sugar: 6.1g
Protein: 13.3g
Nutrition
Calories:
100
kcal
|
Carbohydrates:
8.3
g
|
Protein:
12.6
g
|
Fat:
1.8
g
|
Saturated Fat:
0.7
g
|
Sodium:
201.7
mg
|
Fiber:
0.5
g
|
Sugar:
3.2
g