We've remixed pizza a few times but today is the day we take pizza to another level. I'm not quite sure what level we're on now but it's definitely one you wouldn't find at your local pizza place! This Low Carb Zucchini Pizza Boats recipe is easy to make, keto friendly, healthy, and of course…DELICIOUS!
First, take out 3 fresh zucchini. You'll want to cut these in half lengthwise, remove the pulp from your zucchini by scooping it out with a spoon, and trim the ends off each one.
A quick tip here is when you purchase your zucchini, look for ones that are flat. If you can't find any then trim your sides down a bit until they're flat. Why flat? This will keep them from tipping over when you stuff them.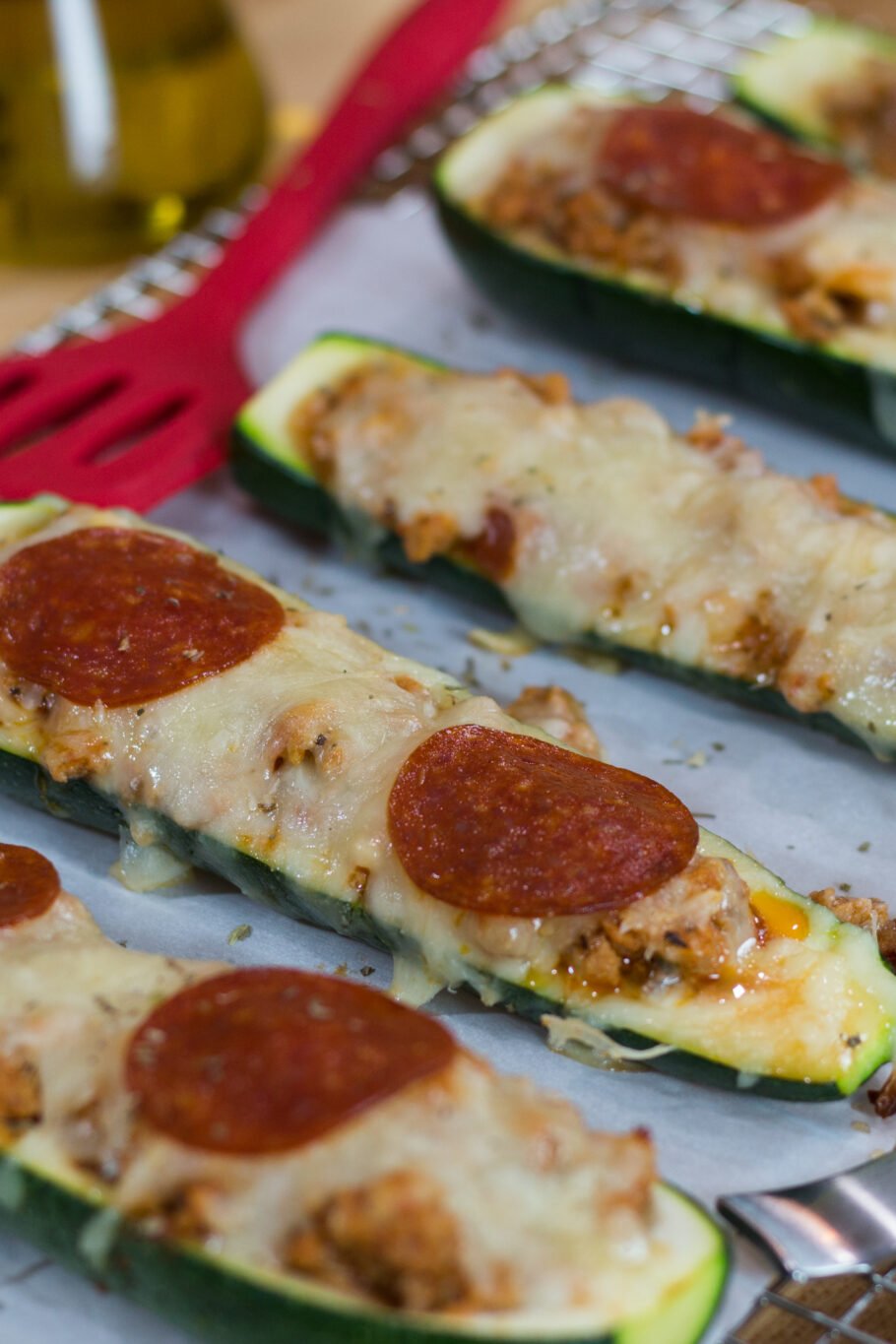 Next, cook or cut up any meat you want to use. I used lean ground turkey today but anything you would find on a pizza will work great!
Don't eat meat? Don't worry! Add your favorite alternative or skip this step completely.
As a base here, 2 ounces per half of whatever you're using should be perfect.
Zucchini Pizza Boat Mix
In a large bowl, add your 12 ounces of meat or alternative, half of your zucchini pulp (mashed up), 2 teaspoons of minced garlic, 1 tablespoon of oregano, 1/8 cup of almond flour, 1/2 cup of a low sodium marinara sauce, a little salt, and a little pepper.
If you're not using meat or an alternative, use all of your pulp.
Mix everything together.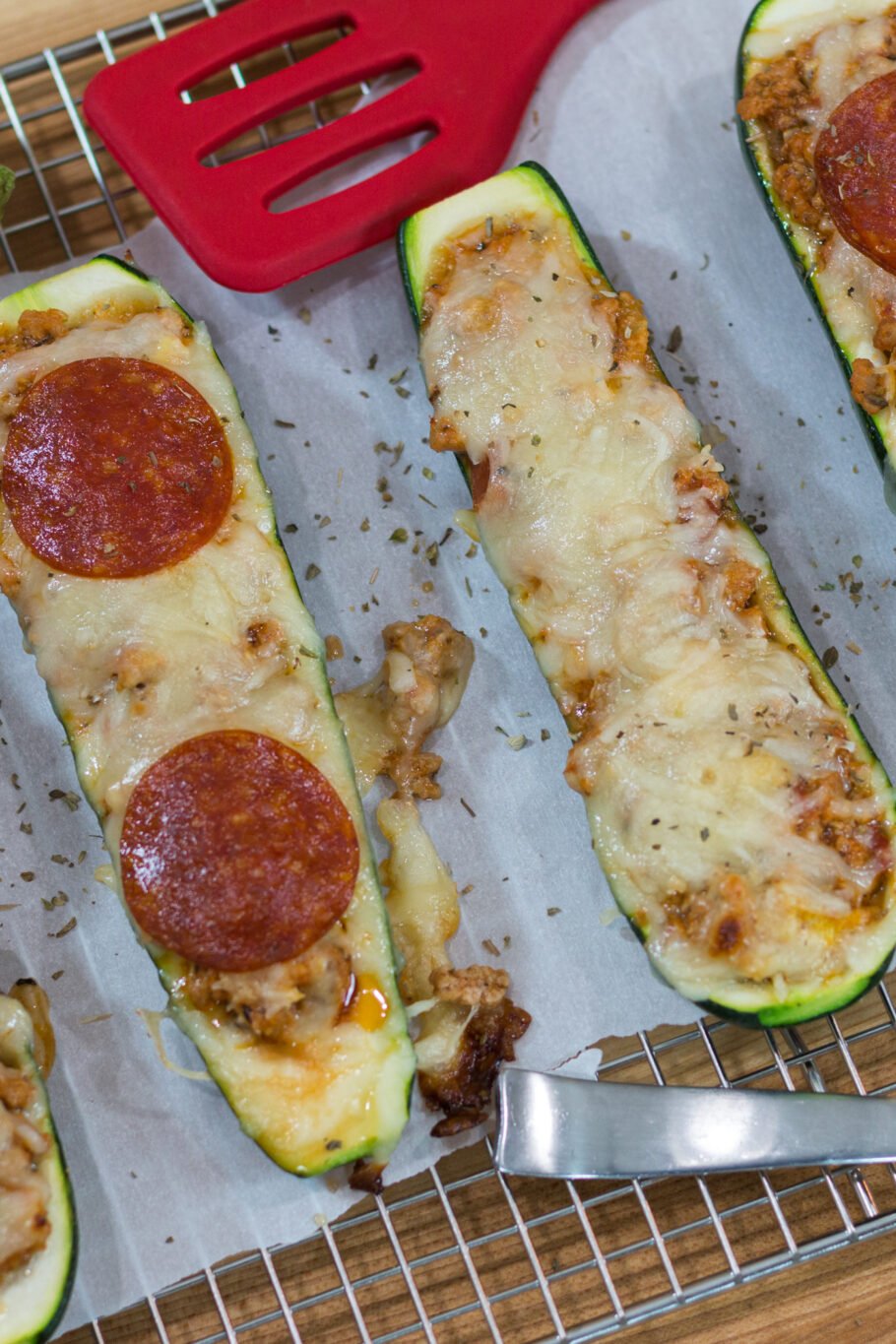 Place your zucchini on a baking sheet lined with parchment paper for easy clean up and evenly distribute your mix into your zucchini.
Make sure to press each one down so it's fully stuffed!
Top them with 4 tablespoons of shredded parmesan cheese, 3/4 cup of reduced fat mozzarella cheese, some optional pepperoni slices, and whatever else you want on your zucchini pizza boats!
Bake them on 400F/204C for 15-18 minutes. Add a few minutes if you want them super crispy.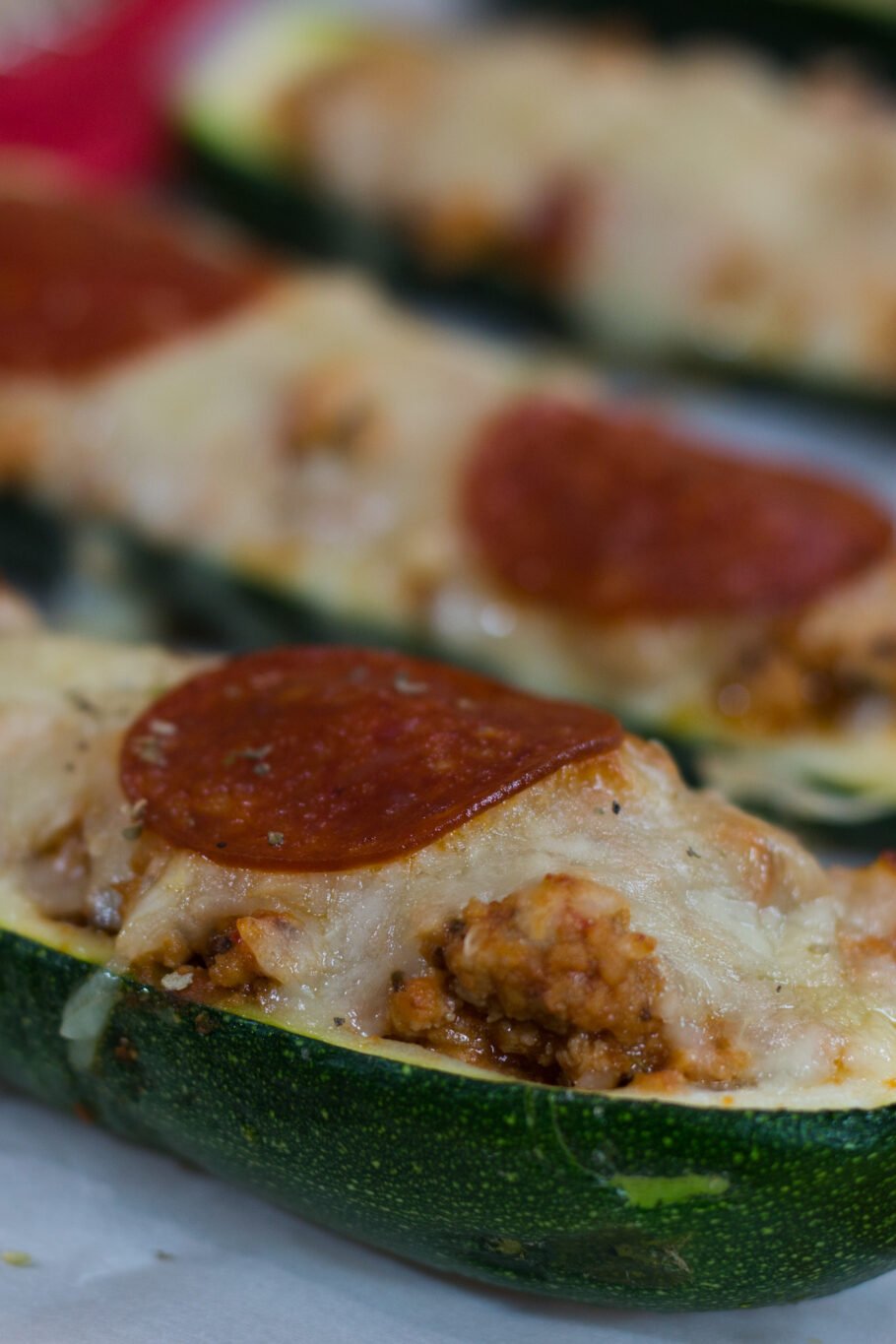 How good do these low carb zucchini pizza boats look?! Not only do they taste as good as they look, they're super filling, travel friendly, and will last around 4-5 days in your fridge!
To reheat I either zap them for :30 seconds in the microwave or throw them in the toaster over for a few minutes (this will help keep them crispy).
Still craving pizza? Try our Cauliflower Pizza Low Carb Crust recipe next!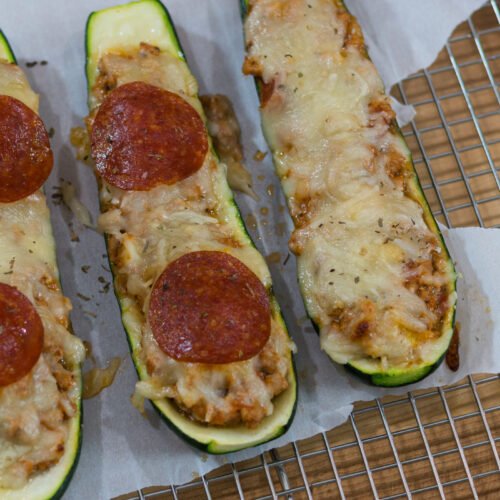 Low Carb Zucchini Pizza Boats
Thought you had to give up pizza? Think again! This Low Carb Zucchini Pizza Boats recipe is delicious, easy to make, and packed with PROTEIN!
Print
Pin
Rate
Save Recipe
Saved!
The Protein Chef is a participant in the Amazon Services LLC Associates Program, an affiliate advertising program designed to provide a means for us to earn fees by linking to Amazon.com and affiliated sites.
Ingredients
3

Zucchini

-

Fresh

12

Ounces

Protein

-

Lean (2 Ounces Per Half = 12 Ounces Total for 3 Zucchini)

2

Teaspoons

Minced Garlic

1

Tablespoon

Oregano

⅛

Cup

Almond Flour

½

Cup

Marinara Sauce

-

Low Sodium

Salt

-

Your choice

Black Pepper

-

Your choice

4

Tablespoons

Parmesan Cheese

-

Shredded

¾

Cup

Mozzarella Cheese

-

Reduced Fat

Slices

Pepperoni

-

*Optional
Instructions
Take out 3 Fresh Zucchini, cut them in half, remove the pulp, and trim the ends off of them

Mash up ½ of your pulp or all of it if you're not using any meat

Mix together all of your ingredients aside from your Parmesan, Mozzarella, and optional Pepperoni Slices

Place them on a baking sheet lined with parchment paper (for easy clean up) and stuff each half with your mix (press down with a spoon or your fingers to really pack them)

Top them with your Parmesan, Mozzarella, Pepperoni Slices, and anything else you want

Bake them on 400F/204C for 15-18 minutes or longer if you want them crispy
Notes
Calories in the whole recipe if you use 93/7 meat:
Calories: 1160
Fat: 64g
Saturated Fat: 24g
Sodium: 1104mg
Carbs: 39g
Fiber: 13g
Sugar: 12g
Protein: 107g
Calories Per Boat (makes 6):
Calories: 193
Fat: 10.6g
Saturated Fat: 4g
Sodium: 184mg
Carbs: 6.5g
Fiber: 2.1g
Sugar: 2g
Protein: 17.8g
Calories in the whole recipe if you use 85/15 meat:
Calories: 1394
Fat: 90g
Saturated Fat: 30g
Sodium: 1104mg
Carbs: 39g
Fiber: 13g
Sugar: 12g
Protein: 107g
Calories Per Boat (makes 6):
Calories: 232
Fat: 15g
Saturated Fat: 5g
Sodium: 184mg
Carbs: 6.5g
Fiber: 2.1g
Sugar: 2g
Protein: 17.8g
Nutrition
Calories:
232
kcal
|
Carbohydrates:
6.5
g
|
Protein:
17.8
g
|
Fat:
15
g
|
Saturated Fat:
5
g
|
Sodium:
184
mg
|
Fiber:
2.1
g
|
Sugar:
2
g